Serena Williams Versus The Number One

"You're ranked No. 1 and she is Serena Williams," said a journalist to Simona Halep shortly after her electrifying 6-1 4-6 6-4 defeat to Williams on Monday. The question hadn't finished, but Halep had a point to make, and so she grinned widely as she proffered her interjection.
"Exactly."
Had the final four words of the question been copied and pasted to the beginning of the statement, it would have comfortably sufficed as a comprehensive match report, clearly charting of the flows of their brilliant match.
After a false start, incurring a 'start of the match' time violation and feebly losing her serve in the opening game, sixteenth seed Serena Williams came bearing a message of who she is, what she stands for – another reminder of the irrelevance of numbers.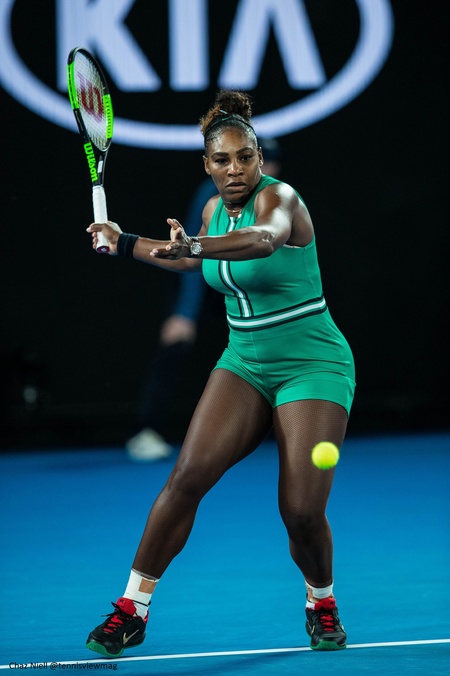 For a set, she was glorious. She pulverized Halep's return. She moved into the court and took the ball as early as possible. Whenever Halep attempted to drag her wide with an angle, she stepped in diagonally and cut it off down the line bomb, with a full stop. Halep's attempts to extend rallies and narrow the court were also often met with finesse, not power, as Serena created angles off both wings cracking open the court like an egg. At 4-1 and 0-40 to Williams, Halep had the audacity to win two successive points on her own serve, she took her further step forward and snapped a violent return winner.
Halep smiled more than any defeated tennis player in years as she entered her press conference, and after her very first question, she practically beamed. "I will start with a joke," she said. "I felt like I had been hit by the train in the first set."
Not many people are capable of piecing together their broken limbs and healing their feeble bodies after absorbing the full force of a train. But staring down a 6-1 *2-1 deficit to the greatest player ever, Halep calmly fought back. As Serena tried to rip the court open with sharp angles, Halep started to snap them back down the line. She stepped in closer for the return, punishing Serena's second serve and landing many of her first. By the third set, Halep was absurdly reeling off down the line winners on the run and at will, cruelly exposing Serena's labored movement.
Even after falling from the stratosphere, Serena never played badly. She was tentative and moved slowly, but her level was always present. When she stared down the abyss at 2-3 and needed her serve, it was there. When Halep assaulted Williams' second serve and whipped countless winners up the line, one lucky net cord winner even prompting an anguished Williams to blurt out "Oh my god, that's not fair", she willed herself on visibly and audibly. Throughout that decisive 2-3 game, neither player made a single error as they pushed each other to the limit, spraying winners and forcing errors. In the end, Serena saved three break points and found another level, grunting and growling to victory.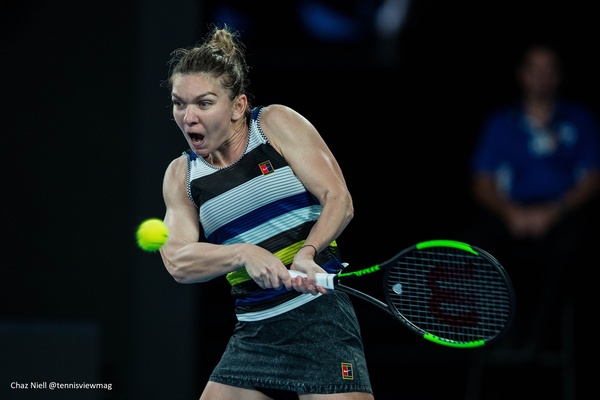 This classic battle was a message. It was a message that Serena Williams being the greatest of all time and the focal point of every draw she has entered does not invalidate the fact that Halep built her ranking deservedly and can raise her level even when collides straight into her and threatens to reverse back and forth. Moreover, that the continued questioning of whether Halep is "intimidated" by the mere mention of Williams, or the suggestions that the matchup would reflect badly on the WTA are moot. In her mind, she played at a level that would have defeated every other player in the world. In her mind, Simona Halep is number one, and she is Serena.
Serena's message was perhaps even clearer – it was that simply she is here, she is present, and she is ready to beat everyone in the draw. By defeating Halep, she became the oldest player to beat a number one and secured her first top 5 win since returning from pregnancy. As she looked on to her next match, the message was even clearer.
"I've got to return a little bit better the next day that we play, but I will be ready," she said. But then she corrected herself and, after sleepwalking through the answer, put her game face on again. "I am ready. She's ready, I'm ready, and let's do it."