Serena Returns To Wimbledon Semifinals

For much of the quick, clean quarterfinal clash between Alison Riske and Serena Williams, it was impossible to separate the champion and the challenger. Alison Riske had arrived in her first slam quarterfinal battle-hardened with an 12-1 record on grass in 2019 and 7 straight tough three-setters. Serena arrived as Serena.
Riske took the initiative, breaking Williams early and keeping the 7-time Wimbledon champion on the back foot. She led until *4-3, when Williams came alive and forced her countrywoman to a 0-40 deficit, eventually breaking back for 4-4 with a swift forehand down the line.
From there, Williams quickly found her groove, holding to love with a forehand winner and three consecutive aces. She rolled to a third consecutive game by digging out a brilliant defensive backhand down the line lob.
Throughout the second set, the pair held serve, often spectacularly. Both women served well, Williams raining down unreturned serves and huge winners behind her serve, but Riske was right there with her. She matched Williams' serving by tidily placing her serve, going for broke on big 90mph+ second serves and viciously putting all short balls away.
Just as the set seemed to be advancing somewhere in the vicinity of a tiebreak, the challenger took her opportunity. From 4-4 30-30, Riske fired down two consecutive winners, breaking the Williams serve with a slick half volley winner and rolling to an easy hold.
The second set would be a tug of war. Riske broke to take the opening game of the third set, but Williams immediately roared back, reeling off three straight games for a 3-1 lead. Just as it looked like the champion had settled, Riske broke back, comfortably controlling a 118mph serve on break point and wrestling control of the rally.
When Riske shifted the match to 3-3, Serena placed her racquet down and rested it on her leg as she tied her hair into a bun. The business bun signified that it was time to fight, and she held to love, fought through a tight return game that ended with two winning forehand dropshots from Williams and then a double fault from Riske. Then, she reeled off three straight games to take the victory.
For Williams, the victory was another step in the right direction as she continues to dust off the rust caking her game after so little matchplay since January.
"I haven't had a tremendous amount of time to prepare for this," she said. "But, you know, like I said in the beginning of this tournament, each and every match for me has to count as, like, five or ten matches because I have not played a lot.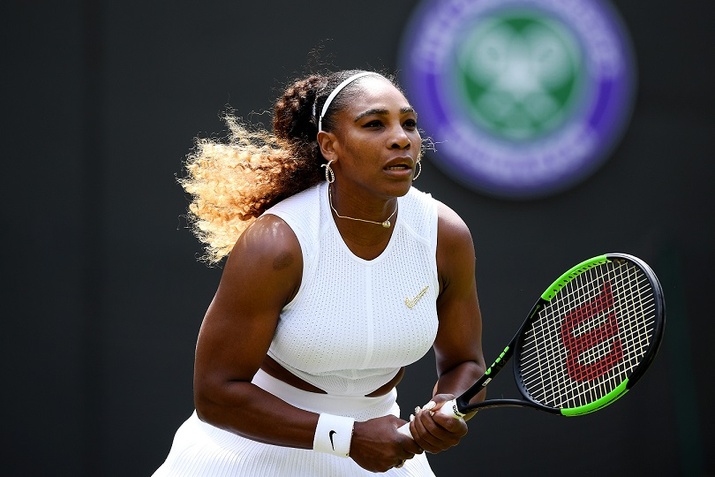 "This is the first time since Australia that I actually felt, like, good. It's been a really, really long year for me already, and hard year, because I'm usually not typically injured. I don't know where I am. I do know I feel good. Now that I feel good, I can actually focus on training and"
Riske left Wimbledon with the best grass swing of her career, her first slam quarterfinal and a brilliant tight match where she pushed Williams all the way in their first meeting. It was enough.
"I definitely gave it everything I had," she said. £I'm really proud of my effort today. I definitely thought maybe I had a peek here and there at a couple openings. But Serena really upped her level, as only a champion would. Yeah, she won the match. It was really actually very interesting for me to be on the opposite end because I felt her up her game and her intensity. Yeah, I hope she takes the title now.
Perhaps the greatest measure of Riske's performance is that, she her main thought about her first meeting with Serena Williams was simply that the contest was interesting. She was not overwhelmed or thoroughly outplayed. She pushed a champion all the way and saw how the champion responded.
"I think at 1-0, when I broke her at the beginning of the third, I immediately knew in that next game, I could sense she started grunting louder, she started having a lot more punch behind her ball" said Riske.
"I thought that was really interesting because, you know, that's something not a lot of people would be able to get out of themselves. Serena really made it happen. I think that just shows you she's always out there to take it to her opponent and have no mercy. She's willing to do whatever it takes to win. I thought it was really interesting. I definitely noticed it. I was aware of that. Credit to her for being able to dig that deep to make it happen."