Serena, Osaka Crash Out Of French Open

Much of the talk at the beginning of Roland Garros centered around the possibility of a rematch between Naomi Osaka and Serena Williams, both drawn to potentially clash in the quarterfinals, the ghost of their manic US Open final still following both across the tour. Saturday's third round matches answered the question with brutal finality: on a day of otherwise blissful progress for the rest of the top seeds, both Osaka and Williams were bundled out of the tournament.
Osaka was first to go, falling 6-4 6-2 to Katerina Siniakova on Chatrier in a battle of the number ones. Doubles world number one Siniakova served well, chased down every ball and punched out whenever she could, playing an extremely solid match to see off the singles world number one. "I was trying to chase every ball and make her miss if it's possible, just try to stay her behind baseline and not feel confident like she's in front of the court, or, like, inside the court," said Siniakova afterward.
Osaka had arrived in the third round with plenty of opposition. In her first-round match against Anna-Karolina Schmiedlova, Osaka was forced to navigate to victory after her opponent twice served for the match. Two days later, against a formidable Victoria Azarenka, Osaka caught fire from 6-4 4-2 down and bulldozed her fellow two-time slam champion. Both victories only increased admiration for her mentality and mental strength.
But today reflected the fact that even the world number one has her limits. Her defeat reflected the burden of playing her first slam at the top spot, with the possibility of a Grand Slam looming and the need to prove doubters wrong after her split with Sascha Bajin.
"Today I felt very tired," said Osaka. "And, like, the other matches, too, I had, like, this headache, right, but I didn't feel tired. So I'm thinking, like, the headache is just my stress, kind of. So it just kept staying. Because I don't really get sick like that. So, yeah, I just felt tired and I had a headache. But I should be able to push through that no matter what."
In the final match of the day, Sofia Kenin defeated Serena Williams 6-2 7-5 in a whirlwind of a match. Kenin prepared well arrived on Chatrier with a clear plan. From the very beginning, the American threw in countless drop shots, she kept the ball deep and central and attempted to wrong-foot Williams at every opportunity. Everything she did was to throw off the Williams and attack her vulnerable movement and footwork, and most of it worked.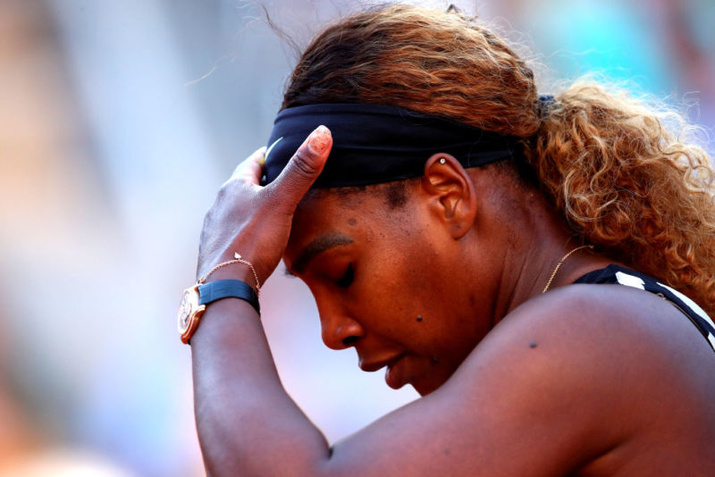 "When you play Serena, you've got to control all the points, you've got to dictate because she's gonna take control of the points," said Kenin. "She's the best of the best, so I knew I'm playing with a top player and I have to play my game."
The second set was as dramatic as the first was straightforward. After Kenin took an early break, Williams roared back into the match, moving to a 4-3 lead and pushing for more. As the momentum swung, Kenin sealed a vital hold to level the set. The climax was laced with errors and the crowd reflected both players' agitation as they booed Kenin's repeated querying of ball marks. But Kenin shrugged off the spectacle, the opponent and the crowd to record a memorable victory.
"I think she played really well," said Williams. "I feel like she, in that first set in particular, she hit pretty much inches from the line, and I haven't played anyone like that in a long time. So, like, yeah, she actually played really well."
Kenin played the match of her life and then in the wake of her first hostile crowd, she parted with a final message. "I didn't really care," she said later. "I knew I just had to show the crowd, like, listen, Sonya Kenin is in the house. Yes."