Serena, Murray Thrill Wimbledon Fans

(On Friday evening, mixed doubles arrived at Centre Court with wide smiles and infectious laughter. The home crowd was joyous, and the defeated Andreas Mies and Alexa Gurachi never quite seemed to believe that they were lucky enough to be standing across the net from a total of 27 singles slams in the most anticipated mixed doubles match of the generation. But as Andy Murray and Serena Williams finally stepped onto the court as one team, after days of anticipation and hoards of female players rejecting the former world number one and two-time Wimbledon champion, they were about the only two people who looked like smiling was furthest from their minds.
The Scottish-American 6-4 6-1 win over Andreas Mies and Alexa Gurachi was swift and businesslike. Murray and Williams' games slotted snugly, with Williams' serve allowing Murray to work his magic at the net while the 14-time slam champion handled her business in the forecourt. They encouraged each other throughout with strong, stern fist pumps.
In the end, they finished with a 4/17 break point conversion rate, one in four, and during long games where they failed to capitalize you could see Serena's frustration rising. Although mixed doubles aren't considered important enough for a partnership between greatest slam winner and the greatest British player to land a permanent spot on the order of play, this was serious. Murray and Williams are two of the most competitive players in the world. It wasn't until victory was in clear sight that they were able to relax and enjoy the significance of the event.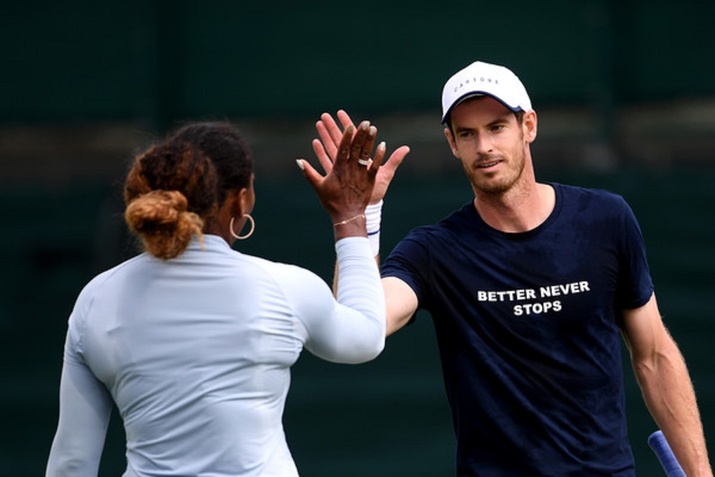 "I think, like, towards the end of the match, like, when you're kind of in control on the scoreboard, it's easier to sort of relax and enjoy it, whereas the first set, we were obviously taking it seriously to win," said Murray afterward. "Had a bunch of chances, didn't get them. Thankfully got the 5-4 game. Yeah, for me it was a great experience being back on Centre Court with Serena after the last year or so being tough. It was nice. I enjoyed it."
Tuesday will bring another, but the pair were already looking at more opportunities to improve.
"Just doubles in general. We have a lot we want to get better on as a team. I think we did great for the first day. I think overall, we just want to keep it up. I thought we served well. Just, you know, those key points, kind of getting in the groove. We both haven't played a tremendous amount. I think we both are kind of really taking this, Okay, this is great for both of us to get those points, those points we really need to convert on."
For Williams, the anticipation of the match had an effect on them. It would have been quite embarrassing if, after all the talk, they played a terrible match and fell.
"At some point I started feeling a lot of pressure," said Williams. "Oh, my God, I have to do well because this match is so hyped that I want to see it. I didn't even want to be in it, I kind of just wanted to watch it. Maybe I'll try to get a video of it or watch it somewhere."
Standing on court next to a 24-time slam champion, the greatest impression Williams left on him was the fact that she could have been anywhere else at that moment yet she was there fighting alongside him, fully immersed in a mixed doubles match playing into the night, still wanting to win. As someone just returning from his hip surgery, still looking to return to the singles court when 2019 could have been the moment that he finished and departed the sport, the inspiration was clear and noted.
"That's impressive," he said. "I don't think people always appreciate how difficult that is to do I think because of what, like, Serena and Roger have done for such a long period. It's kind of taken for granted a little bit. But it's impressive."
He continued. "The thing that's impressive as well, is after the amount of success that someone like Serena has had for such a long period, to still be out there, whatever, 8:00 at night, having already won a singles, and just wanting to win and being competitive," he said.
"Maybe sometimes, like, it looks like it comes easy to them, and it isn't. I know that… It's hard work to stay at the top of a sport for a long time physically, mentally. Yeah, for me that's what's really impressive as a professional athlete."
(Photo Source: Getty Images Europe)