Serena, Lucic-Baroni Reach Semifinals

The remainder of quarterfinal matches were played on Wednesday beginning with the women's draw. After a day where the oldest woman in the bracket and an unseeded player advanced to the semifinals, two more players in their mid-thirties (one unseeded) won their matches on Rod Laver Arena.
It was 2nd-seeded Serena Williams facing nine-seed Johanna Konta for the first time, and it was the 35-year took a step closer to her 23rd grand slam title with a 6-2, 6-3 win.
In the first set, Konta attacked Serena's second serve and forced the American to battle to hold early. But it was Williams who drew first blood, breaking to go to 3-1. The veteran was focused and found her rhythm midway through the set, striking monster groundstrokes and returns, particularly off Konta's second serve. She added a second break and took the set.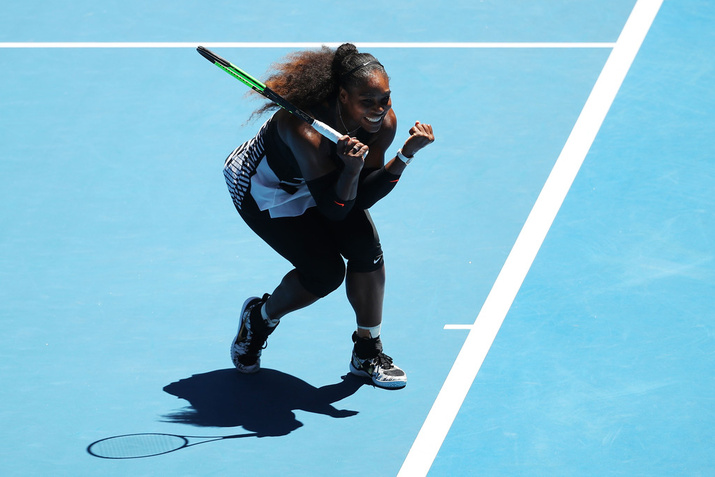 Serena picked up where she left off in the second set. After holding her serve, she had Konta on the ropes at 0-40 in the second game. However, the Brit would withstand the barrage and dig herself out of a hole and play remained on serve. And in the following game, refusing to go away, Konta dug in and rallied from behind to break Serena to take the edge.
However, that edge didn't last long as Williams evened the match at 3-3 and consolidated to go back in front. She followed that up with another service break and closed out the match on her racket in very impressive fashion.
Despite a subpar serving day, Williams still mustered 10 aces and she struck 25 winners allowing Konta just 11 of her own. Her aggressive style contributed to Konta's 22 unforced errors.
Williams had praise for her opponent after the match, "She's definitely a future champion here. I was just really happy to get through that."
Earlier, another unseeded player joined the final four as Mirjana Lucic-Baroni defeated fifth-seeded Karolina Pliskova 6-4, 3-6, 6-4.
The Czech came out fast in the first set but the 34-year old quickly turned the set in her favor, winning it going away. But Pliskova fought back in the second set after receiving treatment for a blister and evened the match.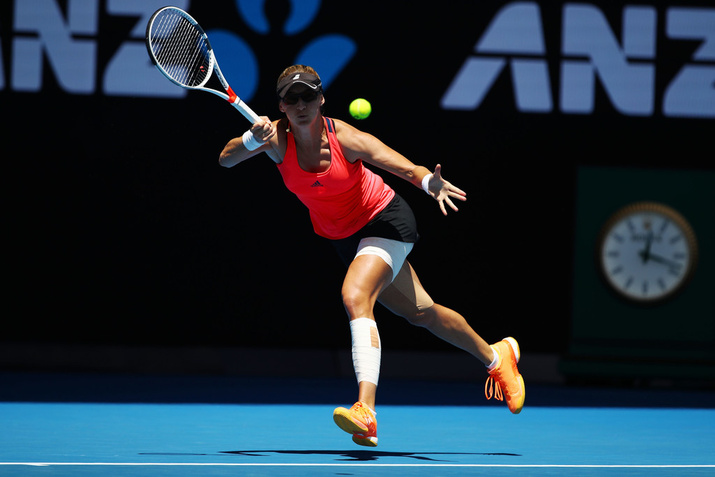 The two competitors exchanged service breaks in the third set but the turning point came after Pliskova took a 4-3 lead. During the changeover, The Croat left the court for several minutes for treatment to her injured leg. When she returned, there was a fresh wrapping but she quickly held serve and went on a roll breaking Pliskova's serve. Then, after a set with several momentum changes, the world no. 79 would seal the win as she closed out the match on her serve.
With the win came the first grand slam semifinal for Lucic-Baroni since Wimbledon in 1999.
A teary-eyed Lucic-Baroni was taken aback afterward. "To me, this is overwhelming," Lucic-Baroni said. "I will never forget this day and these couple of weeks. I'm going to try to stay calm. I enjoyed every second out here, and I will try to do the same next time."
The victory sets up a semifinal meeting with Serena who said she was inspired by the Croatian, "I'm so proud of Mirjana. She's been playing so well," Williams said. "We played well over a decade ago. Oh, my god, over two decades ago. No matter who wins, someone older than 34 will be in the final and that's just great."