Serena Halts Stephens to Reach WTA Quarterfinals

Some moments that seem like turning points at first prove to be mirages in the long term. When Sloane Stephens stunned Serena Williams in a quarterfinal at the 2013 Australian Open, many observers saw the upset as a signal for the passing of the torch in American women's tennis. Others were more skeptical, and with time the skeptics were proven right. While Stephens excelled at all of the majors that year, she would struggle to find consistency at other tournaments and never built on her breakthrough in Melbourne. By contrast, Serena would go on to win four majors between her loss there and the pair's meeting on Tuesday at the BNP Paribas Open at Indian Wells. The future surely would come eventually, but it wasn't here yet.
Stagnant in recent months, Stephens burst out of her slump at this tournament with upsets over Angelique Kerber and Svetlana Kuznetsova. While neither of those seeded opponents had impressed in 2015, the young American still drew praise for her confident ball-striking and clearer sense of tactics. She also showed poise in tense moments, taking a first-set tiebreak in both of those matches. Serena had regrouped to deliver a dominant display in the third round after the emotionally fraught scene on Friday night. Returning to the tournament after a 14-year boycott, she had allowed tennis to take second place to symbolism temporarily.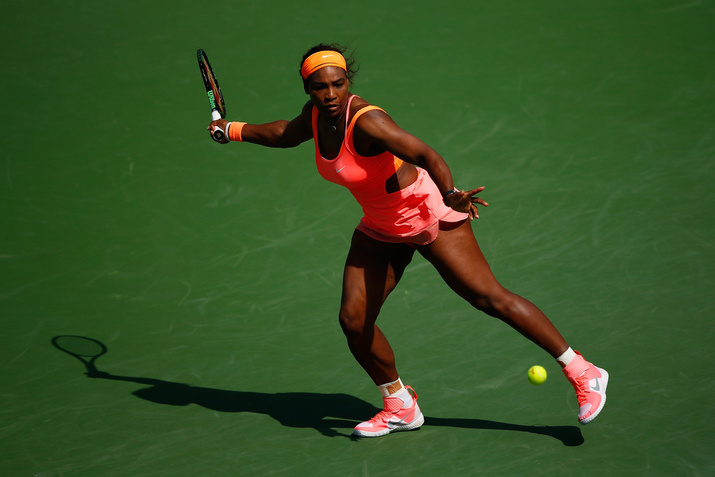 Symbolism and grand gestures aside, Serena never plays a tournament without the intention of winning it. Perhaps sluggish in the heat, however, she started in listless fashion by winning just three points in the first three games. After the first change-over, she regrouped to quickly level the match as her rhythm on her first serve returned. That shot remains the foundation of Serena's game, and the confidence in the rest of her weapons grew when it found its range.
Stephens was not deterred by the lost lead. She created two more break points on her opponent's serve and, even though heavy serves saved both of them, continued to show positive body language. After Serena wasted a solitary set point with a forehand error in the 10th game, the set sped toward a tiebreak. This was familiar territory for Stephens at this tournament, and she wasted no time in taking control. Her groundstrokes in the tiebreak had more depth and conviction than what Serena could produce. Able to eke out just three points, the world No. 1 lost a tiebreak for the first time since the 2013 US Open and for the first time to an opponent other than archrival Victoria Azarenka since Wimbledon 2012.
As important as the tiebreak was, it was just as important for Stephens to consolidate her momentum at the start of the second set. Serena rallied twice from losing the first set in the early rounds of the Australian Open before winning that title in January. She knew that she could rebound in this situation as well, and she capitalized on a weak service game from Stephens to secure an early break. The second set rushed past with no further plot twists, Serena losing just three points on her serve. Able to rely on her impenetrable delivery, she was free to take more chances on the return.
Whereas Stephens could not carry her strong finish from the first set into the second set, Serena succeeded in extending her surge from the second set into the third. She broke serve in the opening game again. In contrast to the second set, however, Stephens dug into the trenches. The younger American fought her way to deuce in each of Serena's first three service games in the set, winning the majority of the extended points. The world No. 1 compensated for her inconsistent groundstrokes by striking clutch serves when she needed them most.
When the last of those three games ended without a break point sniffed, Stephens finally started to droop. She conceded another service game with a cluster of relatively meek errors, and Serena served out the 6-7(3) 6-2 6-2 victory a few minutes later.
Despite the loss, Stephens could take plenty of positives from a tournament where she defeated two higher-ranked opponents and stood toe to toe with the best player in the world for long stretches. She could not equal last year's quarterfinal result at Indian Wells, but she has more momentum than at any other time in recent memory as she travels to another key North American tournament in Miami. For Serena, who struck 14 aces but also nine double faults, the match was a reminder of her ability to defeat quality competition without playing her best tennis. Considering her tendency to play her way into a tournament, her form probably only will rise from here.
The future will arrive eventually, but it is still not quite here yet.