Serb Survives: Djokovic Halts Isner in Indian Wells Rollercoaster

The second men's semifinal at Indian Wells inspired a sense of déjà vu. Two years ago on this court, American giant John Isner stunned Novak Djokovic in a final-set tiebreak to end the world No. 1's title defense. That victory owed much to the enthusiastic crowd support that Isner received on home soil, as did his victory over Djokovic in Cincinnati last year. The top-ranked American expected to hold a similar advantage on Saturday against the Serb.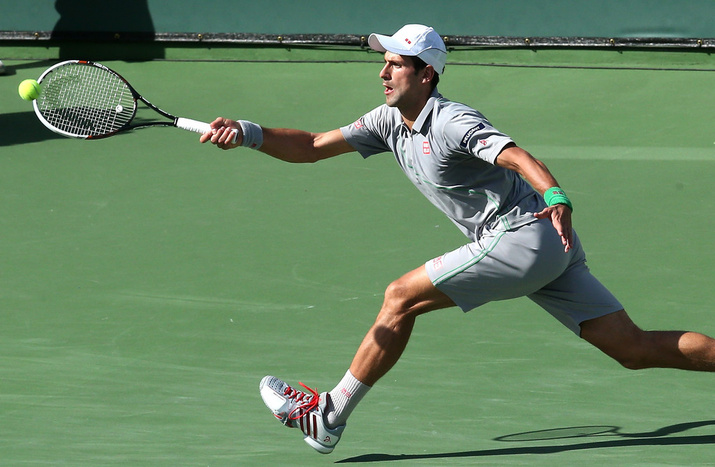 Both men had mixed moments of brilliance with moments of frailty throughout the early rounds. Djokovic had dropped a set to a Colombian journeyman before recovering from a disastrous start against Marin Cilic. Isner had survived a three-setter against Fernando Verdasco and should have counted himself fortunate to escape Ernests Gulbis in two tiebreaks. That is more the nature of his game than of what we're accustomed to seeing from Djokovic, one of the most complete and balanced players in the sport's history. Despite his improvements from the baseline, Isner remains a rough-hewn talent with stunning strengths (serve, inside-out forehand) and glaring weaknesses (movement, return of serve).
The American's best chance thus lay in holding serve until tiebreaks and rolling the dice when he got there with opportunistic play. Their semifinal at Indian Wells two years ago had featured just one service break for each man across three sets, the sort of match that Isner hopes to play. He delivered the opening statement that he needed on serve, holding at love in barely a minute and while hitting scarcely a single groundstroke. Djokovic's challenge would lie in staying positive under that barrage, as Gulbis could not in the previous round and as Djokovic himself could not in Cincinnati last year.
The Serb has harbored a fatalistic streak, even during his most transcendent periods, and that streak tends to surface when an opponent's serve silences the return game in which he takes great pride. Like most players, Djokovic often has looked tactically uncertain against Isner. The American's massive serve wins him many more free points than the average player, but his consistency in rallies falls well below average. Thus, the Serb and others have hesitated between whether to attack Isner's deficiencies in mobility with aggressive shot selection or whether to simply keep the ball in play and take no chances while waiting for an unforced error.
Attractive at first glance, that safer option carries its own costs. Djokovic, who had chosen it in his North American losses to Isner, had lost his usual clarity of purpose as a result and allowed the American to dictate the terms of his matches. On this occasion, he asserted himself more boldly in service games and reaped early rewards. Djokovic won his first 12 service points while keeping Isner under pressure on his serve. But another flavor of frustration that the giant from Georgia can inflict is his ability to wriggle free from danger with a single blow of his racket. Isner swiped away three early break points, emerged unscathed from multiple deuces, and stayed even with Djokovic until the turning point of the set arrived.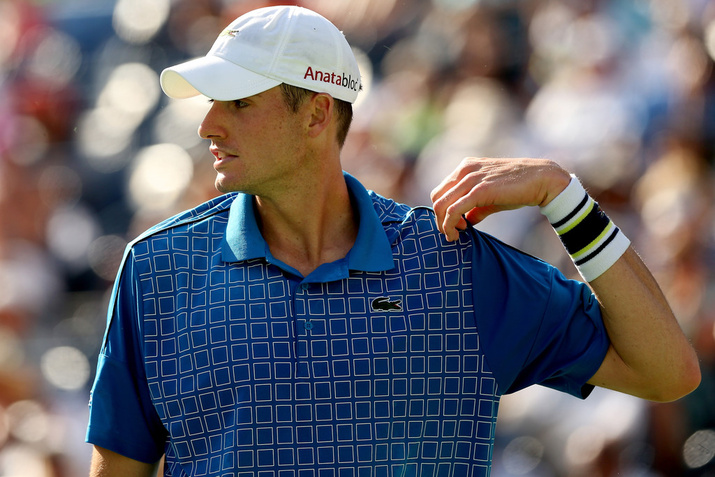 This crossroads came with the Serb serving at 4-5. Knowing that the slightest misstep could cost him the set, Djokovic grew slightly more tentative and fell behind triple set point. Isner thrust the Serb onto his back foot with a penetrating second-serve return at 15-40, and he moved inside the baseline with a chance to pummel a short forehand into the open court. As the set lay in his grasp, the American cut the margin too fine. When the ball sprayed into the doubles alley, Djokovic knew that he had dodged a bullet. The six-time major champion rarely gives opponents second chances. He outmaneuvered Isner to save the third and last set point, draining the energy from the American's corner. A deflated Isner dropped serve meekly in the next game before Djokovic claimed a one-set lead.
The second set featured little drama until its late stages as neither man faced a break point. Then came that rarest of events in an Isner match: four straight service breaks. The underdog looked doomed when the Serb smothered the court with seamless defense in the ninth game. When he served for the match, though, Djokovic suffered one of the abrupt dips in form that had plagued him in earlier rounds. Dropping serve for the loss of just one point, he threw Isner a lifeline as the American crowd exploded in celebration. They quieted as Djokovic promptly broke again—only to drop serve at love in his next game. Pumping his fist with each winner, Isner willed himself back into the match.
If failing to serve out the match once came as a surprise, failing to serve out the match twice against a returner as indifferent as Isner was nothing short of shocking. Even a competitor of Djokovic's resilience reeled under that sort of blow. He fell behind at the outset of the ensuing tiebreak and never threatened to turn the tide. After winning just one point in his last two service games of the second set, Djokovic won only one service point in the tiebreak. The memories of Isner's upset two years ago flooded back into the minds of everyone watching.
A key barometer of the American's confidence lies in the effectiveness of his backhand down the line, and he scorched the sideline with a winner off that shot on the second point of the tiebreak. Yet neither man met momentum with open arms throughout this odd semifinal. Just a few games after he had dominated the tiebreak, Isner tossed the match back into Djokovic's hands with a double fault on break point. The top-ranked American would continue to crack courageous winners in the next game as the Serb struggled to consolidate. Once he escaped, though, Djokovic would sweep through the last five games of the semifinal in an anticlimactic finish.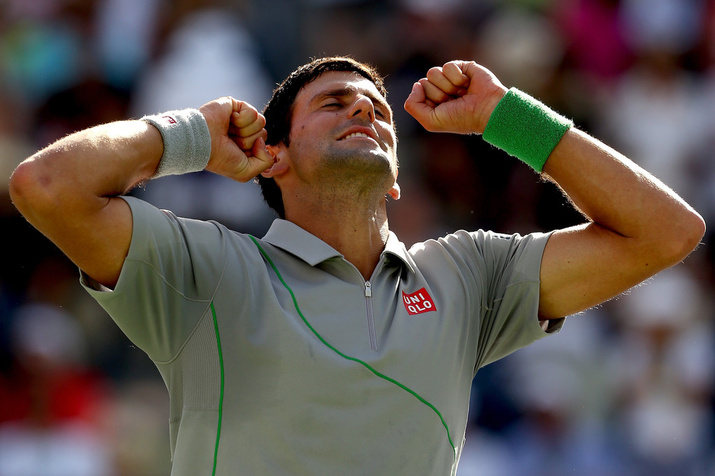 The Serb must have felt satisfied to have avenged his losses to Isner on North American hard courts over the last two years. After the whiplash-inducing ebbs and flows of this match, though, the world No. 2 will enter the Indian Wells final as a slight underdog against Roger Federer. Djokovic won their only meeting on this court during the best season of his career in 2011, but Federer has produced more complete performances from start to finish during the 2014 BNP Paribas Open. He also holds the recent momentum in their rivalry, having rallied from losing the first set to defeat Djokovic last month in Dubai.
While crediting Djokovic for rebounding from his second-set lapse, Isner noted that tightness in his knee prevented him from fully extending on his serve in the third set. On the other hand, he believed that the injury allowed him to swing more freely during his inspired effort to turn around the match. Isner felt confident that he will be healthy for Miami and the European clay season, when he will aim to build on his Indian Wells momentum by improving his consistency and gaining more ranking points.
Whereas Isner rued his missed chances in the first set, Djokovic felt proud of his ability to refocus in the third set after his opponent's surge. Citing the importance of channeling his energy positively in the final, Djokovic suggested that the slow hard court may favor his game against Federer's fast-court style. At the same time, he acknowledged that their matches almost always hinge on a small handful of key points and that the matchup can tilt in either direction on any given day.
The 33rd meeting between Djokovic and Federer will follow the women's final between Agnieszka Radwanska and Flavia Pennetta. No matter who claims the title, Djokovic and Federer will combine with Rafael Nadal to win 10 of the last 11 titles at the BNP Paribas Open.