Semi-Sweet: Victoria Azarenka Sets Up Semifinal Clash with Flavia Pennetta

A series of uneventful routs had unfolded in women's matches during Primetime at this US Open. Outside the three-setter between Caroline Wozniacki and Camila Giorgi, 11 of 14 sets had ended in bagels or breadsticks. The last Primetime women's match between Victoria Azarenka and Daniela Hantuchova at least seemed likely to offer better competition than the Serena Williams double bagel from the previous night.
In fact, Hantuchova had split her four meetings with Azarenka and captured a set in one of her two matches. The Slovakian veteran had won only five games when they met at Indian Wells this spring, however, an ominous sign that counterbalanced the rest of their history. Vulnerable for much of this fortnight on serve, Azarenka had needed to mount consecutive comebacks from one-set deficits to reach the quarterfinals. Last year's finalist remained the heavy favorite to emerge from the lower half of the women's draw, though. The youngest woman still in the draw, Azarenka has accumulated much more experience in the late rounds of majors than Hantuchova or semifinal foe Flavia Pennetta.
A semifinalist just once before at this level, Hantuchova has struggled with mental frailty throughout her career despite her obvious talent. She needed to start impressively in this match under the lights of Arthur Ashe to fend off the pressure that would mount as it progressed. In their previous meetings, Hantuchova had succeeded in stretching Azarenka out of her comfort zone by pulling off the court with sharply angled groundstrokes and into the net on adverse terms. But the much more athletic world No. 2 could expect to rely on her movement to extend the rallies and her pace to finish them.
That is, if her serving problems did not unglue the rest of her game. Azarenka has managed that weakness exceptionally well this summer, including a fourth-round victory in New York when she dropped serve seven times and struck nine double faults. Her return skills have reduced the pressure on her serve, for she has broken opponents so often that she can afford to concede breaks of her own.
Continuing that pattern, Azarenka broke at love in the first game but promptly handed back the break with a diffident service game of her own. Hantuchova had struck 15 aces in her previous match against Alison Riske, and she opened the next game with her first of this match. In this sort of dynamic, the first woman to hold would earn a key edge. Azarenka gained that edge in the fourth game just as Hantuchova began to start finding the range with her angled groundstrokes.
Although she did not break in that game, the unseeded Slovak stayed in her groove from the baseline during the routine hold that followed. It likely raised her spirits while keeping her very much in the first set and reminding the world No. 2 that plenty of work still lay ahead.
The tension continued to lie heavy on Azarenka's serve, which donated consecutive double faults at 3-2. Vika still attacked fearlessly behind it, however, stepping inside the baseline to take time away from her opponent. Moreover, she tracked down even the most penetrating groundstrokes that Hantuchova could throw at her and won the majority of the extended rallies. The depth and steadiness of Azarenka's shots ensured that she did not lose control of a point once she had gained it.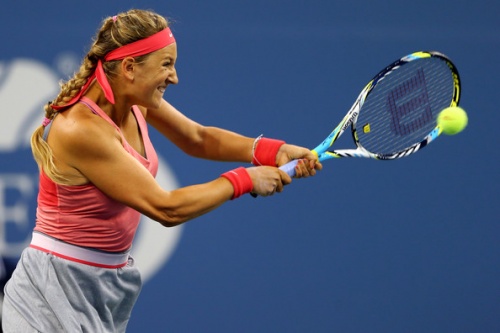 After her second break at love of the first set, Azarenka served it out to claim the one-set lead that had eluded her in the two previous rounds. Even some of the angle-to-angle battles began to tilt in her direction as she wrong-footed the underdog by hitting behind her. The world No. 2 has proved as strong a front-runner recently as Hantuchova has proved fallible when playing from behind. Lacking a Plan B, the Slovak had no choice but to persevere in her game plan and hope that Azarenka's form dipped.
That dip came when the second set began. Unable to make any inroads in her first return game, Azarenka played from behind for the first time in the match. By contrast, Hantuchova seemed emboldened by her strong start to the set and showed off her uncanny timing during a long game on Azarenka's serve. The game culminated with yet another double fault, which threw Vika's challenger a lifeline soon after her situation had looked hopeless.
As she aimed to consolidate the break, however, Hantuchova's first serve deserted her. That shot had played a crucial role in allowing her to start points on offense during her more comfortable holds. In its absence, she found herself too often in the neutral or defensive positions from which she rarely wins points. Hantuchova pulled the trigger from the baseline too early in an effort to compensate as she let the hard-earned lead dissolve.
Underdogs can ill afford to let a competitor as resilient as Azarenka off the hook, which the Slovak learned the hard way shortly. Errors crept back into her game, while the world No. 2 regained her disciplined focus. Nevertheless, Hantuchova continued to battle bravely in digging out of triple break point at 2-2 with a sequence of risky shot-making. Among the most impressive was a drop shot that died out of even the fleet-footed Azarenka's range. That recovery mattered little in the end as consecutive double faults handed the favorite the lead.
Sets and matches can run away quickly on a fast court like Arthur Ashe Stadium, and Hantuchova proved powerless to halt Azarenka's momentum. Her high-risk game can fall apart when her timing is a shade less than perfect, which is what happened over the last few games of this match. Azarenka stayed content to play steady, relatively conservative tennis from a defensive position as errors flowed from her opponent.
When she served for the match, the world No. 2 predictably ran into trouble. For the second time in the set, she double-faulted on break point after an unintelligent approach had left her open for Hantuchova's passing-shot winner. Fortunately for Azarenka, she had gained a double-break cushion. Hantuchova thus needed to hold one more time to stay in the match, a task that proved too great. Reversing direction on her groundstrokes, Azarenka kept the Slovak on the run and off balance as she earned one last break.
Cruising to a comfortable 6-2 6-3 victory, Azarenka reached her sixth major semifinal since the start of 2012. She will seek her second straight US Open final and fourth straight final at a hard-court major on Friday against another unseeded opponent, Flavia Pennetta. While her performance was not flawless in this quarterfinal, Azarenka will feel reassured to improve her form from the previous rounds as another collision with Serena Williams looms.