Semi-Sweet: John Isner Reaches Indian Wells Final Four

Much ink has spilled on the downturn in American men's tennis since former world No. 1 Andy Roddick retired at the 2012 US Open. This proud tennis nation has set a series of historic lows since then on the men's side, lacking a Grand Slam champion or a top-10 contender. (The reverse is true on the women's side, spearheaded by all-time legend Serena Williams and stacked with promising talent for the future.) In Roddick's absence, the burden of carrying American hopes has fallen almost entirely on the broad shoulders of John Isner.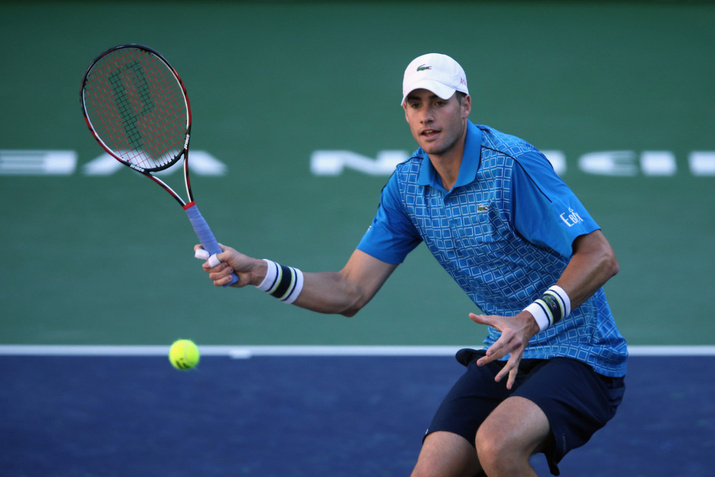 An NCAA star at the University of Georgia before turning pro, Isner has won a handful of small titles but so far has left little impact at the majors. He has struggled throughout his career with injury woes, predictable for a man with an 82-inch frame. Isner's height gives him the advantage of a massive serve paralleled by few in the ATP, but it also hampers him in mobility and durability. When healthy, however, his nearly unanswerable weapon allows him to compete with the best in the game. The top-ranked American man has reached finals at two of the three Masters 1000 tournaments in the United States, rising to the occasion on home soil.
An Indian Wells draw filled with upsets opened the door for Isner to earn a second finals appearance in three years at the BNP Paribas Open. Losses by Richard Gasquet and Tomas Berdych left him without a single top-10 opponent before a semifinal against Novak Djokovic, whom he had defeated in the same round at this tournament two years ago. Hobbled by injury at the Australian Open, Isner had produced uneven form in two February tournaments at Delray Beach and Acapulco. Yet the American No. 1 had found his range in the desert, where the fast balls and high bounce suit his game.
A three-set victory over Fernando Verdasco gave Isner confidence heading into a quarterfinal on Friday against enigmatic Latvian Ernests Gulbis. Veering from torrid to frigid in form throughout his career, Gulbis brought one of his hot streaks to the desert. The temperamental shot-maker had reached the quarterfinals or better at five of six tournaments since the Australian Open, including a title in Marseille where he had defeated two top-10 opponents. Gulbis also had scored a resilient win against rising star Grigor Dimitrov, turning the tide of that match after a tepid first set.
Never before had the two men met on an outdoor hard court. They had split their two meetings last year, Gulbis prevailing on clay and Isner on indoor hard. This battle promised to be played as much between the ears as between the sidelines. The American's massive serve had frustrated opponents less flammable than Gulbis before, yet the Latvian's blazing offense has left defenders much smoother than Isner scratching their heads.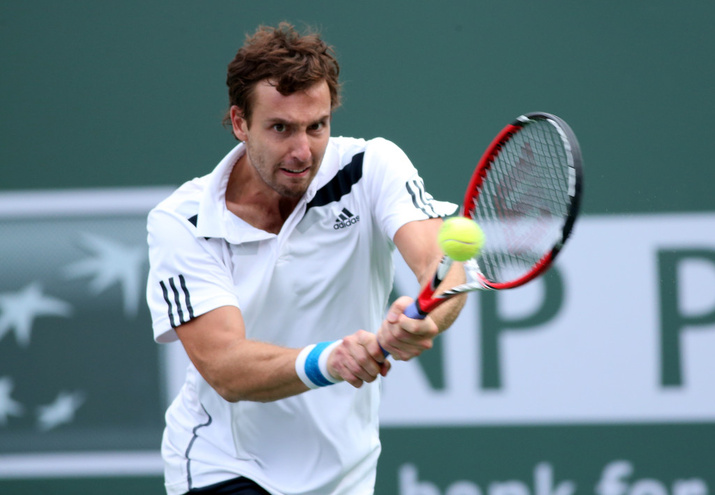 In this quarterfinal, Isner would hold the advantage in set positions such as the serve and the second-serve return because of his slightly superior first strikes. On the other hand, Gulbis would hold the edge in rallies with his crisper movement and steadier baseline consistency, especially on his backhand. That said, this match still pitted power against power rather than featuring a contrast of styles. Both men would seek to impose themselves at the outset behind their serves and forehands. Staccato exchanges would set the tone, even on a relatively slow court, while break points would be few and far between.
Break points would be non-existent, in fact, throughout the first 11 games. A few more rays of hope shone on Gulbis during that span as he broke down Isner's backhand in rallies and protected his second serve more efficiently. To his credit, though, the American made cleaner contact on returns than we have grown accustomed to seeing from him. He decided the majority of the points on his terms, for better or worse, which usually bodes well for his chances.
An Isner set almost always hinges on a tiny handful of points, such is the discrepancy between his prowess on serve and on return. One of those key points came when he saved a set point on the eve of a first-set tiebreak. Another came when Isner won a long rally at 2-3 in the tiebreak, outmaneuvering his opponent in the sort of protracted baseline exchange that Gulbis would have expected himself to win. Frustration with losing that point might have seeped into the Latvian's head for his next service point, which he lost routinely. That one mini-break sufficed to separate the two men in a first set where neither had given an inch on serve.
While the second set would reach a similar conclusion, it took a much more tortuous route there. Just when Isner appeared to hold all of the momentum, he dropped serve at love to start the second set in a clear lapse of focus. Seemingly determined to return the favor, Gulbis would weather break point after break point in the service games that followed. The quality of play slipped sharply as shadows crept across the stadium and a third set beckoned. When Gulbis served for the second set, however, a string of unforced errors sprayed from his racket to hand Isner the service break that he needed to glimpse the finish line.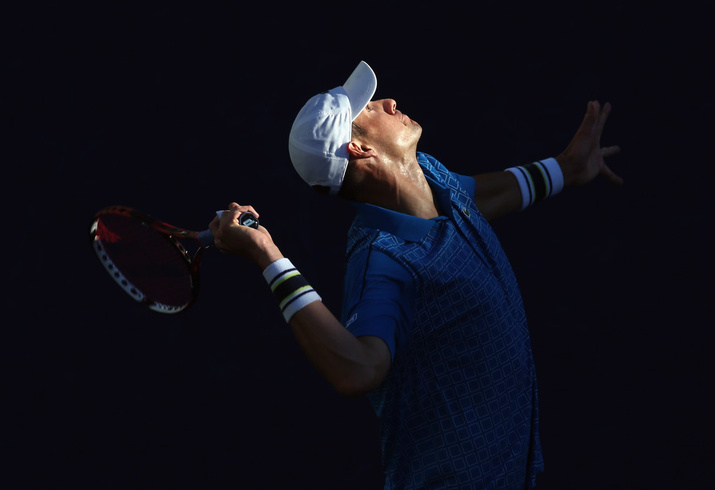 One of the American's most impressive qualities consists of his ability to shrug off poor passages of play and refocus himself on what he does best. That is protecting his serve, which Isner did to perfection in his last service game of the set and in the tiebreak. A Gulbis double fault at 2-3 in the tiebreak sealed his doom, for his opponent hammered down unreturnable serves at 135 mph and 141 mph to reach triple match point. A deflated Gulbis, his shoulders sagging, seemed to have lost hope. He attempted a half-hearted approach for which Isner punished him with ease to end their two-tiebreak encounter.
Back in the top 10 after his victory, Isner reached a Masters 1000 semifinal on home soil for the third time. His second Indian Wells semifinal in three years will pit him against the man whom he faced in his first: Novak Djokovic. Isner should enter that match as the underdog, considering the gap in their career achievements. But he also should enter it with confidence, for he won that previous desert duel with the Serb in 2012 and also defeated him last summer at the Masters 1000 tournament in Cincinnati.
Both of those extremely tight matches came down to Isner's superior focus and belief when the outcome hung in the balance. After his victory today, Isner observed that playing an opponent of Djokovic's quality on hard courts in the United States gives him the best possible chance to pull off an upset. The crowd support lifted his spirits when it mattered most two years ago, and he expects to receive the same boost on Saturday. Wielding such a massive serve also puts his mind at ease when playing the best in the game, he admitted. If he can extend Djokovic to tiebreaks, as he did in 2012, he will fancy his chances to ride a wave of adrenaline past the world No. 2.
Taking into account his limitations as well as his weapons, American fans should feel proud of what Isner has produced at several of the sport's most prestigious tournaments. Few can question that he has made the most of his notable but one-dimensional talents and maximized his potential. If he can stay healthy over the next several months, Isner believes that more deep runs will follow. What he has shown this week suggests little reason to doubt him.