Saturday at the BNP Paribas Open

Over 42,000  fans attended the BNP Paribas Open day session, a record for the tournament's first Saturday. With show-stopping matches in Stadium 1 and star players on lower courts, the crowds were surely not disappointed.
Venus Williams defeated Petra Kvitova [3] 4-6, 7-5, 6-4 in their seventh career encounter, which was also the seventh to be played in three sets. Kvitova took the first set with a break to 5-4 followed by a hold. Nerves began to show towards the end when she double-faulted twice in the final game. In the second set, Kvitova started strong, leading 3-0, when Williams pushed herself to dig deeper and caught up at 4-4. Williams managed to dig herself out of the hole and took the second set 7-5 in a 55-minute battle. In the third set, players each held their first three service games, before Kvitova broke for 4-3. Williams quickly broke back and won the next three games. Kvitova's nerves and frustration showed when she double-faulted twice as she served out the final game. Although it was only a second-round match, both players and the crowd felt it carried the weight of a later round match, with the two Slam winners fighting to advance.
Reflecting on the match, Williams took away confidence from her ability to fight her way back: "It seemed like I played even better when I was down. I really didn't have any other choice because she was playing so well and serving so well. So, it's nice to know that in that sort of situation I can still play and just lift my level." The 38-year-old tour veteran has not lost an ounce of focus on the court: "Honestly, a double break is not ideal against a great server, especially a left-handed server. But the good part is being in matches, a lot of it is just being in the moment."
Kvitova was visibly frustrated with her performance when she spoke with press after the defeat. Despite what her early lead might suggest, she never felt fully settled into the match: "It was such a weird match, to be honest. We started, I think, pretty nervous, both." She described a dissociative feeling coming over her, which gave Williams the opportunities she needed to fight her way to victory: "Suddenly, I was playing, but I wasn't really there. It was such a weird feeling […] I just started to miss so much, and I didn't put the first serve in. And if that happens in any other match which I already played, I just would be that strong mentally that I gonna change it, but I just couldn't do that today, which I thought that I did it when I break her and I was 4-3 up in the third."
Although top players Novak Djokovic [1] and Alexander Zverev [3] both advanced Saturday, the ATP buzz was focused on the next-gen showdown between Canadian wild card and Greek Stefanos Tsitsipas [9]. The 18-year-old Auger-Alliassime defeated Tsitsipas, two years his senior, in a decisive 6-4, 6-2 victory.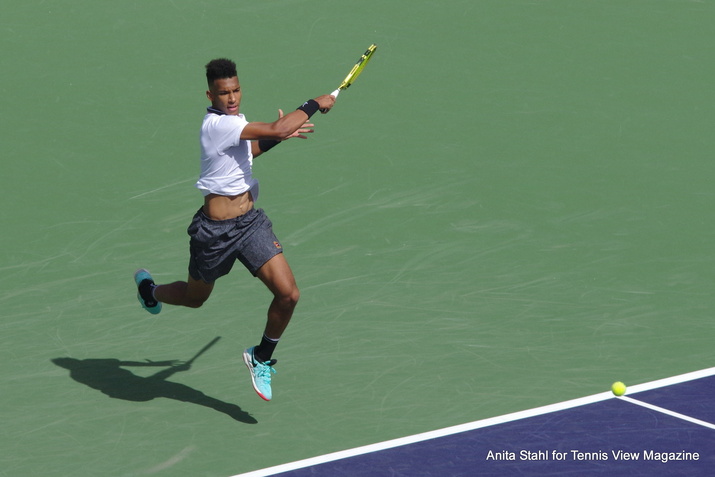 The younger player knew what he would have to do and executed it not only with skill but incredible athleticism. He explained, "I thought I was able to be pretty aggressive, like all the other matches we played in juniors," referring to their previous four meetings that all went in the Canadian's favor.
With a promising career ahead of him, Auger-Aliassime is looking forward after his first top-10 win: "I want to win as much as I can. I want to go as far as I can as a player. I don't know what my limits will be, but I try to work hard every day to go as far as I can. I want to probably feel all the emotions that I can feel, you know, on these courts, win as many trophies as I can." He also knows what it will take for him to get there: "I always have a big belief in myself. I go for my shots. I'm aggressive. And if I can keep on doing that and be even more solid and being more consistent, I think it will bring me to high levels."
Stefanos Tsitsipas struggled to find his way into the match's pace: "It's tough playing him. He has kind of a strange tempo in his game, and you always feel like he's going to hit very hard, but then you don't really know what to expect, how hard he's going to hit the ball. So, you're always caught out of position." This forced Tsitsipas to move further and further back to buy time but opened up the court of Auger-Aliassime to take his big shots. The changes in tempo were compounded by the unique conditions of the courts in Indian Wells. The slow, high flying balls have had the experience here compared to clay, a surface that the Canadian played on in Europe the lasts months while the Greek was competing on hard court. "The ball was bouncing high. And when I was returning close from the baseline, I didn't feel that much control of my ball. And he was hitting so hard that I had to take some time and be well-prepared for the next shot. It felt like he was taking the balls very early and didn't give me much time."