San Diego Open Recap

By now most know how the story ended but I will recap just in case. Recently ranked top-10, Casper Ruud [NOR] captured his 5th consecutive title of 2021 and his first on a hard court at the ATP San Diego Open. He defeated Cameron Norrie [GBR] in straight sets.
Following such close quarter-final and semi-final matches, this match was a bit deflated due to Casper's dominance and error-less performance. The final score, 6-0 6-2. Many times, scores do not reflect the efforts of the opponent. That holds true today as the Brit battled but lost pretty much all the critical points. Ruud was a man on an unstoppable mission.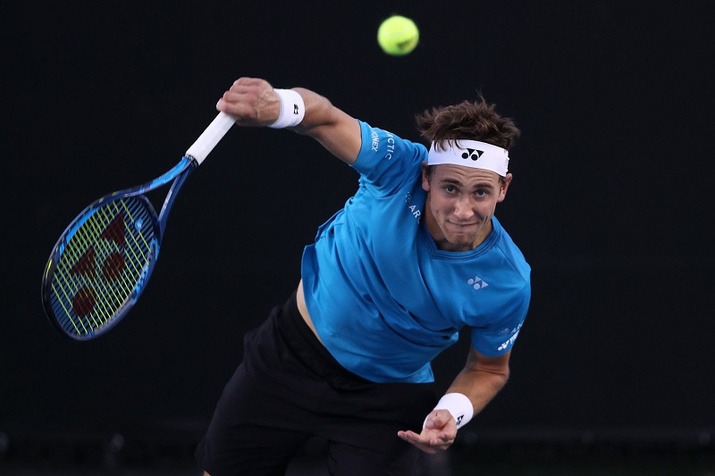 It was the doubles final between top seeds, Joe Salisbury [GBR] and partner, Neal Skupski [GBR] who scored an "A" for entertainment. This match went the distance as the number three seeded team of John Peers [AUS] and Filip Polasek [SVK] did not yield until the end, 7-6(2) 3-6 10-5.
A solid crowd showed up for the final day doubles opener on center court. It was a great occasion for those who appreciate fast-paced team, elite shot-making skills, and dynamic energy. To put this match into perspective, this was the first time Peers and Polasek teamed up. That's a tremendous result for the "new couple."
All kidding aside, if you missed this match go find it online somewhere. A viewing is well worth your time as doubles finals typically are. In the end, the more seasoned duo won the bigger points and the gorgeous aqua blue ocean-inspired dolphin trophy.
Although San Diego was granted a single license in 2021, a litany of players spoke of how much they loved the venue, all that San Diego offers them off-court, and how great the tennis-loving city turned up filling the stands even during qualifying. It was announced after the trophy ceremony that San Diego would not be a one-hit wonder for the ATP Tour. While it remains to be seen where the event can fit into the tight tour calendar, I believe it will find a home. My suggestion would be to place it between Acapulco Abierto Mexicano Tercel event that typically takes place before Indian Wells.
San Diego is a solid lead-up to Indian Wells post-Mexico. It offers players a great geographic alignment requiring minimal travel, providing a relaxed environment with a lot to do off court for little money and plenty of "social distanced" spaces, and it has similar conditions to the BNP Paribas Open. The Barnes Tennis Center provides a convenient landing spot for players who crash out of Acapulco early. It always happens to someone. In San Diego, qualifying [LL] Kevin Anderson fell in the first round to Dan Evans [GBR], 7-6(11) 7-5, that's rough and that's tennis.
Evans fell to eventual county man and finalist, Cameron Norrie, 7-6(3) 6-3.
In its first year the San Diego Open began to sell out in the third round, quarters, semis and the final were at full capacity. Fans turned up and brought great energy supporting their favorites. Right away world No. 15, Diego Schwartzman was adopted by San Diego. I spoke with a woman who traveled from Alaska to attend this ATP 250 event that had a Masters 1000 draw. Her words, "What a gift."
While the future of this new kid on the block event is still in wet cement, many players remarked on court that they want to come back to our fair city. For now, players have moved down the road to Indian Wells. But hey guys, the door is always open, and you know where to finds us at the home of Youth Tennis San Diego (YTSD), our Barnes Tennis Center.
A final shout-out: Given only five weeks to pull off this feat, you delivered a tennis miracle, Ryan Redondo, Dani Vallverdu, and all the volunteers, well played.