Sam Querrey: Tennis Underdog, Family Man and Jokester
A look at the American player who beat Novak Djokovic at Wimbledon

No one was holding their breath for Sam Querrey. None of the analysts expected a 28 seed underdog to beat the No. 1 ranked Novak Djokovic. Not really.
He was a formality, most figured, on Djokovic's way to a calendar-year Grand Slam. At best, maybe he'd get a few points and the ability to say he faced Djokovic at Wimbledon.
Yet Querrey stood at the winning side of the July 2 round, leaping into the air as the best tennis player in the world registered his defeat.
Querrey's name was relatively well-known among the tennis world, but the rest of the world only started to take note after that match. Headlines peppered the week's news cycle: "Sam Querrey: Who's the man who beat Novak Djokovic?" CNN asked. "Just who is the big-serving American who dumped Novak Djokovic out of Wimbledon?" The Telegraph queried. "Meet Sam Querrey: The Awkward, Quirky American Who Upset Novak Djokovic," the Bleacher Report jabbed.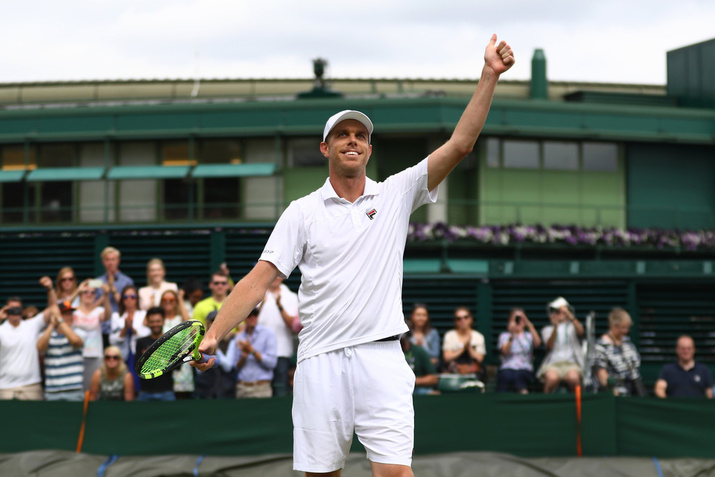 Querrey, of Santa Monica, said his match with Djokovic boosted his confidence, but it didn't change the way he views his career.
After the cameras swiveled back toward Andy Murray and Serena Williams, after Querrey stepped off a London court with a loss, after he and his girlfriend flew back to California for some rest before the Citi Open, Querrey was left with his contentment.
"I've probably watched the highlights of the match 40 times," Querrey said before his quarterfinal match. "It's been exciting to experience this. … I'm looking forward to the tournament ending and getting back home and getting back to a routine."
The moment had been decades in the making, but for a brief period many wondered if his rise was a fluke. His ascension traced back through years of ATP tournaments, some injuries and a critical moment to relinquish a free college education for his professional competition dreams.
Along the way, he established himself with his strong serve and six-foot-six-inch height, but friends and family say he maintained his goofy personality and level-headed attitude.
"He doesn't want the limelight for the most part," Querrey's longtime friend, Wes Burrows, said. "He just wants to be treated like a normal guy."
Querrey, 28, was born San Francisco, and his family moved to Las Vegas when he was about 6 years old and then to Thousand Oaks, Calif., as he approached middle school. He said he started taking tennis lessons at age 4 but started taking the sport seriously when he was about 16 years old.
Lessons at the North Ranch Country Club brought him in contact with coach Grant Doyle, who competed in the French Open and Australian Open in the mid-1990s.
Querrey's mom Chris said she remembers Doyle telling her: "Sam's got all of the weapons to play in the pro tour. He can make a living.'"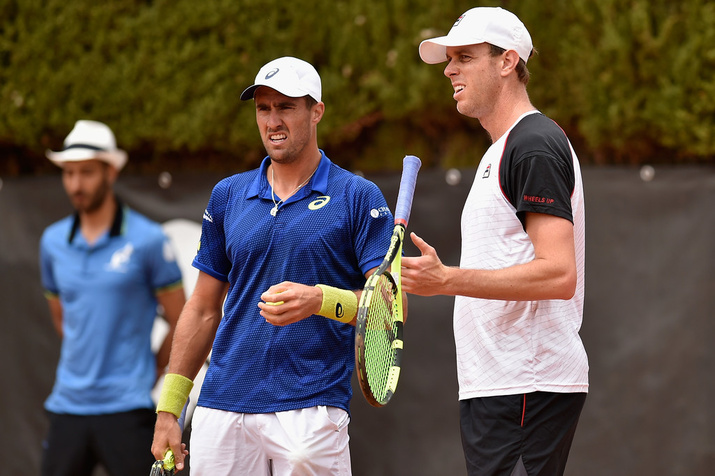 Doyle worked Querrey up to the International Spring Championships in Carson, Calif., and the Easter Bowl Championships his senior year of high school. He won both.
"When that happened, that's when we knew," Chris Querrey said.
His goal has been to earn a college scholarship, but Querrey said once he started winning junior tournaments, he realized he could go pro. He turned down a scholarship to the University of Southern California to play tennis professionally – winning his first tournament in Las Vegas.
"Right away, I felt like I made the correct decision," Querrey said. "Once I did that, I felt like I was on my way to hopefully winning more and becoming a perennial top 50 player."
His family's history somewhat played a role in his decision, his mom said. Querrey's dad Mike accepted a college baseball scholarship, relinquishing a chance to play professionally for the Detroit Tigers.
"He was a very good athlete but didn't want to risk a free college education because at that time it was pretty important to him," Chris Querrey said. "It did influence Sam, I'm sure, and my husband was key in saying, 'Sam, you can always go to college. Playing a sport, that's limited. That's finite.'"
His top ranking – No. 17 – was achieved in 2011, and he's currently ranked at No. 29, according to the ATP.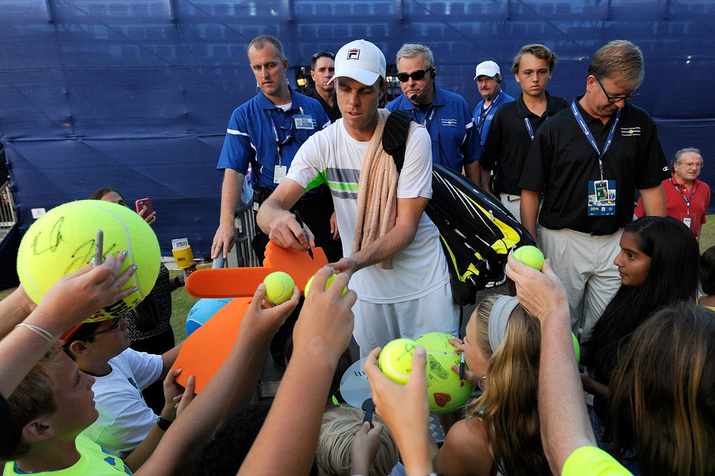 But his friends and family say tennis isn't the entirety of Querrey's identity. Nor is the money that comes from his successes at tournaments.
"His family is first for him, and right behind that is tennis," his friend Jared Grosslight said. "I never think that ego is going to be an issue with him because of his upbringing and who he is."
His mom said even when he was competing in junior tournaments, Querrey insisted on choosing a $1,800  1974 Volkswagen bus as his first car. Those habits stuck, and friends say he isn't the type of person to buy an expensive item after a tournament to celebrate.
"He didn't want a hot Mustang when he could buy (that) car. He's kind of an old soul," she said.
Querrey's girlfriend, Abby Dixon, said his family often joins him during major tournaments, and they all visit one another as often as possible.
"He talks to his sister all the time. His dad calls a couple of times a week," she said. "He probably talks with them and has better relationship with his parents than most 28-year-old men."
In high school and throughout his early career, some of his close friends came to his matches bare-chested with the letters "SAMURAI!" painted on their bodies. The Samurai Sam club died down as the young men settled into lives with demanding jobs and young children, but some of them were at Wimbledon this year.
The antics, though, may never stop, he said. Querrey said he had a running bet with Grosslight to see how far he could get at Wimbledon.
"I said, 'OK, if you make a quarterfinal in a major, I'll pierce my bellybutton,'" Grosslight said. "Now, sometime in the next month or so, I'll have to get my navel pierced. All my friends are texting each other and they'll text me pictures of the most ridiculous rings. They're like dolphins or Hello Kitty."
Dixon said dares and jokes are a quintessential part of Querrey's life.
"He's always looking to make everything into a game," she said.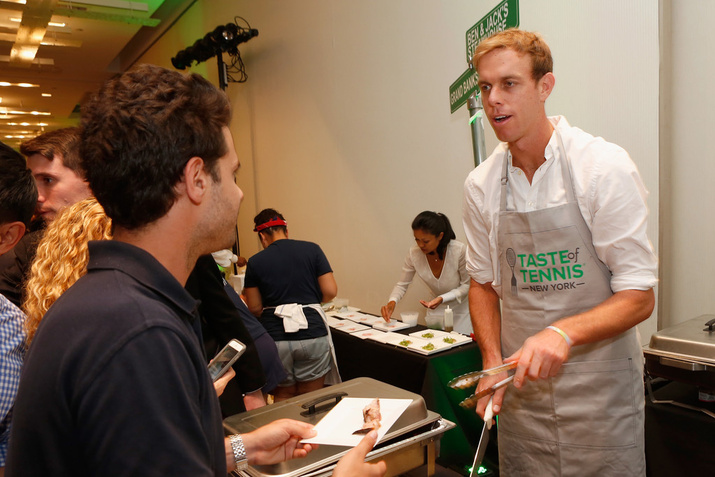 And he doesn't embarrass easily. Before an early match at Wimbledon, Dixon bought Querrey a bath salt to loosen sore muscles.
Neither of them realized the Lush product had glitter in it, but Querrey laughed off the fact he looked like a human disco ball for a few days after. He may have had some residual glitter on him even while playing Djokovic, Dixon said.
But the night before his second day playing Djokovic after a rain delay, Querrey was calm but focused.
Chris Querrey said her husband pulled out a baseball analogy: the no-hitter, and the superstition that if you talk about a no-hitter before it's over, you'll ruin it.
"He said, 'Hey we're going to treat this like a no-hitter in baseball. We can't talk about it. You can't discuss it,'" she said. "We had dinner and talked about everything but tennis."
Querrey came back the next day to beat Djokovic, despite falling back a few points.
Dixon said the moment was as big for Querrey's parents as it was for him.
"You've never seen two happier people in that moment where he won," she said.
So, what's next for Querrey? Right now, the Citi Open is keeping Querrey sharp – one of many tournaments that he said will keep him busy all summer.
"I'm just hoping to keep my momentum for the U. S. Open," he said.
But first, he'll have to pick out a belly button ring for his friend.
Meredith Rutland Bauer is a freelance news reporter based in the San Francisco Bay Area. She is a native of Florida, where she worked as a general assignment reporter for the Florida Times-Union, and is a lifelong University of Florida Gator. Follow her at @merebauer.