Sakkari Outlasts Pegula In Miami

In the fourth round of the Miami Open, Maria Sakkari of Greece outlasted Jessica Pegula of the United States in a tough fourth-round battle 6-4, 2-6, 7-6(6) in two hours and 38 minutes.
Sakkari saved six match points for her epic win that moves her into the quarterfinals.
In her on-court interview, she said: "I always like to compete and win for my country. It's one of the reasons why I play tennis. I love Greece. I love Greek people. I love Greeks around the world. I'm super proud I'm Greek."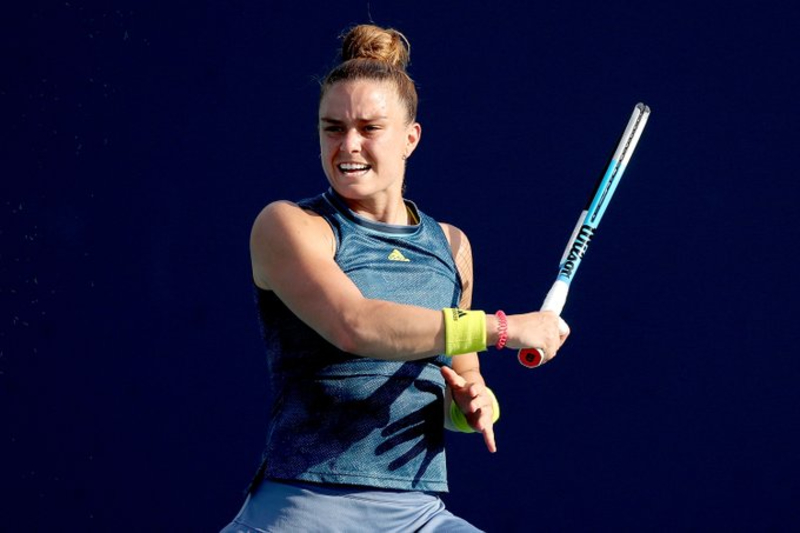 In a Twitter post, Pegula commented: "Safe to say we left it all out there, much respect Maria Sakkari."
Pegula has had a wonderful start to the season, making the Australian Open quarterfinals and back-to-back semifinals in the Middle East. "I think I have definitely found a new kind of depth of self-belief where I can say, Okay, I can do this. Obviously, I'm not expecting to win the tournament every time."
Pegula gives a lot of credit to her coach David Witt (who was the former longtime coach of Venus Williams) for her recent success: "David has been great. I have kind of said before I think he's kind of given me more confidence, especially when I started working with him, helping me kind of believe in myself.
"He's pretty laid back but he's also pretty matter-of-fact. You can do this, you can do this, you can play like this, you can step into the court more, you can get your serve better.
"It's been very, I don't know, like I guess matter-of-fact the way he says it where I think it's given me a lot of confidence.
"And too I think we have just been chipping away on a lot of stuff, serve, coming in, even scrapping out a few points, playing smarter, and definitely I think the last few months we have definitely done a lot more strategy, which I like, which I really embrace and playing a lot smarter."
Sakkari said of Pegula: "I think Jessica is playing unreal tennis. She really deserves, you know, the results she has been having. She has been playing really, really well, and she's a very nice girl. That's the most important thing.
"So it was a very good win for me, and I think the level was super high from both of us."
Next up for Sakkari is world No. 2 Naomi Osaka of Japan, who is on a 23-match winning streak.