Sabalenka Takes Australian Open Crown

In a spectacular final, Aryna Sabalenka battled past Elena Rybakina 4-6, 6-3, 6-4 to win the 2023 Australian Open.
Playing what had to be the match of her life, Sabalenka hit 51 winners and just 28 unforced errors. Rybakina, the 2022 Wimbledon champion, hit 31 winners and 25 unforced errors.
Sabalenka struck an incredible 17 aces and seven double faults, while Rybakina, with her technique-perfect serve, struck nine aces and one double fault.
It was a tough start for Sabalenka, who looked frustrated in the first set, even serving a double fault on the opening point. In the second set, though, she made an impressive turnaround, changing her tactics by serving more to Rybakina's forehand and putting more depth on her shots, which caused Rybakina to make more errors.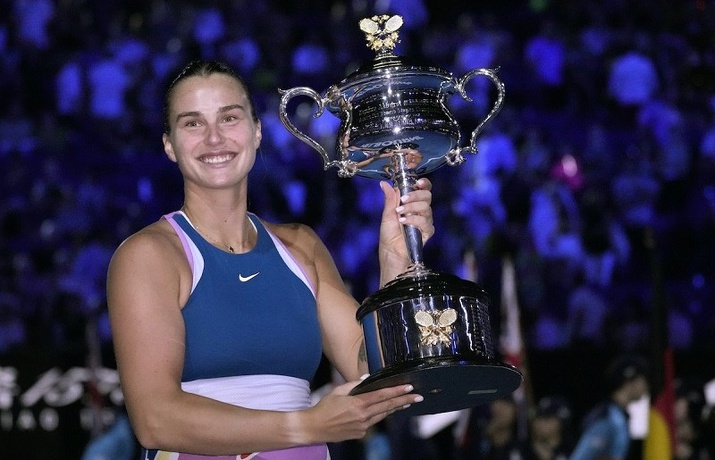 (AP Photo/Aaron Favila)
In the third set, at 3-all, Sabalenka broke with a crushing return and baseline overhead. She held in the next game, though there were two deuces, by blasting an ace out wide. Rybakina then held with a powerful forehand. Sabalenka was now serving at 5-4 for the title. At 30-all, she struck an ace down the T. But then, at 40-30, her first championship point, she double-faulted.
A year ago, Sabalenka had so much trouble with double-faulting that she had to serve underhanded. She called herself the double-fault queen. But she reworked her serve, and now she was a different player.
Though the last game was thrilling, with many good returns and an amazing angled forehand cross winner by Rybakina, Sabalenka held her nerve, and won on her fourth Championship point.
Sabalenka fell to the court, lying on her back in tears, understandably full of emotion by winning her first Grand Slam title.
"First of all, I want to say sorry for my English because I'm still shaking," Sabalenka said as she was presented with the trophy by tennis legend Billie Jean King.
"I'm super nervous. Secondly, It's such an inspiration to receive this trophy from you. Thank you so much for everything you've done for our sport."
Sabalenka said to Rybakina: "You're such a great player. Of course, we are going to have many more battles, hopefully in the finals of the Grand Slams."
To her team, she said: "We've been through a lot of I would say downs last year. We worked so hard. You guys deserve this trophy. It's more about you than about me. Thank you so much for everything you're doing for me. I love you guys. Thank you."