Sabalenka Is On The Move In Zhuhai

Aryna Sabalenka's renowned grunting echoed around Center Court as she got the first win in the Rose Group of the Hengqin Life WTA Elite Trophy Zhuhai. The powerful Belarusian defeated Greek star Maria Sakkari 6-3, 6-4.
Center Court itself is a marvel. It has a cantilevered outer roof over the seating and a circular inner roof with gaps for natural air. It's still officially called an outdoor court and has that feel, but you don't have to worry about the sun or rain.
In her post-match press conference, Sabalenka said, "Well, first of all I'm happy to win this match, of course. And it was not easy match, it always is tough to play against her, because she's a big fighter. And anyway I knew that it's going to be a tough match and it's really humid out there."
Sabalenka smiled. "And I don't know, I was just trying to put as much as I could balls in, yes."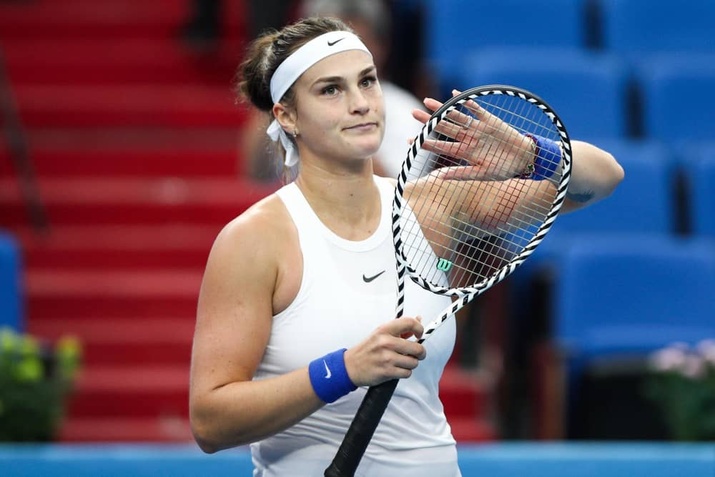 There is a sweetness to Sabalenka, which is opposite to how she is on the court. On the court, she's a killer.
She's a sculptured five-foot-eleven. Her serve is her biggest weapon, though her fearlessness with it does produce errors. She blasted six aces and eight double faults.
She crushed forehand and backhand winners, crosscourt and down the line. She delivered deft dropshots. She placed volleys and overhead smashes with precision.
This is Sabalenka's second appearance in Zhuhai. In her press conference on Monday, Sabalenka said, "I don't know, it just feels like at home here and it's always nice to play in China and, yeah, the Chinese fans support me like crazy here and I really like it and it's really helped me on the court.
"So, yeah, it feels like something special every time I play in China and every time I expect a great level of play here."