Rybakina Takes Wimbledon Title

Elena Rybakina, with her exquisite technique and immense power, is the winner of Wimbledon, coming back from a set down to beat Ons Jabeur, with her creative variety of spins and speeds, 3-6, 6-2, 6-2, in one hour and 48 minutes.
Rybakina is the first player from Kazakhstan ever to win a Grand Slam singles title.
At 23 years old, she is the youngest Wimbledon champion since Petra Kvitova in 2011.
After a nervous start in the first set, everything started going Rybakina's way in the second and third, when she got into rhythm, stepping in on her shots, taking time away from Jabeur.
On championship point, Rybakina won with a softer second serve—she can hit her first serve 122 mph—and Jabeur missed her backhand return wide.
Rybakina celebrated her victory with the subtlest fist pump, then waved and thanked the crowd, smiling at her coach Stefano Vukov.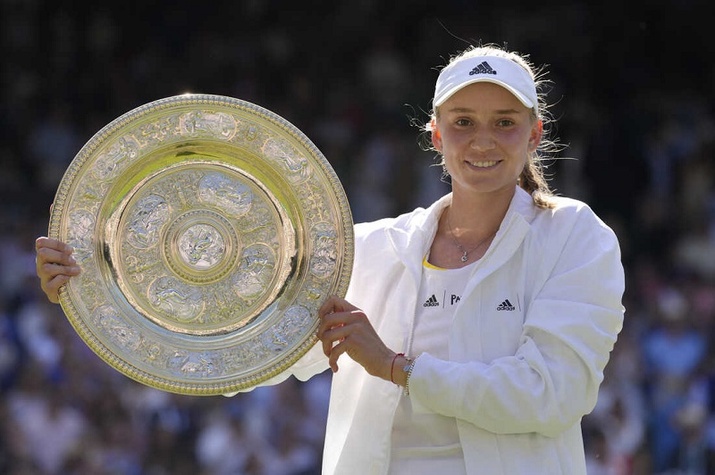 Kirsty Wigglesworth/AP
I was lucky enough to watch Rybakina practice with Vukov. She was calm, humble, a perfectionist, disappointed at her misses, unfazed by her winners. He was tough with her, but also looked stunned again and again by how good she is.
In her press conference, Rybakina, who has a shy, sweet demeanor said: "Maybe the first set I was too nervous. Of course, Ons, she played well. I needed time to adjust to her game.
"But then after I thought that I'm going to fight till the end no matter what. Just tried to focus on every point because it was very tough. It was super hot. I think because I was nervous physically, I thought I cannot anymore.
"But in the end I was just running to all these dropshots. I think it was first time really when I run so much to all these tricky shots from Ons."
Rybakina had much praise for Jabeur: "I think she's very good person. Actually first time when we met, I went to play maybe one of my first tournaments WTA. I was there with my dad and I didn't even know where is the tennis club, nothing. And I met her. She was super nice to me. She showed everything. That time I think she was—I was out of 200, but she was also not so high in the ranking. It was very nice.
"Then to see how much she achieved also, I saw the list, history she made, just respect to her and her team. It's a great job."
Jabeur is the first Tunisian, Arab, and African woman to reach a Grand Slam final in the Open Era.
In her press conference, Jabeur said: "I told myself, Don't lose the second set. That's the thing I told myself.
"I know I've been winning like the first set, and for some reason like drop in the second set. I was trying, like, really to win my serve at the beginning. I felt like I was going really fast, even making like some mistakes. I felt like she was playing better in the second and third set because she made less mistakes.
"I was expecting myself maybe to return better, especially take the opportunities that I have to break her so many times.
"It is frustrating to play someone that serves really big and doesn't give you the chance sometimes to take that break. I just telling myself, like, This is not over, I trust you. I even said, I love you, to myself during the match (smiling).
"It wasn't meant to be."
Jabeur was asked what it was like to play Rybakina, a player who doesn't react much. Jabeur said: "I think she does react little bit. Just you have to see it sometimes. I'm usually someone that doesn't focus on my opponent. It could be disturbing if the other person is talking or shouting all the time.
"But it's nice to play Elena, to be honest with you. Even when you lose against her, she didn't do any big celebration or anything. I need to teach her how to celebrate really good (laughter).
"But she is the player that she is. Maybe that suits her. It's very comforting for her. It's working, so maybe she needs to do that."