Rybakina Rallies To Advance At Wimbledon

Having to come back from a set down to win her first round at Wimbledon, defending women's champion Elena Rybakina survived American Shelby Rogers on the Fourth of July by a scoreline of 4-6, 6-1, 6-2.
Though Rybakina held a winning head-to-head record, Rogers had beaten her as recently as 2022 on grass in the Dutch city of 's-Hertogenbosch.
In the first set, Rogers looked calm and confident. She broke in the opening game and then held her serve, keeping that one-break lead and finishing the set with an impressive ace. She played smart and aggressive tennis, while Rybakina looked a bit out of sorts.
Perhaps Rybakina was nervous playing her first match on Centre Court with a closed roof and where eight-time champion Roger Federer and the Princess of Wales watched from the Royal Box.
In the second set, Rybakina raised her level and was in full control, showcasing her outstanding backhand and serve.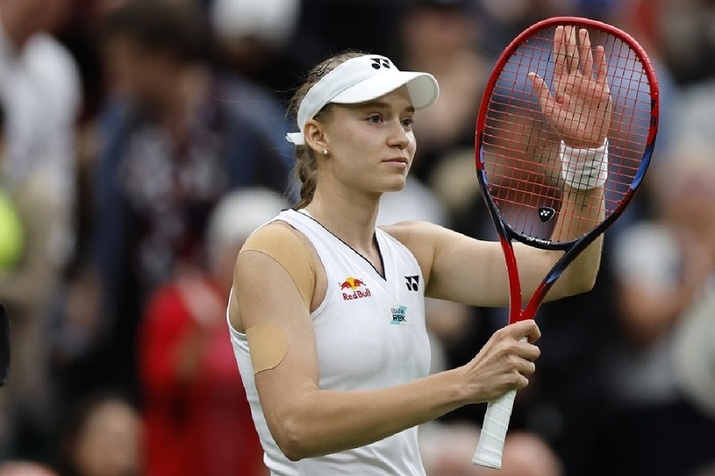 Profimedia
For the match, Rybakina struck 12 aces and only two double faults. She hit 31 winners to 18 unforced errors.
Rogers struck two aces and four double faults. She hit 20 winners to 31 unforced errors.
The two women are similar players in that both are powerful hitters who hit relatively flat, and both have fantastic backhands. But, in the end, Rybakina was able to be more consistent.
In her post-match press conference, Rybakina said that she was a bit nervous, but that overall she was happy she managed to win in three sets.
Rybakina said: "Yeah, I think I didn't start that well. I was not moving that great. Straightaway was a break from the first game. So, of course, after that it's difficult. I was not that reactive on the return also.
"Yeah, I needed, like, the full set I would say, which is not the greatest, of course, to feel better and start playing also, and raise the level, so…"
On playing in front of the great Roger Federer, she said: "Yeah, maybe that's why I was nervous because actually I really like Roger. When I was younger, I was always watching him play.
"It was really special. The year after to be again on this court with the same crowd, it was really special.
"First matches, I think they're always tough I would say, like, mentally to get to the rhythm of the tournament. So hopefully the next match is going to be easier."
Rybakina said: "Of course, just the atmosphere and the attention to be on Centre Court, it's different than the last year, because last year I started on a smaller court. With every match I was playing better and better, feeling better.
"Here it's different. Straightaway you go to this big court. I think for me it's now new chapter and this is something I need to get used and try to maintain my level. Yeah, just to get used to all these things."