Ruud Reaches His First Masters 1000 Final In Miami

On a hot and humid day at Hard Rock Stadium, world No. 8 Casper Ruud of Norway defeated world No. 103 Francisco Cerundolo of Argentina in routine fashion: 6-4, 6-1.
It was a dream debut for Cerundolo, who is the lowest-ranked Miami semifinalist in history.
Ruud is the first Norwegian in an ATP Masters 1000 final.
This was his fourth ATP Masters 1000 semifinal. On Wednesday, he beat world No. 4 Alexander Zverev in the quarterfinals, which was the biggest win of his career.
In the openiong of today's match, Ruud and Cerundolo traded breaks. The Norwegian had a late break in the first set, and, in the second set, survived four break points.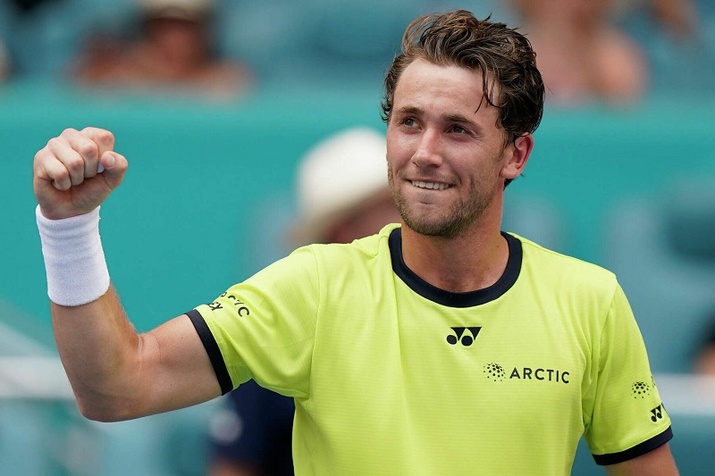 AP/Wilfredo Lee
Playing aggressively with his serve and forehand, Ruud hit six aces and won 83% of his first serve points.
Ruud, who is known as one of the tour's best clay-court players, was asked in his press conference if he was surprised that his first Masters final was on a hard court.
"Yeah," Ruud said, "I mean, I didn't expect if I ever made a Masters 1000 final it would be here in Miami, but I'll take it. Obviously, I'm enjoying the conditions and how the court is playing and everything. It's very, very slow compared to other hard courts, so I think it suits my game quite well."
Ruud said of his saved break points: "Yeah, I think I had a little bit more experience than him when it came to the big points, and especially this match. This was his first semifinal of a 1000, and I have been there a couple of times before. But still, every match is important and you can get nervous and tight.
"It was a little bit of a shaky start, but I got going quite well and won some key points. Especially in the end of the first I stole the set a little bit. The second set, it was some tough physical games in the beginning.
"After that, everything went pretty much my way, so it was a match that was a little bit up-and-down but ended on a good note."
In the final, Ruud will play the winner of defending champion Hubert Hurkacz or talk-of-the-town Carlos Alcaraz.
Ruud said of the 18-year-old Spaniard: "Well, I think we all can see like how talented he is, that he has a very good I think mind for tennis. He understands the game very well. He knows when to hit certain shots and when, you know, probably not to.
"But he is, at his highest level, very, very good, but he also plays high risk, I think, so he goes for the shots quite often. Hopefully if I play him he will miss a couple of those.
"I played him last year. I think he played a very good match. You know, I barely had any chance at all, I felt like, so I would try to seek revenge of course. He was just coming out firing flames at me. If I play him I will try to use that and think I would like to get some revenge.
"Obviously I think we all know how great of a player he already is and how we will see him around for many years." Ruud smiled. "I think that's the chatter, if that's what you're wondering about."