Rublev Through To Semifinals In Washington

Andrey Rublev moved through to the semifinals of The Washington Open beating Denis Kudla 6-1, 6-4. Because of a backlog of matches from rain, Rublev will have to play again tonight.
Rublev, the world No. 46, is 6'2" with longish blond hair held back with a headband. He's a lithe 154 pounds, but absolutely crushes the ball. Kudla, the world No. 85, is 5'11" and a thicker 175 pounds with a strong two-handed backhand and good pop on his serve. He plays a grinding style and is more of a counterpuncher.
Rublev was able to overpower Kudla on the neutral rallies. Rublev also showed finesse, deviating from his blasting style, with a great forehand cross angle winner that gave him a set point. The Russian won 6-1 in thirty-four minutes.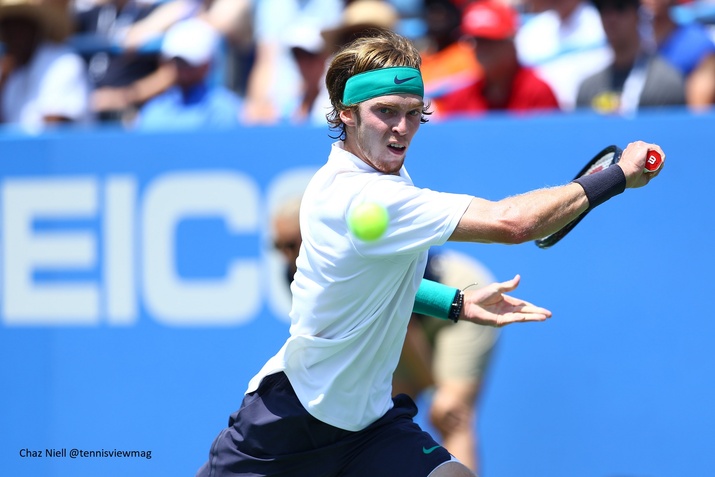 Kudla held in the opening game of the second set, but Rublev broke back in the next game and then cruised with forehand winners, while Kudla was grinding, trying his best to stay close. The American had his chances, with two break points, but Rublev dominated with aces that had both power and precision.
This will be the first time in this tournament that four players 21 and under are through to the semifinals. Rublev, 20, will play Alex De Minaur, 19, from Australia. The other semifinal is Stefanos Tsitsipas, 21, from Greece, and Alexander Zverev, 21, from Germany, who is the defending champion and world No. 3.
It's the first time this has happened in an ATP event since Buenos Aires in 1995.
Rublev is coming back from a major injury, a stress fracture in his back. He's been out for three months. "This injury takes time. You can't do anything, was really tough." Rublev said, "I was just missing a lot to be on court. I was missing to compete and finally I am here. I'm in semis and really happy."
Rublev is not just one of a new wave of young players, but also one of a new wave of Russian players. "All my life," Rublev told The Tennis Channel. "I love Safin. He was my favorite player." Rublev also admires Nadal, whom he played in the quarters of the US Open last year. "I was going on court to do as best as I can, to enjoy the moment. It was the biggest stage. Of course, I was coming for Rafa, but it was an unbelievable moment for me, and I want to feel it again, he said."