Rublev Surges Into Third Round In Melbourne

On a sultry, late-summer day, the first match on John Cain Arena, on the fourth day of the Australian Open, in front of a smattering of socially distanced fans, Russian Andrey Rublev, age 23, world No. 8 and seventh-seed, battled past Brazilian Thiago Monteiro, age 26, world No. 83, by a scoreline of 6-4, 6-4, 7-6 (8).
Andrey Rublev, wearing all blue, blending into the ocean blue of the Melbourne Park hard courts, is one of the hottest players on the ATP Tour.
In 2020, he won five titles, more than anyone, including world No. 1 Novak Djokovic, who won four. Rublev has also been a quarterfinalist at three slams, the US Open in 2017 and 2020 and the French Open in 2020.
Rublev takes your breath away with his blistering pace, blasting winners deep to the corners or crushing them short at unreachable angles.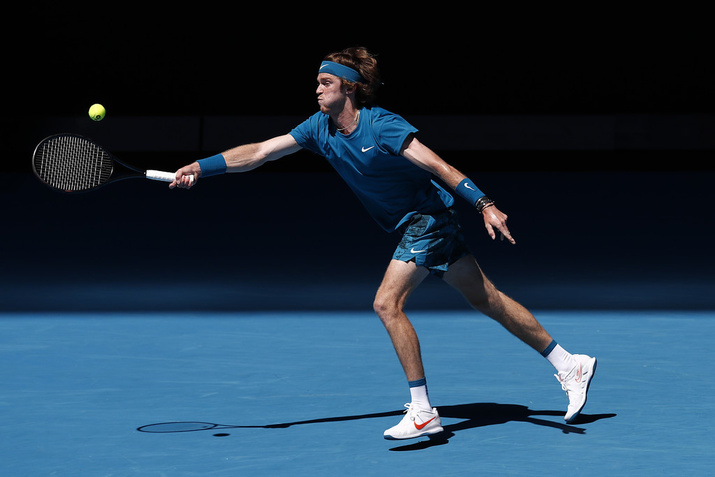 He's played Monteiro once before and lost in the deciding set. But that was on clay, the favorite surface of the lefty Brazilian, who plays a similar power baseline game, though with much higher and heavier spin.
Rublev wins the coin toss and chooses to receive. It seems a good strategy, as Monteiro has a shaky start. Rublev hits a forehand return winner, and Monteiro mishits a forehand that flies wildly wide. Love-30. Montiero manages to hold, though, winning the opening game with two strong serves up the T.
Rublev's first service game, with his much-improved first serve (now a weapon, like his forehand) is easy, a love hold. 1-all. Monteiro looks flustered. In the next game, Rublev breaks, leading 2-1.
With that early break, Rublev looks relaxed and has another easy service game, winning at 15, with a scintillating forehand cross. 3-1. Monteiro holds serve, though Rublev hits a dazzling forehand that angles off the court at the service box.
Each man continues to hold serve, with Rublev winning his service games more easily, though often getting frustrated, chattering to himself a la Andy Murray.
Rublev is a perfectionist, a feisty player who shows the intensity of a boxer (his father was a boxer, his mother a tennis pro). Interesting to note that Murray's mother is a tennis pro, and Murray also loves boxing.
In the second set, there is spectacular ball-striking by both players. But Rublev hits ace after ace. His service games flash by, with three holds in less than a minute. One is only 42 seconds.
At 4-all, Rublev breaks, takes the next game, though it's close, with Monteiro hitting a stunning forehand crosscourt winner for 30-all, but losing a long rally at 40-30.
In the third set, there are no breaks of serve. Monteiro raises his level, serving more aces, hitting more winners. Rublev has more moments of frustration. He loses focus, his strokes falter.
But by the time the tiebreak begins, Rublev has steadied himself. He's calm, fully focused.
Monteiro serves first, taking the point, then Rublev wins his two service points, the second with an ace down the T. Monteiro hits two unreturnable serves for 3-2. On the next point, in the rally, Monteiro gets lucky with a net cord, leading 4-2.
Rublev remains calm and fights back with an excellent drop volley and another ace, his 16th, which gives him a match point at 6-5. But then Monteiro serves an ace, his 10th of the match. Finally, on his third match point, Rublev wins with a massive serve down the T. He crosses himself, thanks the sky.
In his on-court interview, Rublev says: "The match was really tough. I know Thiago for a while. We practice couple of times. I play him once before and lost to him. So I knew it was going to be a tough match, a physical match. I'm really happy I could win it in straight sets."
In the third round, Rublev will face 39-year-old Spaniard Feliciano Lopez, who came back from two sets down to beat the No. 31 seeded Italian Lorenzo Sonego.
(photo source: Getty Images)