Rublev Continues Resurgence At US Open

Andrey Rublev wants to be on the tennis court more than anything.
In Saturday night's second match in Arthur Ashe Stadium, the 21-year-old Russian got a big win over 24-year-old Australian Nick Kyrgios 7-6(5), 7-6(5), 6-3 to advance to the round of sixteen.
Rublev, who reached the quarterfinals here in 2017, won 84% of first serve points and 74% of second serve points, while never getting broken. He hit 34 winners (12 aces) and 14 unforced errors.
Kyrgios hit 47 winners (30 aces) and 38 unforced errors.
Nick Kyrgios does not want to be on the tennis court more than anything.
Kyrgios muttered lines like: "I don't even want to be here, bro. I just want to go home."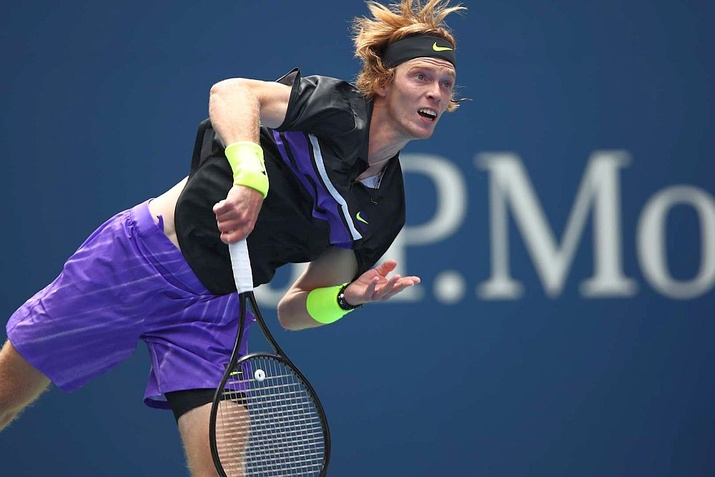 Rublev, a fiery competitor with the intensity of a boxer (his dad was a professional boxer), has struggled with injuries over the past year and a half. He missed three months last season because of a lower back stress fracture, and he was out for six weeks this season with a wrist injury.
Rublev has clearly missed competing.
He's now in the midst of a resurgence. A few weeks ago at the Cincinnati Masters, he beat the Swiss pair of Stan Wawrinka and Roger Federer back-to-back before losing to eventual champion, fellow Russian Daniil Medvedev.
After his loss to Rublev, Federer said: "If you're seeking to look for rhythm against certain players, you're not going to get it, just because they are able to control the outcome of the rallies. And he's exactly that kind of player, Rublev, where he can take the racquet out of your hand."
Even though on Saturday night in Arthur Ashe Stadium, Kyrgios unleashed 30 aces, his other shots let him down, like his normally reliable backhand down the line. In the second set tiebreaker, Kyrgios lost a 4-love lead, and his confidence looked lost.
In the third set, Rublev remained relentless and broke to lead 4-2. Then held for 5-2.
With legions of fans cheering him on, Kyrgios held in 27 seconds, serving three aces and one unreturnable.
But the Russian kept his head down, remained focused, and on match point, 40-15, served hard down the T. Kyrgios's backhand return sailed long.
Rublev played outstandingly well. He put on a master class. He crushed the ball off both wings. His serve, his most improved stroke, is the best I've ever seen it.
In his on-court interview, Rublev said: "It was today my day, and I'm happy."
Afterward, late into the night, when the stadium was nearly empty, Rublev was seen crossing a barricade—despite security guards trying to stop him—into the stands to sign more autographs and pose for more pictures with the last remaining fans.
Rublev wasn't quite ready to leave.
Rublev wasn't quite ready for the night to be over.
Andrey Rublev wants to be on the tennis court more than anything.