Rotterdam: Rune Strides To Second Round

In his debut at the Rotterdam Open, fourth-seeded Holger Rune of Denmark is safely into the second round, beating Constant Lestienne of France 6-4, 6-4 in one hour and 17 minutes.
Rune was the more active player, hitting 21 winners and 24 unforced errors. He won 14 of 23 points at the net.
Lestienne hit nine winners and 21 unforced errors and won one of three points at the net.
Rune struck four aces and two double faults. He won four of 12 break points.
Rune showed great composure against Lestienne, who was a tricky opponent. The Frenchman hit different spins and speeds and many drop shots for Rune to chase down.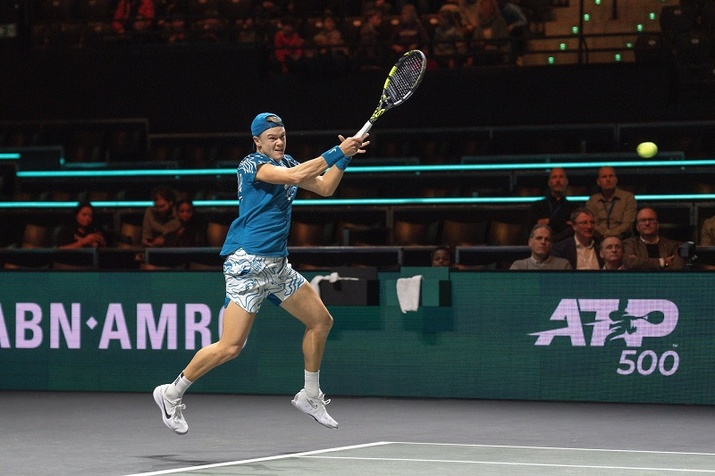 In Lestienne's bio for the ATP, it says that his secret talent is that he's a magician and when he's not playing tennis, he's performing at weddings and parties.
Rune, a teenage sensation at 19, is at a career-high ranking of world No. 9. He is a former world No. 1 junior. He broke into the Top 100 in January 2022, Top 50 in May 2022, and Top 10 in November 2022, becoming the highest-ranked Dane in the ATP Rankings history.
He captured the 2022 ATP Masters 1000 Paris title by becoming the first player since the start of the ATP Tour to earn 5 Top-10 wins at an event other than the ATP Finals.
Rune is a popular player. At the end of the match, he signed a lot of big yellow tennis balls and took selfies with a lot of young fans.
In an interview with Tennis TV after the match, Rune said: "Yeah, it was tricky. It's a lot about finding the rhythm here in the beginning of the tournament. And first match, you have to really be on your toes. And especially I played a qualifier today who already has two matches in his bag. So, it made it more difficult. But I'm happy how I handled every situation today."
Rune came to the event for the first time at age nine. He got a ticket as a Christmas present. "It's actually funny," Rune said. "I think we were sitting like up there, so I was kind of looking up there. You know, ten years ago it was me watching, and it's so nice to see all the kids here and all the fans. So, it's really cool. I mean I enjoy being back here."