Rome: Nadal Rounding Into Form

In the semifinals of the Internazionali BNL d'Italia, Rafael Nadal defeated Greek star Stefanos Tsitsipas 6-3, 6-4 in one hour and 42 minutes. Last week in Madrid, Nadal had lost to Tsitsipas in the semifinals.
Tsitsipas said that nothing had changed in his game from last week. He said the difference was court speed.
"I think his game was the same like last week. The court was different, much slower. I guess that helps him. He feels more sure with himself, has more time to execute his plan.
"In Madrid, as I said, altitude, courts are faster, balls are faster. The shots that I played today, I played similar shots last week. Today those shots felt really slow and he had plenty of time to pass me when I was approaching to the net, which in Madrid it felt quite different. It didn't feel like I had much control of my shots.
"The court speed here is much different, as I said. Sea level, it's much different."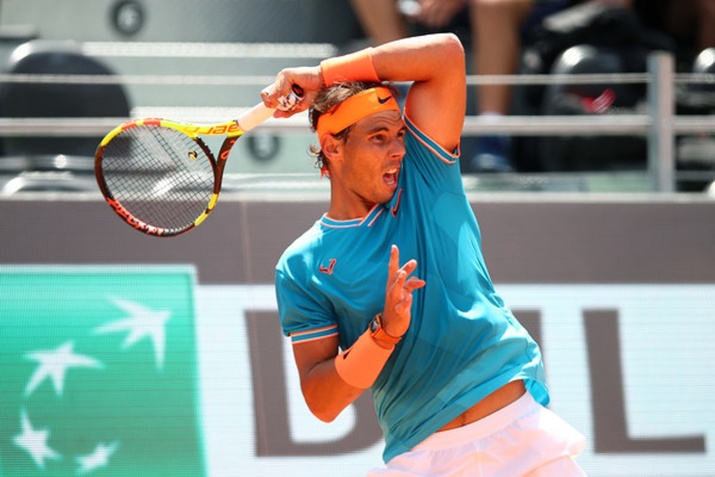 Nadal has lost in the semifinals of his last three clay-court tournaments. As he said Friday in press: "What happened in Monte-Carlo happened. What happened in Barcelona happened. What happened in Madrid happened. Here we are. We are in Rome."
Nadal is playing himself into form, and in Rome, he is a different Nadal. Or he is back to being his old dominant self on the red clay.
Nadal is playing with energy and aggression. He's hitting blistering groundstrokes that are deep and heavy with topspin, and when he has you pushed back, he hits a well-disguised, delicate dropshot, and then hits a soft volley to the open court. His forehand down the line has been tremendous. His overhead is excellent. I don't think he's missed one all week. And I don't remember him missing a volley today. The only time I remember an error from Nadal was when Tsitsipas served and volleyed and Rafa missed a passing shot in the net that he should have made.
After the match, Nadal was asked to analyze his victory. He said, "I played little bit better than him. As I said yesterday, you asked me what I have to do. What I had to do is play well. Last week I didn't play very well in Madrid. Today I did better."
"Then when you play better, we can start to analyze things, no? If you don't play well, is much more difficult to analyze things. That's the main thing.
"So today when I was hitting the forehand, he was not able to hit his forehand. Last week when I was hitting the forehand, he still had the chance to go for the shots with his forehand. Something that would not happen today if I want to have success.
"When I achieve that goal, I start to open the court with the backhand against his forehand, too. I was able to change down the line with the forehand. My return was a little bit more inside than last week.
"In general terms, is important victory for me because I played a solid match against a good player and a player who is winning lot of matches in this surface. So win in straight sets against him is a very positive result.
"More than this is a feeling that I am playing better every week, every day. That's important for me."
(Photo Source: Clive Brunskill/Getty Images Europe)