Rome: Nadal Back On Top

In the men's final on Championship Sunday at the Internazionali BNL d'Italia, world No. 2 Rafael Nadal of Spain, the King of Clay, defeated world No. 1 Novak Djokovic of Serbia 6-0, 4-6, 6-1 in two hours and 25 minutes. This is Nadal's ninth title at the Italian Open.
All week Nadal has played inspired tennis, playing better and better with each match. Both players served well, Nadal at 73% first serve points won and Djokovic at 75% first serve points won with seven aces. The difference was in break points won. Djokovic only had two break points and won one, while Nadal had seventeen break points and won six.
Afterward, in press, Djokovic said, "I'm really glad that I managed to get into the third set, considering the first set where I was blown away from the court. Obviously third set was not much different from the first.
"Actually first probably three, four games of the third set were quite close. Maybe that's where I had a slight chance to kind of build on the momentum that I had from winning the second set.
"Yeah, I was just running out of fuel a little bit today. Just kind of missed that half a step, especially on the backhand side. He used it very well. He's been playing some terrific tennis throughout the entire week. He was just too strong today."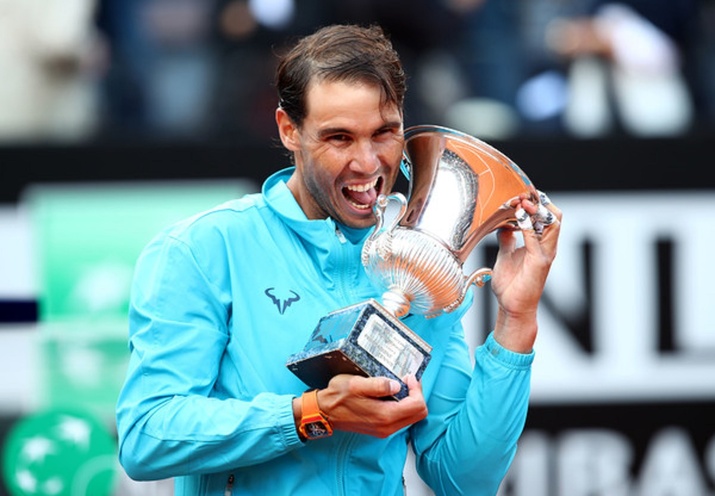 Nadal said about his victory: "I played well, a great match in general terms. First set have been fantastic level of tennis. Second, too, but I lost lot of opportunities to win that second set. When that happens against a player like Novak, you are in trouble, no? I lost second.
"In the third, the beginning of the set have been so important. I felt myself playing well during the whole match, being honest. Just little bit of nerves at the end of the second set.
"But the level of tennis have been high, no? Have been a great match in all aspects. So happy for that."
Nadal talked about how much the Rome trophy meant to him: "What means most to me is this trophy. Rome is one of the most important tournaments of the year. Part of the history of our sport. To be able to win here again is the main thing. Then we can talk about first title of the year.
"As I said during the whole week, you were asking for titles. Finally I have a title. For me, the most important thing is feel myself playing well and feel myself healthy, with the energy that I need. If that happens, experience is that I going to fight for titles sooner or later, no?
"The main thing for me was recover my level, then the results should be there if that happens. Today was that case. During the weeks, last couple of weeks, every day and every week have been better. And here we are finally with this great trophy with me, important victory.
"Of course, playing against Novak is always a special thing, as I said yesterday, because is part of the history of this sport. No one match have been repeated more than this one in our history. Is always a special feeling, no?
"Today was for me, and last couple of times have been for him. Happy for the title more than winning against Novak. I am especially happy because the level was very high."
(Photo Source: Getty Images Europe)