Rome: Kyrgios In Rare Form

In his first-round match at the Italian Open, Nick Kyrgios of Australia upset twelfth-seeded Daniil Medvedev of Russia 6-3, 3-6, 6-3 in one hour and 33 minutes.
I got to Court Centrale, where they were playing, toward the end of the first set. It was my first time seeing the red clay of the Foro Italico, and it looked Romanesque, the clay a duller red of an ancient city with its beautiful decay.
Within about thirty minutes, I saw Kyrgios hit two underhand serves, get a warning for hitting a ball out of the stadium, and twirl his racquet waiting to receive serve (the serve went by him, he kept twirling).
Despite these antics, Kyrgios played a sensational match, hitting 41 winners and 15 aces.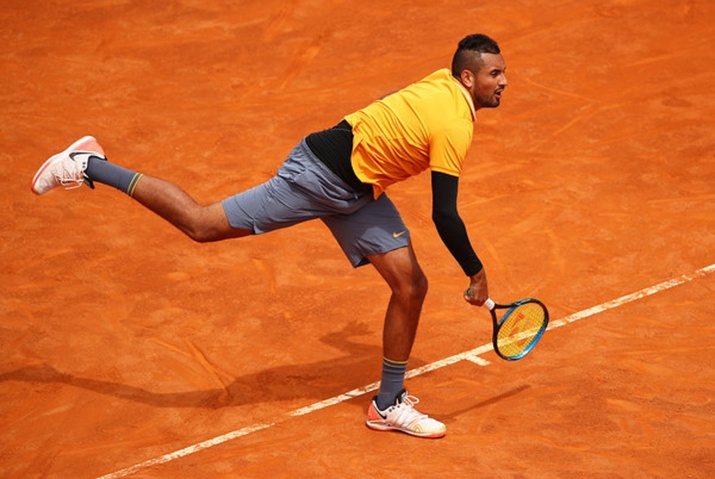 When Kyrgios is serving, as soon as he hits it, he seems to know when it's not coming back. His service games are so fast that when I'm taking notes, I'll write "ace,15-love," then look up and see the score is already 30-love. Then I write "ace" with a question mark.
Medvedev has no choice but to go along with Kyrgios's quick serving because it's a rule of tennis that the player returning serve play at the server's pace.
In his press conference afterward, Kyrgios said: "Yeah, it was a lot of fun. Today I knew it was going to be tough. Medvedev is an unbelievable player. He's had a great year. Last year he played really well. I knew today was going to be very tough because I haven't played much on the clay.
"I just tried to serve really big. I tried to dictate as much as I could. A lot of dropshots. I was trying to throw him off his game because I knew he loves rhythm. He's a great player."
Medvedev plays well on clay, but he is used to playing guys with straight-up games. He's beaten a lot of top guys, including world No. 1 Novak Djokovic to reach the semis of Monte-Carlo. Even though Medvedev is 6'6" with a lithe and lanky frame, he's a great mover. He has a high-quality serve, a forehand that he can mix up with different spins, and a weapon with his backhand that he can hit hard and flat down the line or angle acutely off the court.
Kyrgios has the bigger game, but it's too high-risk, too up and down. It's the reason he is ranked world No. 36, while Medvedev—who is consistent week in, week out—is world No. 14.
If Kyrgios is in form, he can smoke it, he's on another planet.
If he's not in form, he might need an umpire to pep him up.
But he's spellbinding entertainment. People are coming to see what crazy thing he's going to do, and if he'll be brilliant or baffling.
(Photo Source: Getty Images Europe)