Rome: Big Three Advance On Thursday

After Wednesday's persistent rain wreaked havoc on the schedule of the Internazionali BNL d'Italia, forcing every match to be canceled, Thursday was a catch-up day, forcing top players to play twice, including the top three superstar-seeds in the men's draw, Novak Djokovic, Roger Federer, and Rafael Nadal.
Each player played one match in the main stadium, Centrale, and one in Grandstand, a court in the backwoods of the venue.
Nadal, who likes to play far behind the baseline, especially on the slow red clay, looked visibly uncomfortable playing in the unroomy Grandstand. Even his opponent, Jeremy Chardy, ran into the side wall chasing down a crosscourt ball. The Spaniard, who is known for taking his time, played quite fast—crushing his high, heavy groundstrokes—and trounced the Frenchman 6-0, 6-1 in one hour and seven minutes.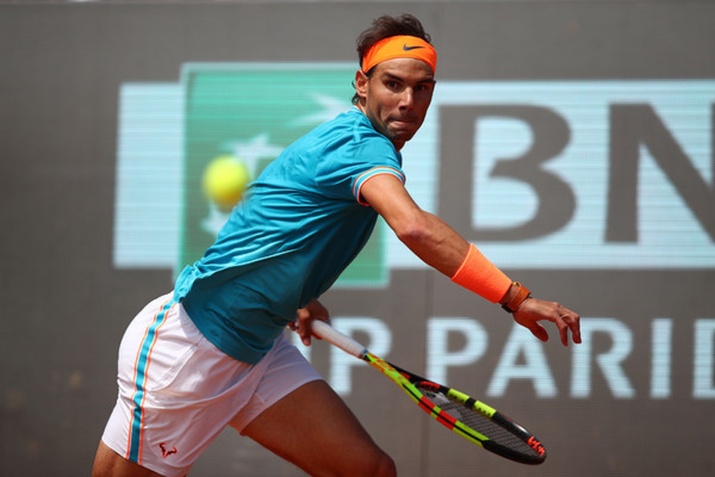 In his match on Court Centrale, the King of Clay defeated Nikoloz Basilashvili, world No. 18 of Georgia, 6-1, 6-0 in one hour and two minutes.
In his press conference, Nadal was asked the difference between 6-1, 6-love and 6-love, 6-1 and he answered: "Has been a different kind of match. Has been a very positive day for me. Of course, yeah, was a day that playing two matches is very dangerous day. I was able to manage it well. I played well, especially I think in the afternoon better than the morning. Yeah, happy about that level in the afternoon."
When asked if he had to be extra efficient with two matches and that his scorelines looked like he was focused on conserving energy, Nadal answered: "I try my best. Doesn't matter if it's one or two matches."
Djokovic played his first match on Court Centrale and routinely defeated rising star Denis Shapovalov of Canada 6-1, 6-3 in one hour and six minutes. Novak was his superior, steady self with magnificent movement and awe-inspiring groundstrokes.
In his second match, which was on Grandstand, Djokovic defeated Philipp Kohlschreiber (who always seems to me to be deceptively good) of Germany 6-3, 6-0 in one hour and two minutes.
Djokovic said in press: "I'm very pleased with the way the day went for me. Actually I like the fact that I didn't play yesterday because I felt like I needed an extra maybe day of rest and recovery a little bit. So it was perfect.
"I played both matches just above an hour. I didn't spend too much time. I felt the ball really well. Nothing much to say more. I mean, just very positive overall."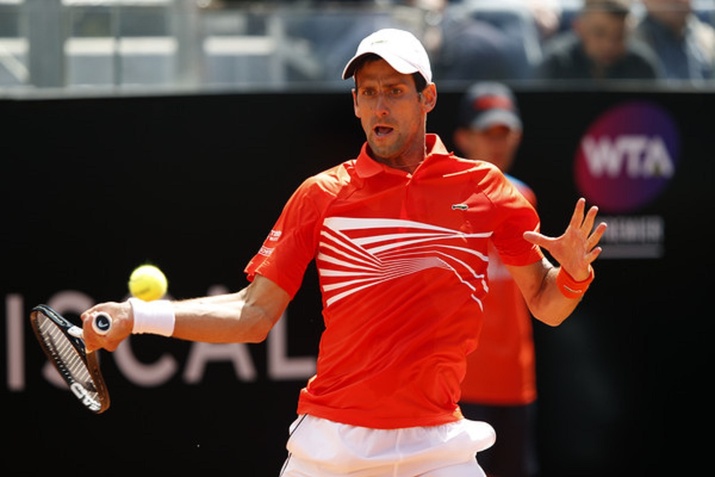 Roger Federer played his first match on Centrale and defeated Joao Sousa of Portugal 6-4, 6-3 in one hour and 20 minutes.
For Federer's second match, he played on Grandstand, and it was a thriller. It was strange to see the great man on this faraway court where the crowd is so close to the action. And there was a lot of action both on and off the court.
In the stands, there was always the hum of the crowd chattering. People often walked across aisles in the middle of games, and the place was so packed that many were sitting on the stairs. There was the sound of sirens from nearby busy streets. There were calls from vendors walking up and down, selling popcorn and beer.
On the court, there was sun, and there was shade in strange places, from the shadows of umbrella pine and cypress trees. The clay looked dry and dusty in some places. Federer ranted to the umpire that the lines were wet and dangerous. The ball kids hand-dried them with towels.
All this chaos made for an amazing and electric atmosphere, one I've never experienced before,
Borna Coric, world No. 15 of Croatia, looked like he was playing better than Federer, but Federer played better in the important moments. He was helped enormously by the crowd that often chanted "Roger, Roger" and banged their feet against the bleachers. You had to feel for Coric, especially toward the end, when the crowd cheered every time he missed a ball.
Federer saved two match points to win 2-6, 6-4, 7-6 (7) in two hours and 31 minutes.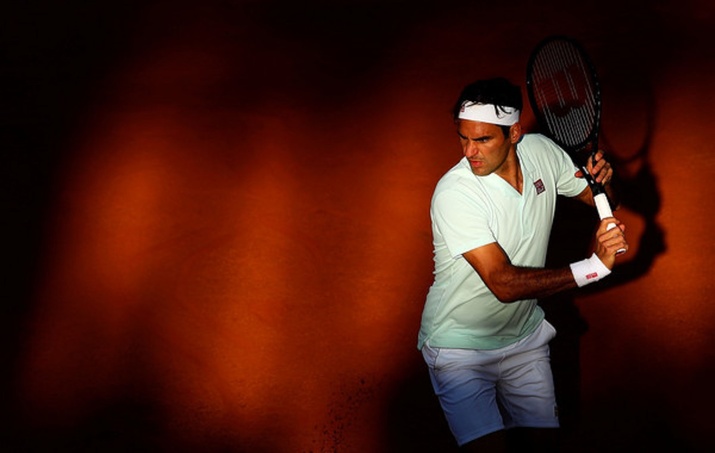 In press, when asked how it felt to save those match points, Federer said: "I don't know. I feel like I've won a lot and lost a lot like this.
"No, it was fun to be part of. Yeah, I mean, the thing is also once you end up in these situations and you've been there before, like not long ago, they're easier to play. The problem is when they never happen and all of a sudden they do happen.
"I feel like they're tricky because, I don't know, you put so much energy and focus on every single point. You don't want to do wrong, you want to do right. Things happen so quickly. It's like a penalty shootout at the end.
"Look, it was a great atmosphere. Definitely, again, felt like I got a little lucky obviously. Borna had the lead. There was crucial moments throughout the match, second set and third set, for me to stay in it. Things definitely went my way tonight."
(Photo Sources: Clive Brunskill, Adam Pretty/Getty Images Europe)