Roland Garros: Del Potro Makes Successful Comeback

Juan Martin Del Potro marked his return to grand slam tennis by defeating Nicolas Jarry 3-6 6-2 6-1 6-4. The Argentine started off slowly, losing his opening service game and never recovering the break. But as the match wore on, Del Potro began to find his range against his young opponent.
While Del Potro is known for his bruising strokes, for the remaining 96 minutes, he was solid and quick, absorbing his opponent's best strikes and patiently forcing the Chilean into errors. It was only on the big points that he truly unleashed.
"I thought [my start] was slow. I didn't have much energy. I had never played against him," said Del Potro. "But I lost one set. That's not so much. It's not wonderful to start a match like that. It's something I have to improve in the future. Throughout the match, I felt better. I started dictating the game."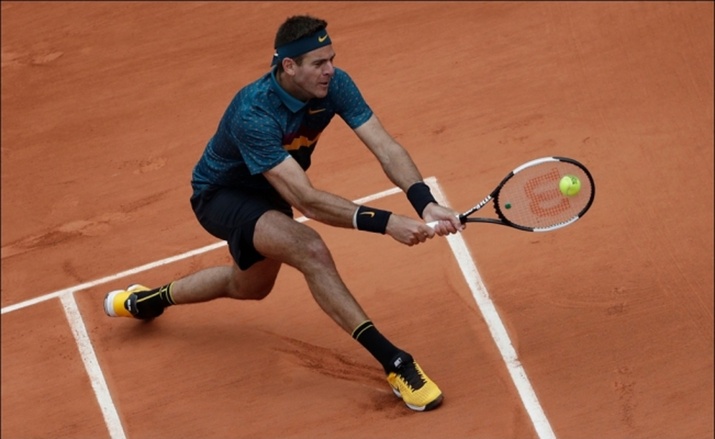 One year ago, Juan Martin Del Potro was dictating almost every game from the very first ball. Rising to his second peak, he had returned to the top 10 and then he went even further by scaling his first ever Masters 1000 final in the midst of a 15 match winning streak. He arrived at Roland Garros reminding anyone who would listen that this was not his surface or his slam - that he hates running - yet his form was so absolute that he roared to the semi-finals. By the end of a golden summer, he returned to the final of the US Open, 9 years after his greatest triumph there.
And then everything crumbled. In the autumn, as the season moved, Del Potro was deep in battle with Borna Coric when he tripped, and his knee slammed into the ground. He had cracked his kneecap and would spend more long months in the in the shadows, rehabbing and healing every day. Del Potro attempted to come back early in Delray Beach but it wouldn't be until the clay season that he would make his proper comeback.
He has already surprised himself. Two weeks ago, in Rome he faced Novak Djokovic in only his fourth match back and he soared. Despite arriving in their quarterfinal still shaking off the rust and timidly taking baby steps forward, as soon as the world number one across the net and his competitive juices flowed, he was transformed. He came within one point of defeating the man who is chasing his fourth slam in a row.
"I think I surprised myself and all the tennis fans, as well," said Del Potro. "It was a great match for almost three hours. Very high level for both. In this comeback I lost two matches already, and both matches had match point. I think I'm playing well at the moment, but my main goal is still the knee, my health. And I'm looking forward to be 100% in the second part of the year,
trying to change my goals on tour and if I get that, I will be happy."
Del Potro smiles as looks towards the rest of the tournament. Another war with his body has been won. He is on the mend, already playing good tennis and recovering the sensations that eluded him for the past 7 months. But the tragedy is that, as long as he is playing this sport, he will never be free of his injuries. Even in full health, every day brings a constant reminder of the scars littering his body. Every day he must carefully nurse those injuries every single day and pray that another doesn't occur.
"There are a series of rituals," he explained. "The knee, the wrist, and then I arrive here very early, and I have learned to live with these rituals. It's now part of my daily routine. I'm not very happy about that, but it's part of my daily routine."
(Photo Source: AFP)