Roland Garros: Bertens Forced To Retire

Kiki Bertens did everything right. She spent much of the past 52 weeks playing on surfaces she hated, yet she returned with big titles, big results and a new understanding of her game. She waited patiently for her clay season and then nervelessly flourished when it arrived, winning her biggest title and assuring that nobody could ignore her role as one of the tournament favorites. She arrived in Roland Garros and with all eyes finally on her, she made it clear that she belonged. Her belief carried such conviction that people believed her.
But on Wednesday afternoon, Bertens retired only four games into her second-round match with Viktoria Kuzmova. After a timid start, the tournament's second favorite retreated to her seat complaining of shaking hands and no energy. Later, Bertens talked through tears as she explained that everything was going well until she woke up in the middle of the night reeling from a sudden gastrointestinal illness.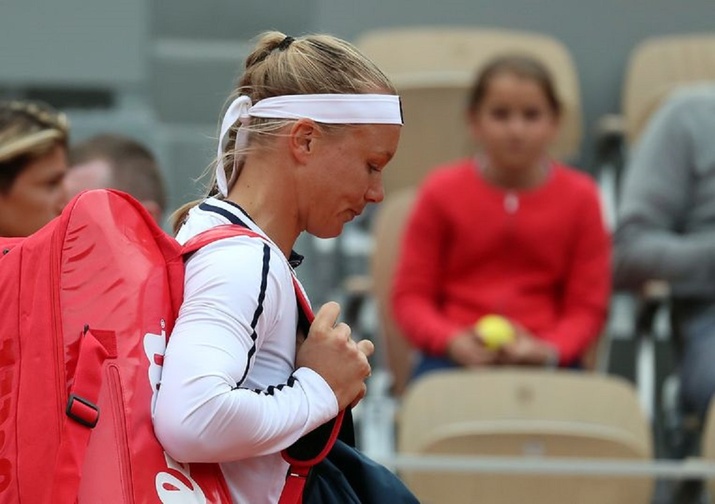 "Yesterday I felt good," she said. "No problems at all. I was practicing, resting, and I felt really well. Ready for today. And then this morning I woke up at 3:00, and then I felt really sick. Vomiting, diarrhea all night long, all day long. I felt a little bit better before the match. I had some sleep, and I just wanted to give it a try, but then as soon as I start warming up right before the match, it started again. Yeah, there was not any energy left."
She continued. "It's really bad timing, I would call it maybe that. It's been a great few weeks, and then if you feel like this during a Grand Slam where you felt good, it's just really annoying. I just hope I feel better soon but probably that will be the case."
And there was nothing else to say. For much of the build-up to the French Open, this felt like a moment. It wasn't just that Bertens had won in Madrid and reached the semi-finals of her two other clay events, nor that she had been waiting for the clay season for so long yet happily delivered, but the completeness of her performances suggested that there was more to come. Bertens is one of the best servers in the world with the second highest number of aces this season, yet she also moves impeccably on clay. She is incredibly powerful, yet her heavy topspin groundstrokes and caution were made for clay.
Over the past few weeks, as Bertens made her mark on the clay season, Dinara Safina's name has frequently been invoked. Both players stand as avatars of the modern female claycourter - strong, tall and armed with heavy topspin complementary to their smooth movement on the dirt. 10 years ago, Safina sliced the tour apart across the clay season demolished almost every opponent en route to the 2009 Roland Garros final. She was heavily favored to take the title yet after little over an hour she double-faulted down match point and cried in the ceremony, unraveled by nerves. It was a sporting tragedy and one that has come to define her legacy, but there could be no mistake that she was the author of her own misfortune.
As Bertens arrived in her press conference, her face caked in tears, it was a reminder that even that heartbreak was preferable to not having the opportunity at all. The tragedy for Kiki Bertens at the 2019 French Open is that she never got to learn if she was strong enough.
(Photo Source: EPA)