Roland Garros: Barty Wins Maiden Slam

"Absolutely not," said Ashleigh Barty moments after winning her first ever Grand Slam title with a 6-1 6-3 win over Marketa Vondrousova. "I don't even know if I'd be sitting here talking to you if I was playing tennis if I didn't step away. It's obviously a part of my life that I needed to deal with, and I feel like it was the best decision that I made at the time, and it was an even better one coming back
Hours earlier, Barty had stepped onto the vast surroundings of Court Philippe Chatrier and across 80 minutes she produced the match of her career. From the very beginning, she refused to let her 19-year-old opponent breathe. Her serve was faultless immediately and her aggression behind it was relentless. Barty had landed 6 winners in the first two games and the momentum continued throughout the first set as she broke again and snatched a 6-1 set without hesitation.
As the match wore on, Vondrousova began to trade more comfortably with the Australian. She stepped further into the court and landed her blows, while lacing the match with the dropshots that have come to define her play at Roland Garros in 2019. But Barty is such a complete player – her heavy forehand and serve, which she can flatten out and viciously kick according to her whims - are her talismans, but she is also quick, with a wicked slice, hands of gold and great volleys. Many athletes play the game of tennis, but she reads it first.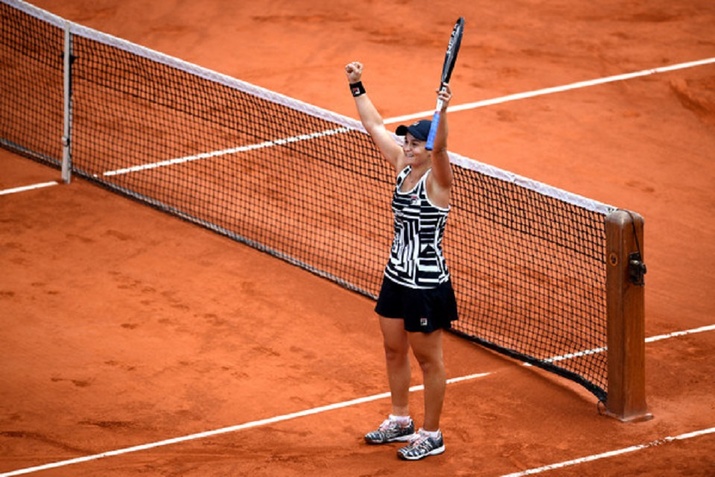 Barty anticipated Vondrousova's dropshots and seemed to always be there, careening towards the net, even before the Czech had finished delicately slicing down into the ball. When she arrived, she provided her own dropshots, her own feel her own brand of clay court tennis. Barty stepped up to the biggest match of her career and owned it.
"She's playing too good," said Vondrousova. "She's mixing things up. And she has a huge serve. So it's all, like, very tough to play against. I didn't really feel good today because she didn't let me play my game, and it was really tough."
Even as Barty stunned with her form and spirit in the present, it was hard not to think about how she got there. Eight years ago, Barty tore the junior tour apart, rising to a career-high of number two and winning junior Wimbledon by 15-years-old. Her strokes, influenced more by the whippy spin of her male counterparts than other female players, and her variety made her stand out and her quick doubles success - two slam finals with Casey Dellacqua - and some early showings confirmed her talent.
But by 2014, Barty was burnt out. She was ground down by a grueling sport that forced her to the other side of the world, far away from home for months at a time. Barty is a social person who loves to talk and have people around her, but tennis is so often presented as antithetical to this. So much of the teaching tells players to embrace the loneliness of the sport - to turn inward and focus on your routines instead of the players that want your gone. Barty decided to step away from the sport. Instead, she played cricket, a team sport surrounded by friends instead of.
When her doubles partner Casey Dellacqua convinced Barty to return, she returned on her terms. She decided that she was going to be social in the locker room, to make her friends and enjoy the opportunity to meet girls of different backgrounds and creeds across the tour. She built a team around her and she trusts them with such certainty that when she speaks of her singles success, she speaks of herself in plural - we, us - to Barty, tennis is a team sport.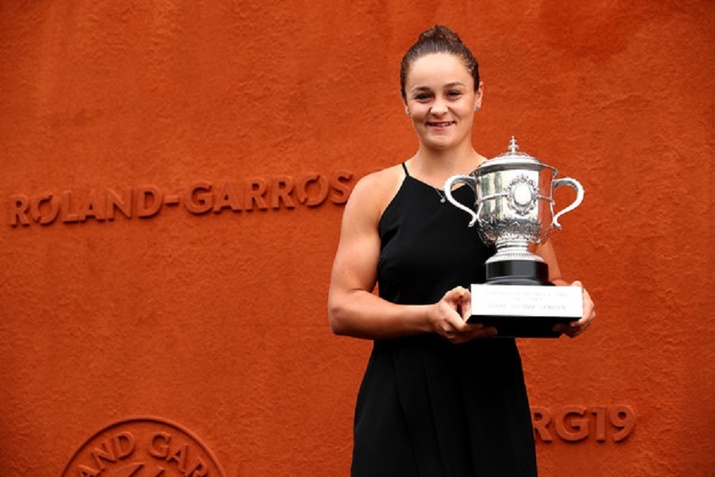 On the court, Barty had barely picked up a racquet competitively in two years yet she returned ten times the player she was before. She filled out into a powerful figure, complimenting her slick hands with necessary strength. She returned working hard but also with the perspective that none of this matters so. She is joyous in defeat, but she never lets either pole define her life.
"I think a new perspective in my life and in my career, it's brought this new belief, I suppose, and this feeling of belonging at the very top level," said Barty. "I feel like I'm playing some really good tennis. I know when I play my best tennis, I can match it against the world's best.
The Ashleigh Barty story is only just beginning. She will be number two on Monday, just 137 points from the number one ranking after an incredible 31-5 record to begin the year. In one day, the tour moves to her favorite surface and season, where she won her junior Wimbledon title 8 years ago.
There will be more winning and yet, no matter how much winning there is to come, her story will always be more than that. Barty would not be here if she didn't decide to approach her career on her terms, prioritizing her mental health and happiness over convention. You wonder how many people didn't - how many people just played on, grinding their spirit down, too afraid that a break reflected weakness and or that they would never recover if they took a beat and stepped off the wheel. Barty has shown how wrong that is.