Roland Garros: Barty Primed For Final

"Oh, it's incredible," said Ashleigh Barty, beaming after she defeated Madison Keys to reach the Roland Garros semi-final. "I felt for myself and my team, we have approached this clay court season a little bit differently to others. Have really enjoyed it, embraced it. Have been playing some pretty good tennis. Ultimately, I feel like when I'm able to play my game style and my kind of tennis, I can match it with everyone regardless what surface it's on."
Today, Barty went one further, surviving cold, damp blustery conditions and a bizarre match filled with nerves to defeat Amanda Anisimova 6-7(4) 6-3 6-2 and reach her first slam final. 14 minutes into their clash, it all seemed so simple - Barty took a 5-0 lead with two set points, winning 23 of the first 27 points of the match as her shell shocked 17-year-old opponent dealt with the feelings.
But then, suddenly, Barty was losing. From double set point up, she lost six games in a row and eventually found herself down a set and 3-0. Then she recovered to take the second set 6-3. Then, after losing her serve in the opening game of the third set, Barty steadied the ship to take the match.
"The occasion, the conditions, it was pretty brutal out there," Barty said later. "Yeah, I mean, I'm just proud of myself the way I was able to fight and scrap and hang in there and find a way when I kind of threw away that first set. But at the end of the day, it's an amazing opportunity. Yeah, I think it was just a really challenging day."
Barty's quarterfinal victory over Keys marked the 3-year anniversary of her return to the WTA rankings following, citing burnout, she decided to step away from the sport to play cricket for two years. Over the past two and a half years, the most striking aspect of Barty's return has been her consistency. Across 30 weeks, she has made a habit of consistently beating lower-ranked players and those she is favored against, while steadily improving against the best.
"I think my consistency over the last 18 months has been so much better than it had previously throughout my career," she said.
She continued. "I think it comes down to scheduling correctly, working correctly off the court, and obviously putting it into practice as often as possible. It's tough when our season is a 10- or 11-month season, but I think there are peaks in the season that obviously you'd love to be ready for. But it's also important to be ready for every single tournament.
"I think that's what we have been able to do is to pick and choose our tournaments in a way to make sure that I'm prepared for every single one. I give my best at every single one, knowing it won't always come off with the result we want, but we keep chipping away and keep working and eventually it will turn and it will come our way."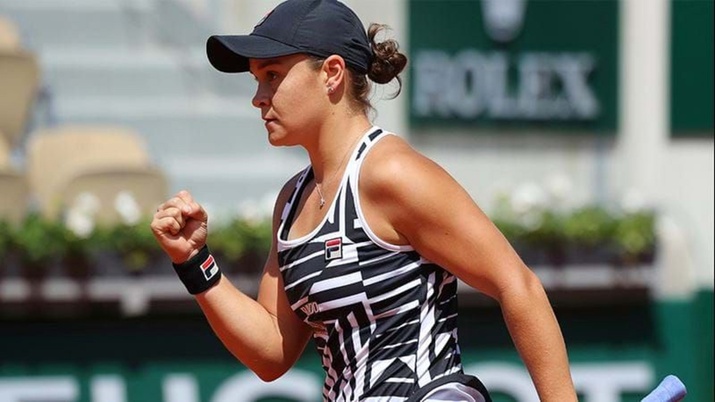 During 2018 and previous years, this meant that she would often go deep into a tournament. But in 2019, she is playing with the confidence and aggression to take on everyone. Halfway through the year, Barty is a supreme 30-5 (86%) overall and 6-4 against top 10 players in 2019.
The one aspect of her game that she has been rearing to improve is her form on clay. With her movement, which translates well to the surface, her spin and her variety, the question was less about whether she could perform on the surface and rather about gaining more experience on it. This has come throughout the past few years and particularly this season, where she reached the quarterfinals of Madrid, narrowly losing 7-5 7-5 to Simona Halep in her first every outing against an elite claycourter on the dirt.
And here she is, a supremely quick learner, already in the final of Roland Garros. Who could have known that she would make her first move on the surface of least familiarity? Her run is a result of those numerous factors, from her consistency meeting a helpful draw, to her fast-improving form on clay and the increased confidence allowing her to steady the ship in tight encounters against Sofia Kenin and Anisimova.
Ashleigh Barty has finally arrived, she is taking her game to everyone, and tomorrow she will be the highest ranked player as she fights for her first slam title against 19-year-old Marketa Vondrousova.