Rogers Cup: A Poised Nadal Advances To Final

After a two-hour rain delay, world No. 1 Rafael Nadal is through to the finals of the Rogers Cup in Toronto, beating world No. 38 Karen Khachanov 7-6 (3), 6-4.
Nadal's coach until last year was his uncle Toni before Carlos Moya took over. This week, Moya is not there, so his coach is Francisco Roig, a long-time member of the Nadal team. Roig said that Nadal, who had only played night matches this week, was ready and really likes playing under the lights.
Like he always does, Nadal walked out onto the court with his bag on one shoulder and a single racket in his hand. He jumped up and down at the net during the coin toss, then did his trademark sprint to the baseline before the warmup.
Nadal served first, and it was a long game, with four deuces, before he was able to hold. On Khachanov's serve, Nadal stood about fifteen feet behind the baseline, giving himself plenty of time to take a full swing on the return. The tactic worked, and he was able to break, leading 2-0.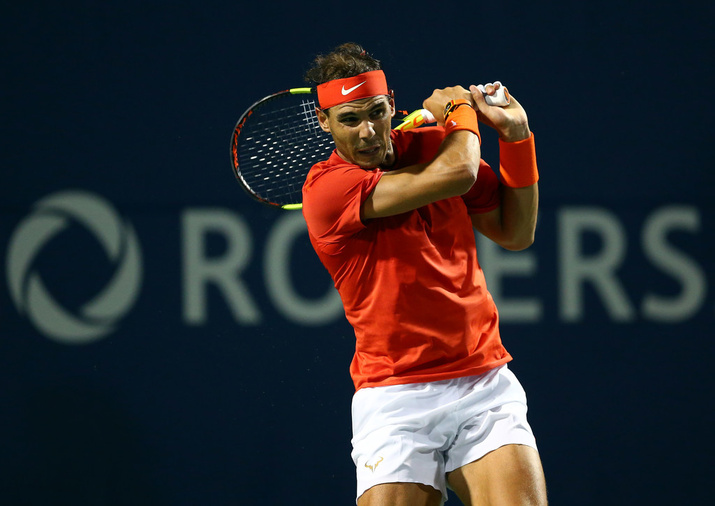 In the third game, Khachanov broke at love, with a crushing inside-out forehand and a few loose misses from Nadal. Then Khachanov held at love with more heavy topspin forehands generated by his quick racquet head speed and extreme western grip. Khachanov's serve is also big and technically sound with good rhythm, and he hit an ace on game point.
Khachanov had said before the match that he needed to be aggressive and not miss, and he had just won eight points in a row. But then Nadal responded with a spin-heavy inside-out forehand and absolute brilliant hitting, and they were back on serve.
The Russian continued to play Nadal closely, and he had a tremendous hold from being down love-thirty to make it five all. Then Nadal held easily with an overhead smash on game point. Then Khachanov held at love for six all.
In the tiebreak, Khachanov was aggressive with his forehand but had some big misses. Nadal was highly-focused. When Nadal won the tiebreak, drenched in his fire-red shirt and bandana, looking very much like the warrior that he is, he jumped up and gave a huge fist pump, yelling what fans had been voicing to him all night, only with more intensity, "Vamos!"
Khachanov is 6'6", 192 pounds, and a very good mover for his size. When he leans in with his right shoulder on his down-the-line backhand, he is reminiscent of another Russian, Marat Safin, a former world No. 1, and one of his idols. Khachanov is part of a wave of young Russians, including Rublev, world No. 37, and Medvedev, world No. 68.
Khachanov held to start the second set, hitting his biggest serve of the night, 135mph. But Nadal got a quick break in the third game. From then on, Nadal, who is 6'1" and 188 pounds, was in full aggression and not going to be stopped. Khachinov, though, did an admirable job of continuing to compete and making Nadal serve for the match.
Throughout the match, Nadal followed his same routines. On changeovers, he sipped his recovery drink and then sipped his water, placing both bottles delicately at his feet. Before each serve, he constantly fiddled with his hair, shirt, and shorts.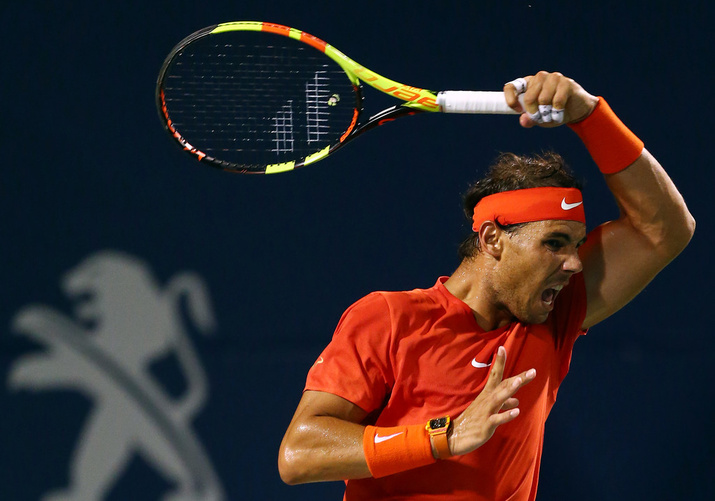 As he says in his autobiography, all of these rituals—he even takes a cold shower before every match—help him focus and get into "the flow, a state of alert concentration, in which the body moves by pure instinct, like a fish in current. Nothing else but the battle ahead."
Nadal held the final game at love with an overhead smash. There was a great reaction from the crowd as Nadal threw his arms in the air. There were even fireworks in the night sky over the stadium.
Khachanov also received a long round of applause. It was a dream week for the Russian, who reached his first ATP Masters 1000 semifinal without dropping a set. He will rise to a career-high world No. 26 on Monday.
"It feels great," Nadal said afterward in his humble way. "These opportunities to be playing on a stadium like this in front of an amazing crowd aren't forever, so I just try to enjoy every single moment and play with all I have.
"Today was an important victory—to be in the final here in Toronto means a lot to me."
The 32-year-old Spaniard will be playing for a fourth Rogers Cup crown and an unprecedented 33rd title on the Masters 1000 level. He will be facing Greek Stefanos Tsitsipas, who's had a spectacular week, beating 4 top-ten players, and who turns 20 on the day of Sunday's final.