Roger Federer Winning and Playing Pain-Free in Cincinnati

MASON, Ohio – Roger Federer and Tommy Haas have added another match to their classic rivalry. These matches generally have not gone well for the man opposite the Swiss maestro. Haas was 3-11 against Federer coming into this match, including nine straight losses from 2002-09.
The most memorable of the matches played between these two surely is their fourth-round match at the French Open in 2009. Haas won the first two sets against Federer and looked far superior at that stage. Then, he failed to break Federer at 4-3 in the third set, was promptly broken, and Federer went on to rout him from there. That match would have denied Federer's chance for a career Grand Slam had Haas managed to hold on.
That match, and that match alone, defined Haas' reputation in the eyes of many, and certainly when he is playing against Federer. Thus, it came as no surprise when, after leading by a set and a break, Haas failed to close out this match and was broken when serving at 4-3.
It was surprising to see how poorly Federer played in the first half of the match. Granted, Haas played very well during that time and forced Federer into awkward positions just by staying even with Federer in many rallies. And Haas hit many winners of his own. But Federer also donated many poor errors. It was an un-Federer-like performance that must have been quite discouraging to his fans.
Federer came back, though, quickly raising his level and consistency when Haas faltered. Suddenly, the players were back on serve at 4-4. Three games later, Federer broke to take the second set. Haas was enraged at himself, firing a ball out of the stadium and flinging his shirt into the bin.
The third set was a close affair, with each player having several easy and several harder service games. In the end, though, one break was the difference and Federer came through after winning the set 6-3.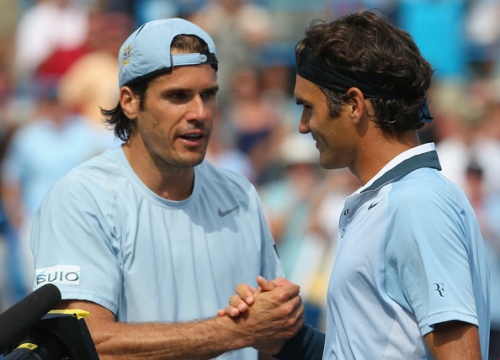 Reflecting on his comeback, Federer mentioned the importance of hanging tough and not giving up, since one never knows when a match can turn.
"From the baseline, honestly, I was all of a sudden doing a pretty good job. I wasn't giving him much. My backhand was solid, and my forehand, all of a sudden I was able to make a few shots. Then that's exactly what I'm talking about. It doesn't take much for things to go your way all of a sudden. That's why you've always got to keep on believing."
It is important to note that Federer was visibly upset with his play in this match, even in the third set. In rare displays of on-court emotion, Federer smacked a ball across the net after serving a double fault and kicked a ball away after another point. Federer rarely loses his temper with himself on court, so it is noteworthy when he does. Whether being more emotional on court is good or bad for Federer is up for debate, but it certainly was surprising in this match. Only time will tell if this is a trend that will continue.
Federer also addressed his recent injury issues. He is famous for never having retired from a match, which he admitted might be a mistake.
"I've always played very well being hurt, actually, and sometimes that has caused problems for me that I should have retired many matches throughout my career but I didn't. And some of those, I guess, I took chances. Some other times it really wasn't worth it to put myself in that position in some moments I've been again this year. But I believe when I can walk and I can hit decent, you know, you never know. So I give myself the opportunity."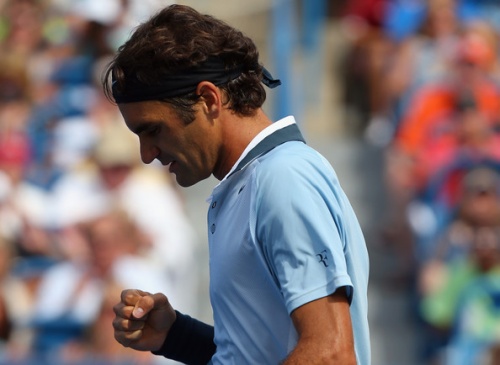 Federer explained that playing while injured can be dangerous because you "get used to doing the wrong things because I'm protecting myself. Then when you're fine again you're still playing like you're protecting something but actually you don't have to anymore.
The Swiss superstar says now that he feels good just to be winning and playing pain-free. He faces archrival and long-time nemesis Rafael Nadal in a quarterfinal on Friday night in Cincinnati.