Roger Federer: Only a Man

Legend tells that Roman Emperor Marcus Aurelius once hired a servant to follow him in the public areas of Rome, and whisper in his ear when people praised him "you're only a man, you're only a man".
For a while, a long while from A. D. 2003 to A. D. 2012 Roger Federer was Emperor and nobody dared call him anything different. He was untouchable, the living legend, the greatest of all time and in no need of hiring a servant to bring him back down to earth. His path was one of victory, domination and celebration. His Empire spanned the globe and his collection of subjects adored him, and enjoyed times of peace, prosperity and victory.
Federer was seemingly The God of Tennis.
Yes, three kings did join him, from the clans of Spain, Scotland and Serbia. But all this did was initiate a little exclusive club of immortals and allies that shared the spoils of the realm. Since roughly A. D. 2008 the chosen few of tennis have reaped all the rewards, fame, and wealth.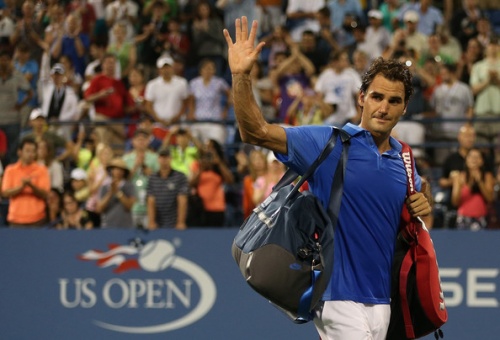 A. D. 2013 has been different, a whole lot different. While the clans still remain strong, The Emperor has fallen from grace. Many of his subjects still support him, but his grip on the Empire has diminished. This year Federer has won the same number of tournaments as Horacio Zeballos and Lukas Rosol. More worryingly, he has won fewer than the likes of Nicholas Mahut or Fabio Fognini. With his demise his peers, the same who once admired him, now see a wounded warrior and one they can exploit. Just ask Federico Delbonis, Daniel Brands, Julien Benneteau and now Tommy Robredo; players outside the top 20 who have had the audacity to take on the Emperor and win without any form of reprisal. An act that many feel is treason within the tennis world.
Federer hasn't been told that he is "only a man" by a loyal servant. He has been told these fateful words by challengers. Lowly journeyman and highwayman alike, who have not only dared to defy the empire but send the Emperor spiralling, confusing his mind, hurting his body and questioning his weapons of choice.
Many felt, supporters and critics alike, that this current U. S. Open would be the Federer redemption. A chance for their hero to once again climb up upon the tennis throne. Now many of these same people will be calling for his retreat, and ultimately departure from the game. It may be more accurate to say that this is a good time for the Emperor to administer a self-imposed exile. A time to possibly hire a trustworthy servant but more importantly reflect and regroup and avoid battle for awhile. An interval that would only aid the A. D. 2014 renaissance, seeking revenge on the rebels who resisted the Emperor. A New Year and tennis season that could, would and should add to the Federer glory.