The Roar of Rafa: Nadal Returns to US Open Semifinals

Among the deepest nations in tennis talent, Spain sent two of its citizens into an internecine quarterfinal clash at the US Open. Tommy Robredo never had defeated Rafael Nadal, winning only one of the 14 sets that they had played. For his part, Nadal had yet to lose on a hard court in 2013 and had yet to drop his serve at this year's US Open after 56 consecutive holds.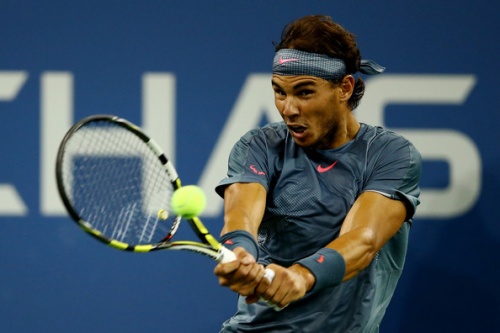 Similarly long odds had confronted Robredo in the previous round against Roger Federer, however, and he overcame them with ease to topple this Swiss star. Whether that triumph would embolden him or enervate him posed one of the key questions in this match. Surely nothing less than another career-defining performance could challenge Nadal, who eyed an open path to the final. While Philipp Kohlschreiber had extended him to four sets in the fourth round, the 2010 champion had impressed more than the other title contenders overall.
An ace down the center stripe opened the quarterfinal positively for Robredo, who never had advanced to this stage at the US Open before. Someone of his experience would not find the lights of an Arthur Ashe night session as intimidating as some of the journeymen who played Nadal in the first week. Robredo still looked rather helpless in rallies when his left-handed compatriot directed his inside-in or cross-court forehands to the right-hander's one-handed backhand. That matchup has reaped rewards consistently against Federer, so there was no reason to think that it would not against Robredo.
Sticking patiently to that pattern, Nadal broke serve without much ado in that opening game. Once the world No. 2 finds a combination that works for him, he typically hammers away at it until his opponent finds solutions. Robredo's game also fell short of the level that it had reached against Federer, for he missed routine groundstrokes in bunches. Thoroughly relaxed, Nadal began to take more chances such as aggressive forays to the net in situations where he needed to hit volleys to end the point.
Two straight breaks at love positioned Nadal to record his second bagel of the US Open. With embarrassment staring him in the face, Robredo caught a break with two mishits by his opponent on the first two points of the second set. But the respite did not last long. Penetraing groundstrokes from Nadal extended the shutout with another break and kept the veteran's spirits at a low ebb.
Even Toni Nadal looked completely relaxed as he saw that Robredo could do nothing to threaten his nephew consistently. The elder Spaniard finally did fight his way onto the scoreboard in the ninth game of the match, thanks in part to some wild groundstrokes by the world No. 2. While Nadal's level dropped somewhat in the second set, Robredo's form rose just enough to give the match a flicker of competitiveness. That flicker faded when Rafa regained some of his focus after finding himself unexpectedly at deuce on his serve. Once he escaped that danger, he raced through the rest of the set by a double-break margin.
Closing the second set with an ace, Nadal allowed Robredo to gain a toehold in the third. At Roland Garros this spring, the 19th seed had become just the second player to win three straight matches at a major after losing the first two sets. He displayed his most confident tennis of the match, swinging wide serves for aces and striking his groundstrokes with greater depth. A mild frown began to descend on Nadal's brow as he failed to secure the early breakthrough that he had in the first two sets.
A crisp passing shot set up a crucial break point in the fifth game, during which Robredo's first serve began to falter. When he missed a tame volley, the path to the semifinals lay open for a man who had held 80 straight service games and not faced a break point throughout the match. For the second time in four matches, Nadal surrendered four or fewer games.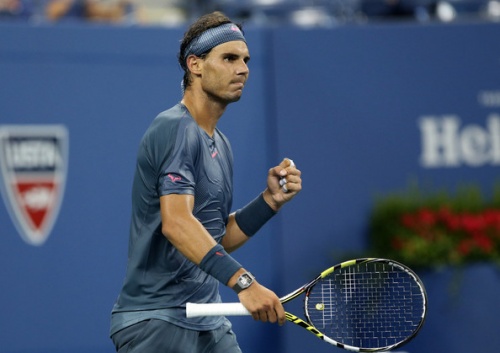 The competition will grow stiffer in the semifinals on Saturday against world No. 9 Richard Gasquet, yet Nadal never has lost to the Frenchman in 10 meetings. He can reach the final at this US Open without facing any top-eight opponent after a string of upsets in the lower half of the draw. While Gasquet's shot-making makes him a test not to discount, Nadal's explosive athleticism, confident ball-striking, and unbreakable serve should lay the foundation for his third US Open final in three appearances.