The Road to the Nadal Academy & Sports Centre

The Rafa Nadal Academy and Sports Centre is located on the Balearic Island of Mallorca. A quick clarification, depending on the dialect, spelling varies. In Catalan spelling is Mallorca but traditional Spanish uses Majorca. Also, do not confuse Mallorca with Menorca another neighboring island. Mallorca is part of a suite of land masses known as Islas Baleares located in the Mediterranean Sea. Here, a rich history dates back to the Roman Empire. Travel to this home of the world No. 1 is an air or sea adventure.
The Palma international airport (PMI), is located 8km from the capital city, Palma. There are excellent connections from Madrid, Paris, Barcelona, London and other large European cities. Despite the island location, Palma is the 3rd largest airport in Spain. In 2016, 26.2 million visitors landed here. PMI is served by carriers Iberia, EasyJet, AirEuropa, Ryan Air, and Vueling.

A maritime experience is your other option. Ferry routes run between Mallorca, Italy, and Spain. I chose a ferry which felt more like a small cruise ship. At 7 PM I boarded my ship from the port town of Denia. During my excursion, I wandered thru shops, enjoyed a 4-course dinner, watched the island of Ibiza come and go and I met new friends at the top deck bar. We arrived in the port of Palma around 1 AM. It took about 20 minutes to get from the ship to my hotel. I loved this transit option. The ferry is a relaxed way to travel in contrast to the typical airport experience. If you are not budget conscious, yacht charters may suit your style.
Once in Palma, you are only a 30-minute drive or 1-hour bus ride from the tennis oasis.
Upon check in, you will find a very comfortable spacious double bed room. All the trimmings of a top-tier hotel are at your disposal - robes, slippers, luxury toiletries, sewing kit with band aids, stocked mini bar including some junk food favorites. What stuck with me is the feeling of serenity. I traveled all over Europe from April thru July. Nowhere else did I feel the same level of peace. Part of this comes from the location. Manacor, the hometown of Nadal, is a small village and the academy complex is surrounded by unassuming scenery and fields with hay bales. The crickets will sing you to sleep.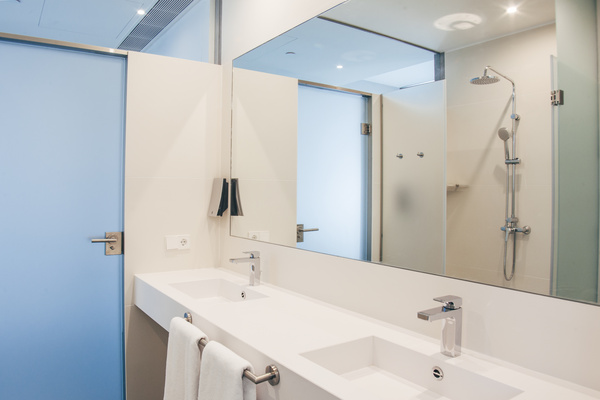 The other peace is in the design. The rooms are sleek, comfortable, monochromatic, and quiet. I imagine that during 16-years of tour travel, Rafa and his team have become experts about the subject, what a traveler needs to achieve, rest and relaxation. A remarkable achievement, once inside my room, I never heard anyone else. Credit due to architect, David Iglesias. Iglesias designed with the following objective in mind, "build a training Academy and at the same time create a building for use by the people of the town and for the whole of Mallorca."
Perhaps this explains the home like feeling of this place. I was told by my tour guide that every room is "the same." My interpretation, everyone is equal and no one gets a better room than anyone else. This seems a "Nadal like" principle. Every room has one significant large piece or artwork. The wall over the bed space displays an athlete. Mine was a runner is the starting blocks which was spot on for me. This piece of inspirational artwork is unique to each room. Next year, I am not sure if I want to request the same room, "my room" or if I should let fate decide. I am leaning towards fate.
We know there's tennis but what else? With 26-tennis courts and a dedicated team of professionals, this is an excellent place to work on your tennis skills. So, you don't want to play tennis? Then consider a game of Padel, squash, a visit to the state of the art fitness center with a full array of fitness classes from dawn to dusk, indoor and outdoor pools, a full-service salon and spa with Turkish Baths, football (soccer) and the Sports Museum with virtual reality exhibits. You can rent high-end cycling equipment which is a perfect way to explore the island. The Specialized brand bike team leads island cycle tours. Rest assured if you forgot your workout gear, the Sport Shop has you covered. When it's finally time to just chill, go find the Hamman - the flotilla pool, one of my favorites.
There are facilities to host groups and hold conferences including meeting rooms and an on-site culinary team. Everything I ate was delicious whether a fresh smoothie, fresh grilled salmon or decadent dessert. There is also a sports medicine clinic should you need care or have interest in services like nutritional analysis, genetic testing, and physiotherapy. I had a very positive experience with my physio, a treatment for a lingering back issue that was not actually a back issue.
So, what does it cost? Considering the amenities, the programs, and accommodations, a visit is a good value. Like every hotel accommodation, there are high and low season rates. High season runs July-August while low season is November-February. There is an array of plan options including breakfast, half-board, and full-board. As of May 2017, rates started at 45EU (low season) with a high of 125EU (high season) per night. Check the website for current pricing and specials offers.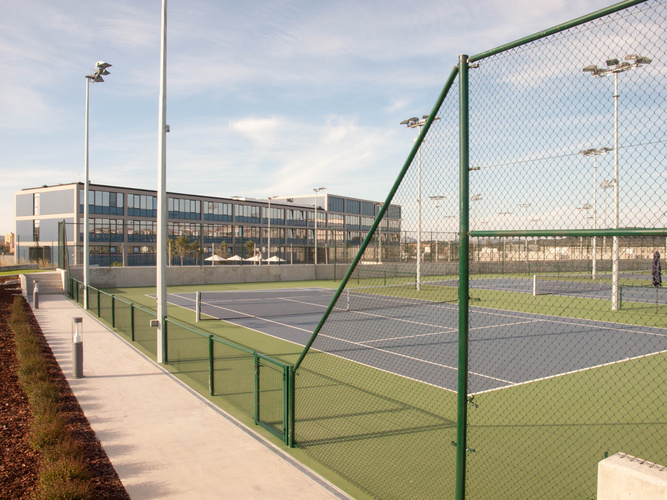 https://rafanadalacademy.com (choose the Adult & Family Programs option)
While there are endless options at the Rafael Nadal Academy and Sports Centre, make time to explore Rafa's hometown, Manacor and the rest of the island. Go find the street filled dream catchers, the cathedral and market square. Mallorca was a trade route. As such the island perimeter is dotted with Castle and fortress ruins along with busy and remote beaches and a mountainous West coast. European traditions are abundant including markets, festivals, music, local cuisine, architecture and history that comes alive from the mouths of passionate local guides.
One final tip! The courts that Rafa grew up on are not attached to the RNA. The Club Tenis Manacor is nearby and worth a visit. Despite his worldwide success, Nadal remains firmly rooted at home in Manacor, Spain just steps away from where it all began.