Riske Defeats Barty To Reach Wimbledon Quarterfinals

Alison Riske arrived in her Wimbledon round-of-16 against Ashleigh Barty with two significant records. She had pieced together yet another brilliant grass season, with a 11-1 record spanning a title at the $100k ITF event in Surbiton, followed by a fourth career title in 's-hertogenbosch and a fourth round run to Wimbledon. She beat two grass-loving top talents in Donna Vekic and Belinda Bencic last week alone
The second was a run of 6 straight tough three-setters against quality opposition, including 5 that finished at least 7-5 in the third. On Manic Monday, Alison Riske extended both, defeating Ashleigh Barty 3-6 6-2 6-3 to reach her first career quarterfinal.
"I'm so thrilled, she said afterwards. "I think honestly the biggest key for me has just been to battle from start to finish of every match that I've been a part of. Judging by the scoreline, they haven't all gone perfect. I feel like I've been there in every moment, looking to impose myself. I'm really most proud about that. I think just being tough has been the key."
For all those who cite grass as a surface not too dissimilar to hardcourts and not that much faster than clay, Alison Riske has long stood as one of the counterpoints. Every year she arrives on the lawns with her hard, flat ball striking and her enjoyment of the net, and frequently produces her best tennis.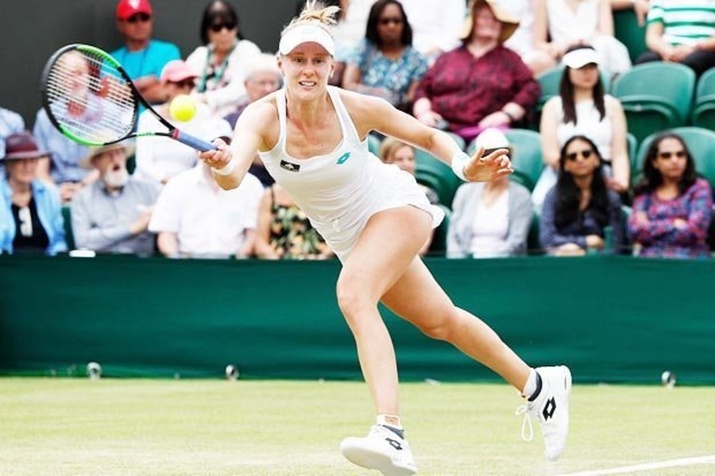 "When I go on grass," she said. "I don't really think about anything. It just kind of happens. It's just something that I feel like I've been natural at since I first stepped foot on it. I don't know why. I don't know how. Just kind of has been. Yeah, that first hit on grass coming from the clay is probably my favorite hit of the year"
Barty concurred. "You just have to look at her stats on a grass court to show just how dangerous she is," she said. "She's very comfortable on the grass court. It complements her game well. I think today in the crunch moments, she came up with her best tennis. When her back is against the wall, she plays really well typically. She did that today. All credit to her."
Riske is currently planning her wedding to Stephen Amritraj, a potentially distracting and stressful process, but she admits that she has been perfected the art of delegation.
"I think I'm going to have to get married – I wish I could get married more often," said Riske. "Maybe we'll have to renew our vows because it's worked out well having that on the horizon. I'm looking forward to it so much. Everything is pretty much already in stone. I'm not really stressed about it. I haven't been stressed about it really from the beginning probably because my fiance has been doing all the work (laughter). Yeah, I'm still looking forward to it."
Meanwhile, Ash Barty was left to lick her wounds after a first defeat since her victory at Roland Garros, one round short of an epic meeting with Serena Williams. But, at a time when players so frequently crumble after their first taste of success, it was an impressive run from Barty. Across the French Open and the grass season, her record spanned 20 sets in a row, 15 matches in a row across two different surfaces and a record that is now 39-6 in 2019. Perspective is in order.
"It's incredibly tough right now," said Barty. "But in saying that, it's also only a tennis match. I try to do everything I can to win the tennis match. If I don't, the sun is still going to come up tomorrow."
"I have an incredible team of people around me who love me and support me and are with me through this journey… We focus on the positives. The positives of what have been over the last two months, last six months, and for this year, it's been incredible. Today wasn't my day, but that's not going to define us as a team, it's not going to define me as a person. I think that's the most important thing."
(Photo Source: Getty)