Recapping Week 1 Miami Open Tennis: Novak's return to Focus

Recapping Week 1 Miami Open Tennis: Novak's return to Focus
As a second straight marquee tournament reaches its midpoint, the time has arrived to take a stock of those who have distinguished themselves in Miami. Depleted by withdrawals, the tournament still has produced plenty of intriguing storylines.
Ad-in:

Top three men's seeds: When he lost in the Indian Wells semifinals for the second straight year, Novak Djokovic admitted that he lacked focus. The focus has returned early in Miami, as it did last year when he won the title here. Surrendering just seven games in two matches and just three first-serve points in his most recent victory, Djokovic now eyes a very accommodating pre-final draw. At the end of it, though, stands a man who looked far crisper in dominating the dangerous Bernard Tomic to start the tournament. A former champion in Miami as well, local resident Andy Murray loves the slow courts and holds an advantage over many opponents in the humidity because of his outstanding fitness. World No. 5 David Ferrer holds a similar advantage, and his comfortable early victories revealed a much steadier player than the man who exited Indian Wells in his opener. In the absence of Roger Federer and Rafael Nadal, it is especially important for the tournament that all three of these men bounce back from disappointing desert campaigns, and they have done so.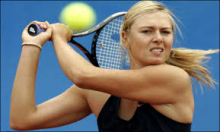 Maria Sharapova: Another week, another series of straight-sets wins for the Indian Wells champion, who never has won in Miami despite reaching four finals. The withdrawal of Victoria Azarenka opened up an already soft draw for Maria Sharapova to exploit, and she may face no challenge greater in her next few rounds than the windy conditions that troubled her ball toss. Winning a 15th straight match against a fellow Russian when she dismissed Elena Vesnina, Sharapova continued to take care of business with an efficiency that should serve her well (maybe literally) later in the tournament. She has not lost on a hard court to anyone left in the lower half of the Miami draw for over a decade.
Kei Nishikori: A product of the Nick Bolletieri Academy, he has regrouped from an apparent injury at Indian Wells to set up an intriguing fourth-round meeting with Ferrer on Tuesday. Kei Nishikori has scored notable wins over the Spaniard at the US Open and the Olympics, although he lost to him comfortably in Melbourne this year. If he can stay healthy, his steady baseline style should flourish on this court, where his smooth strokes are always a pleasure to watch.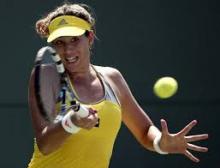 Garbine Muguruza: Heads turned when she fired her weapons fearlessly at Serena Williams in Melbourne, and heads turned some more when she reached the fourth round of Indian Wells. Now Garbine Muguruza has done it again, reaching this stage at Miami as well following an upset of Indian Wells runner-up Caroline Wozniacki. It's not as hard to break through as it is to consolidate a breakthrough, which makes it especially impressive that Muguruza has done the latter.
Tommy Haas: A regular fan favorite, the 34-year-old continues to outhit and outwit much younger opponents. For Tommy Haas, though, the most memorable experience of this tournament probably came not from his victory over Alexandr Dolgopolov but from sharing it with his infant daughter, Valentina. Haas wanted to keep playing until his daughter could watch him, and it has been moving to see him fulfill that dream.
Janko Tipsarevic: For a player of his top-ten ranking, registering victories over a qualifier and Kevin Anderson might not seem cause for celebration. But Djokovic's countryman had not won a set—much less a match—since the Australian Open as injuries had accompanied a loss of confidence. Janko Tipsarevic urgently needed to collect himself before the red clay and grass seasons in Europe, where his results usually dwindle, and his spirits will have risen with his ability to dispatch the taller, more powerful, and recently surging Anderson with an emphatic third-set bagel.
Serbian women: Both Ana Ivanovic and Jelena Jankovic scored solid victories at the same prestigious tournament, a rarity over the last few years. While Ivanovic knocked off fellow Roland Garros champion Svetlana Kuznetsova, who had compiled sturdy results this year, Jankovic overcame fellow veteran and backhand specialist Nadia Petrova, who stands near the fringes of the top ten. Neither woman has accomplished much of note here since Jankovic reached the final in 2008, suffering a handful of painful disappointments in tightly contested losses since then. Both have compiled their best career results on clay, so their surges come at the right time.
Deuce: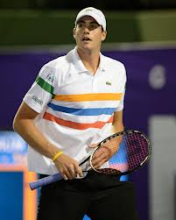 American men: Although Ryan Harrison's slump deepened with a resounding first-round loss, the man who defeated him continued to stir back into life. After his encouraging form at Indian Wells, James Blake dismantled not only Harrison but seeded opponent Julien Benneteau before narrowly bowing out in the third round. Blake will rue that missed opportunity, but some of his compatriots found greater success in similarly suspenseful encounters. Among them was John Isner, who bounced back from losing his Indian Wells opener and his status as the top American man with a comeback from trailing Ivan Dodig by a set and 4-2. Watching that match, Davis Cup captain Jim Courier must have felt pleased with the effort if not necessarily with Isner's uneven game. Compatriot Sam Querrey mounted a similar comeback from losing the first set to Lukasz Kubot, a player who had defeated him before, but his own ebbs and flows may leave Courier with some difficult choices in two weeks.
Andrea Petkovic: Granted, Marion Bartoli retired shortly before the end of what would have gone as a decisive victory for the German. But Andrea Petkovic still should feel proud of collecting two main-draw victories in Miami as she attempts to ignite her latest comeback from a series of debilitating injuries. With virtually no ranking points to defend through the spring and summer, she has nowhere to go but up, and plenty of fans to encourage her en route.
Tomas Berdych: At least he escaped the upset bid in his opener, which is more than some other notable names can say. The Czech came within a tiebreak of exiting to Daniel Gimeno-Traver before finding a semblance of form in the nick of time and steamrolling through the third set. Tomas Berdych will have to play key points and games with greater purpose and intensity to produce a deep run here, though.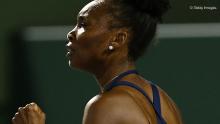 Venus Williams: Illustrating her inescapable frailties, her walkover to Sloane Stephens defused the excitement over a highly anticipated match between two popular American talents. Before she left her home tournament, however, Venus Williams collaborated with Kimiko Date-Krumm on the most gripping women's match of the first week: an epic battle between guns and guile that spanned over two and a half hours and required every drop of her competitive determination (and seven match points) to finish it.
Scheduling decisions: Suffice it to say that the Miami orders of play have not gone with the conservative choices as often as most tournaments of this level. Night sessions have featured a curious variety of matches from Fernando Verdasco vs. Alejandro Falla to the Ivanovic-Kuznetsova battle mentioned earlier. To the credit of those who make the order of play, nearly all of those unpredictable choices have reaped rewards in matches often more entertaining than expected. Less to their credit is the allocation of matches among courts, which has produced such oddities as Nicolas Almagro playing a qualifier on a televised court at the same time as Petra Kvitova playing a seeded opponent on a non-televised court.
Ad-out: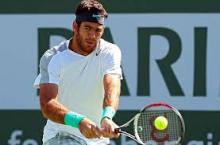 Indian Wells runners-up: After each of his last three finals, Juan Martin del Potro has failed to reach the quarterfinals of the next tournament. The latest instance of this trend came with his desultory loss to Tobias Kamke, which consisted of one extremely tight set in daylight and one ghastly set in darkness on either side of a long rain delay. His counterpart, Caroline Wozniacki, wobbled through a three-setter in her opener before mustering just six games from Muguruza. The setback carried particular weight because of the impending transition to clay and grass, which probably means that her momentum from Indian Wells will have evaporated by the time that she returns to hard courts in late July.
Indian Wells women's semifinalists: Accompanying Wozniacki out of the tournament were Maria Kirilenko and Angelique Kerber, both perhaps weary from their exploits in the desert. All of Kirilenko's wins there had come in three sets, so she may have lacked the energy to cope with a resiliently counterpunching Klara Zakopalova in the third round. Kerber faded swiftly against Sorana Cirstea on the same day, ending a brief visit to a tournament where she never has left a mark.
Bryan brothers: A hangover from the thrill of winning Indian Wells for the first time may have led to their quick exit from Miami, which they have won before. Amid another strong season for the twins, this disappointment should not linger for long.
Petra Kvitova: Her struggles on serve extended from the desert to Key Biscayne when she won barely half of her service points in a three-set rollercoaster against Kirsten Flipkens. Petra Kvitova won only one game in the two sets that she lost, although at least she moved one round further than she did last year in a tournament where the conditions always trouble her breathing.