Re-Living Wimbledon's Memorable Matches

The 2016 Wimbledon was perhaps the most open-ended, unpredictable grand slam since 2001, when Goran Ivanisevic ended his fairytale run, winning the title as a wildcard against Pat Rafter. It was a championship that included 20 rain delays, Novak Djokovic losing in week 1, and Milos Raonic becoming a first-time finalist. Ultimately, Andy Murray was able to shine in the final. Here is a look at six matches that stood out, making this Wimbledon memorable.
Nick Kyrgios def. Dustin Brown 6-7 6-1 2-6 6-4 6-4
This second-round clash was a highly entertaining encounter. Arguably, two of the most unpredictable, flashy personalities with games made for grass, faced off against each other. The two good friends, who have both beaten Rafa Nadal in recent years, had played their best tennis at SW19.
Brown, a shot maker, who loves grass and anticipates this time of the year throughout the season, has a quick game and is one of the only players who serves and volleys. His deft touch and his hot shots on the challenger and ATP tours have made the German fearless. Meanwhile, Kyrgios gets plenty of attention, but not always for his tennis.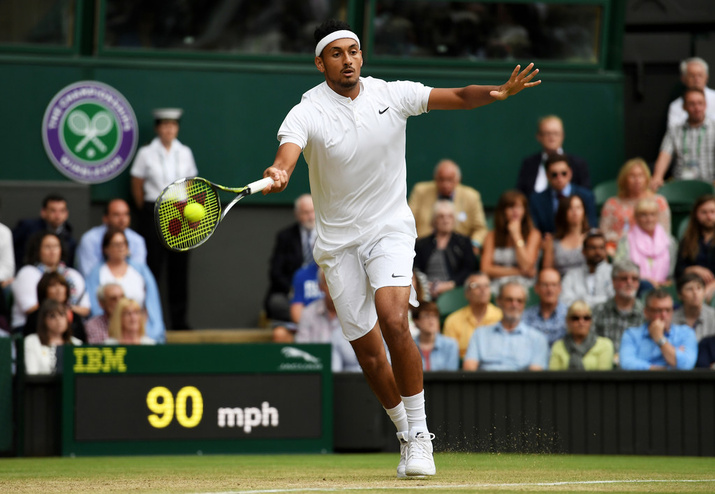 This match was all about the serve, and one or two points in each set would decide the winner. Both men held their serve easily, came to the net, hit flashy tweeners, and gave the crowd a cat-and-mouse exhibition. On average, two shot rallies were normal. Brown won the first set, and Kyrgios dominated the second set as he created more opportunities on the Brown serve.
It was much the opposite in the third set, with Kyrgios making errors at the net, and he became frustrated at his opponent's erratic but at times spectacular tennis. Nonetheless, he broke Brown's serve twice in the next two sets and finished it off the next day after a rain delay. He said afterward, "There are times when you don't want to play, because he could hit three backhands at the fence, and then immediately hit the best drop volley you have ever seen.
Andy Murray def. Jo-Wilfried Tsonga 7-6 6-1 3-6 4-6 6-1
Many had counted out Tsonga in this match, partly because he had just played a marathon with John Isner where he came back from a two-set deficit to win 19-17 in the fifth set. It was also a match-up that had not been kind to him in the past. His explosive athleticism had been overshadowed by Murray's relentless defense, and ability to blunt power.
However, this time, it was a very high-quality match from start to finish, with the first set lasting 73 minutes. Murray went up a break early, only to be thwarted by Tsonga's fearless, flat forehand, that punished his forehand wing. Tsonga kept Murray guessing whenever he came forward and was able to keep the pressure on. He broke back, and another classic tie-break ensued. Tsonga had 3 set points, but Murray's defense was just too strong.
After losing the second set, Tsonga would find belief in the third, as Murray's level dropped ever so slightly. Tsonga quickly pounced as his forehand did damage and he got some of the crowd on his side.
Nonetheless, Murray was still solid and was up 4-2 in the fourth set, but Tsonga hit gutsy winners and outfoxed Murray. He went on a roll and broke twice to win the set. Murray, played one of the most aggressive start-to-finish sets in the fifth, losing only 5 points on his serve, and saving one break point early. He fired up the crowd, and saved his best tennis for last, avoiding a heartbreaking upset.
Roger Federer def. Marcus Willis 6-0 6-3 6-4
This match deserves to be on the list, even though the score was extremely one-sided. The fairytale story of Marcus Willis became an attraction at Wimbledon. The middle-class Englishman taught tennis at a boat club prior to the championship but found his way into the draw. He entered Wimbledon ranked 772 in the world.
With thousands of people packed in the stands, Willis upset Ricardas Berankis who was ranked 51 in the world. This set up an unthinkable match of his dreams with Roger Federer, on Centre Court.
The hype for the match was a major headline and as Willis came on court, he got a standing ovation, even more so than the all-time great.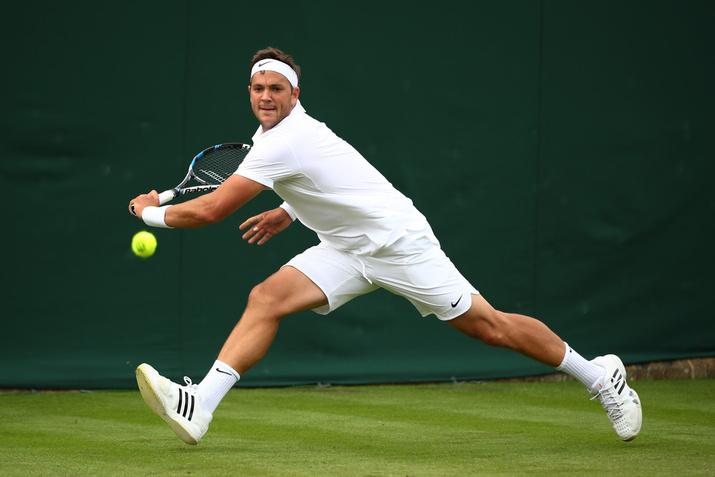 In the first set, although unable to win a game, Willis still hit some great volleys and serves. In the second set, a service winner gave Willis his first game, sending him into a celebration as though he had just won the title. He went on to play good tennis, fighting and making the most of his moment. He lost the set by one break and was even able to create another break chance. The third set was even tighter as Willis was able to keep the pressure on. However, he lost the set, 4-6.
So many of the stories that are generally heard during Wimbledon are centered around Djokovic, Murray or Federer. But this underdog story was able to steal the spotlight from the top players early in the tournament. Willis jokingly said after the match, "yeah, not my typical Wednesday at all."
Milos Raonic def. Roger Federer 6-3 6-7 4-6 7-5 6-3
The big Canadian was in his 3rd semifinal and was looking to make a breakthrough, while Federer was trying to reach his 11th Wimbledon final. This time, Raonic had John McEnroe on his coaching team, had more confidence and was extremely focused.
Coming into the match, his serve and his huge forehand were his strengths but his return game, shot selection and choosing when to come forward had been weaknesses and had prevented him from reaching his highest level.
Raonic won the first set 6-3 after Federer double faulted in the 4th game to hand him the break. However, in the second and third sets, Federer elevated his game, served a higher percentage, and most importantly found opportunities on the return. He handled the serve better and forced Raonic to stay on defense in many baseline rallies.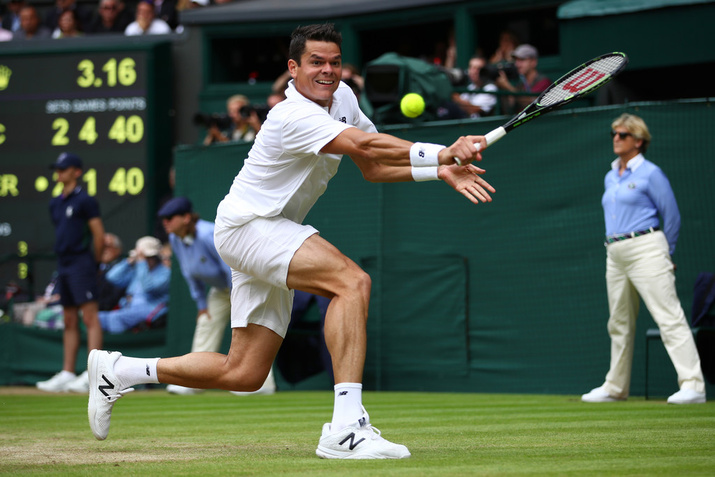 The Canadian's chances had become slimmer by the minute and it looked like another final for Federer was in the cards. But in the fourth set Federer blinked and Raonic took the match into a 5th set as the maestro was forced to play his second consecutive five-setter.
Raonic had now elevated his game, while Federer looked deflated, injured, and seemingly in mental disbelief. In the fourth game in the final set, he slipped while diving for a volley, injuring his right knee. To make matters worse, on break point, Raonic hit an amazing pass after a series of good net play.
Firing 140 MPH serves into the body, Raonic won the set and the match. Overall, there is no doubt Federer missed on a golden opportunity. However, credit must be given to Raonic who seized his chances and found another gear in the fifth set. It is unknown how many more opportunities Federer will have. However, one thing is clear, if he is to win his 18th major in his mid-thirties, he has zero margins for error.
Sam Querrey Def. Novak Djokovic 7-6 6-1 3-6 7-6
This was certainly an unpredictable upset. Djokovic, having won the French Open, was on top of the world. Not to mention, he had won four majors in a row, something that neither Roger or Rafa have ever done. No matter how great you are, winning the French Open and Wimbledon back-to-back is no easy task.
Sam Querrey, the calm American from San Jose, had nothing to lose in this match. He reached new heights in this tournament, serving confidently. Against Djokovic, he was able to hit aces, left and right. Meanwhile, Djokovic appeared unhappy that he wasn't on centre court and didn't look as intense and sharp as normal. He had trouble reading the American's serve in the early stages.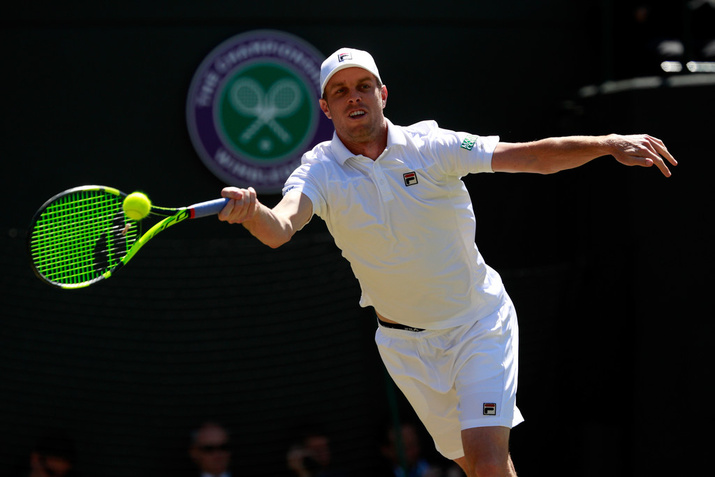 The first set tiebreaker was a good one, with Querrey striking clutch serves, and hitting lines. However, in the second set, Djokovic mentally checked out, while Querrey was on fire. The Serb overcooked easy forehands, didn't do enough with returns and allowed Querrey to dictate from the middle of the court. Then, came the rain. Querrey held a two sets to love lead as play was suspended.
The next day, Djokovic jumped out to a 4-0 lead in the third set and moving better than the previous day, he won the set 6-3. In the fourth set, he had numerous break point opportunities, but Querrey came up with big aces, a testament to his coolness. However, Djokovic wasn't going to give in that easy. He capitalized on some Querrey errors to break the American in the 9th game.
But serving to even the match at 5-4, the best front runner in tennis played a bad game, with 2 unforced errors and a slightly casual approach shot, which saw Querrey hit a backhand pass. The set would eventually reach a tiebreak.
Djokovic jumped out to an early mini-break, only to give it back once more. This time, he was unable to fight his way back and lost the match on his 31st unforced error, a sprayed forehand that went wide.
Djokovic has had mid-tournament hiccups in previous majors. Last year in the fourth round against Kevin Anderson, a player he had owned, and against Gilles Simon, he overcame bumps in the road to win those matches and eventually the tournament. But he could not do so this year.
Sometimes, in sports, players have bad days, and can't bounce back. But credit must be given to Querrey for sticking to his game plan, and finding his serve. He hit 31 aces, which no one has ever done to Djokovic at Wimbledon. Perhaps some lack of motivation from winning the French is understandable. Regardless, Djokovic is the favorite at every event he plays.
Roger Federer def. Marin Cilic 6-7 4-6 6-3 7-6 6-3
This match was undoubtedly the best match of 2016. Federer was well aware of how dangerous his opponent was. "He blew me off the court like I was nothing at the U. S. Open two years ago," he said before the match. Cilic's first strike tennis is one of the best in the game.
In this match, the Croat didn't allow Federer to neutralize the rallies. He kept pressing hard from the baseline and hit a patch where he was all over Federer from the baseline.
After winning the first set in a tiebreak, Cilic went up a break in the second, not allowing Federer any rhythm. His serve was on fire, as he hit 15-20 aces in just the first two sets. Federer needed to play on his terms and win free points with the serve, which wasn't happening.
In the third set, it was much the same story, with the set at 3-3, Federer went down 0-40. Most players in this situation would panic, but not the Swiss. A neutral rally followed before Federer forced a backhand error, which fired up the crowd. With his serve suddenly alive and deadly, he fired an ace and then it was a one-two punch, followed by 2 strong points.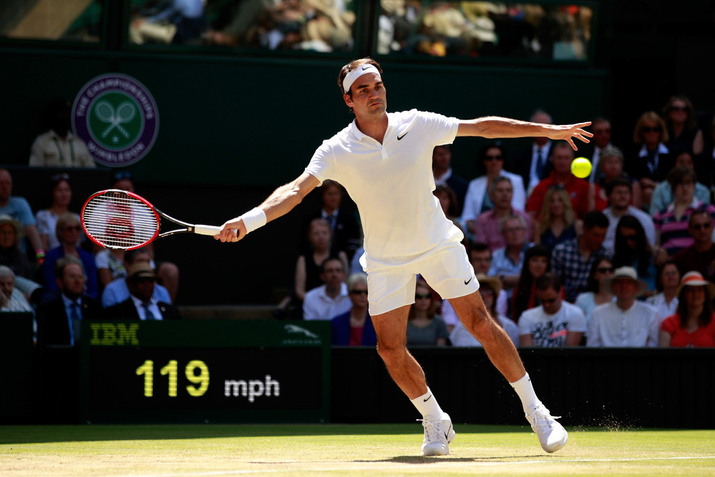 Federer began to read the serve even better and Cilic double-faulted to give a break, and the set to the Swiss.
However, it was far from over as Cilic, a grand slam champion, showed resolve and mental belief. Facing break points in the fourth game of the set, he smacked 3 aces and a service winner to hold. He was able to keep Federer on the move, and pounced on every chance he got.
But in the 10th game, down match point, Federer calmly overcame the threat to win the game. He was also down match point at 5-6 30-40, which was saved with an ace. The intensity rose in the tiebreaker as Federer played the point of the tournament at 7-7, with an unbelievably anticipated volley. He would win the tiebreak 11-9. It was a set which Cilic probably should have won, but once again Federer showed why he has 17 major titles.
In the fifth set, Cilic continued to hang on. It wasn't until the 8th game when Federer, who hit some unbelievable returns and passing shots, would break. He finished the match out with 2 aces. It was one of the most legendary comebacks by Federer.