Raise the Curtain: Wimbledon Men's Draw Preview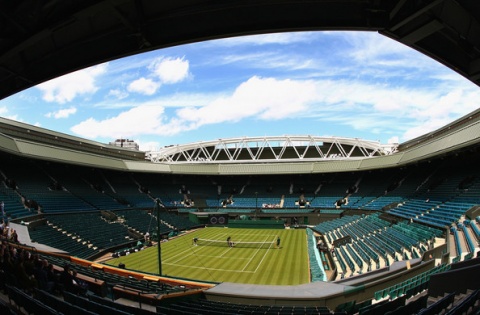 The third major of 2013 opens on Monday when Wimbledon defending champion Roger Federer strides onto Centre Court at the All England Club. This preview of the men's draw takes one quarter at a time, projecting semifinalists as well as dark horses from outside the top 10 to watch in each section.
---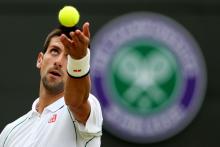 First quarter: The Wimbledon champion two years ago, Novak Djokovic should fancy his chances of at least reaching a second final there. The rest of the Big Four reside in the bottom half of the draw, as does the recently resurgent Jo-Wilfried Tsonga. Djokovic still might face an intriguing opponent on Manic Monday, when Wimbledon starts its second week with all of the fourth-round matches in both draws. Having fallen to Tommy Haas twice on grass, including once at Wimbledon, he will enter that projected fourth-round clash keenly aware of his opponent's grass skills. But Djokovic's other possible pre-quarterfinal opponents fail to inspire. Americans and Frenchmen predominate in his vicinity, including the floundering Ryan Harrison and Australian Open quarterfinalist Jeremy Chardy. The highest-ranked of those Frenchmen, Gilles Simon, will open against grass specialist Feliciano Lopez just three days after meeting him in the Eastbourne final.
Only one active man outside the Big Four has reached a Wimbledon final since 2004. Toppled by Ernests Gulbis in the first round last year, Tomas Berdych will appreciate his more accommodating draw this year. The 2010 runner-up will aim to defeat Kevin Anderson for the ninth time since the start of 2012, should the South African survive former Wimbledon doubles champion Philipp Petzschner. Berdych cannot afford to look too far ahead himself, though, for Daniel Brands might await in the second round. Nearly able to claim a two-set lead against Rafael Nadal in the first round of Roland Garros, Brands extended Berdych to four sets at Wimbledon three years ago, the best tournament of both careers. Other serving towers of power in this area include Sam Querrey and Bernard Tomic, the top-ranked men from their respective nations. They will meet in the section's most notable first-round contest with the winner slated to meet former Wimbledon semifinalist Richard Gasquet on Saturday.
Semifinalist: Novak Djokovic
Dark horses: Tommy Haas, Feliciano Lopez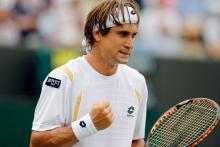 Second quarter: A threat on all surfaces, David Ferrer probably would rank grass his least favorite. Wimbledon remains the only major where the 31-year-old world No. 4 has not reached the semifinals, but the draw has given him a reasonable opportunity to end that drought. Surrounding Ferrer are several clay specialists, such as Horacio Zeballos and Santiago Giraldo, and a handful of talented but slumping players, like Alexandr Dolgopolov and Milos Raonic. The latter of those should excel on grass in theory, but frustrating early losses at Halle and Eastbourne showed how a massive serve alone cannot carry a player as far on this surface as it once did. Stagnating a little since his initial breakthrough, Raonic could trade bombs with Igor Sijsling in the second round and will look to repeat an Australian Open victory over Philipp Kohlschreiber in the third. Ferrer has enjoyed consistent success against both Raonic and Kohlschreiber over the last few years, although he may suffer an emotional hangover from Roland Garros.
The eighth-seeded Juan Martin Del Potro probably would join Ferrer in labeling grass his least effective surface. Often struggling to adapt his lanky physique to the low bounce, Del Potro also faces one of the first week's most challenging assignments for anyone of the top ten. His potential third-round opponent, Grigor Dimitrov, has shown his readiness to break through this year with explosive passages of play against Djokovic, Nadal, and Andy Murray. Dimitrov's excellent serve and reflexes at the net could carry him past Del Potro, but he never has reached the second week at a major. Looming on Manic Monday for the winner of that match is one of two counterpunchers, Kei Nishikori or Andreas Seppi. The Italian began to turn around a dismal 2013 campaign with a solid week in Eastbourne, while Nishikori fell early in Halle after a strong spring. Ironically, he could pose a more severe test for Ferrer in the quarterfinals than might Del Potro, for Nishikori defeated the Spaniard on grass last year. Ferrer never has lost to Dimitrov and has gone four years without falling to Del Potro.
Semifinalist: David Ferrer
Dark horses: Kei Nishikori, Grigor Dimitrov
Third quarter: Scanning this quarter, the eye drifts inevitably to the two names that anchor it. Projected to meet Rafael Nadal in a major quarterfinal for the first time, seven-time Wimbledon champion Roger Federer opens his title defense near the man who stopped Nadal last year. Lukas Rosol could collide with Federer at the end of the first week, but his fluctuating consistency may undo him sooner. The defending champion impressed only sporadically during his Halle title run, mostly against modest competition, and he dodged first-week defeat at Wimbledon by the narrowest of margins last year. His second week should start uneventfully against Nicolas Almagro, for whom no lead is too large to feel safe against any opponent. Or Federer could face Polish rising star Jerzy Janowicz, who has struggled to find his footing on grass.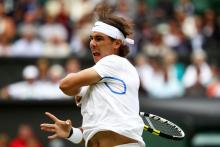 Beyond Janowicz lies a man whom Federer has not defeated at a major since the 2007 Wimbledon final. Rafael Nadal never lost before the final there between 2006 and 2011, but his second-round loss to Rosol last year saddled him with the fifth seed. Despite his sterling Wimbledon record overall, Nadal has struggled in the first week against unexpected opponents. The player most likely to extend that pattern, Benoit Paire, played him close twice on clay and has the type of penetrating two-handed backhand that can trouble the Spaniard. The only active man outside the Big Four who ever has won Wimbledon, Lleyton Hewitt drew the short straw of a first-round match with Stanislas Wawrinka. Impressive on every surface this year, Wawrinka has upset four top-eight opponents and uncharacteristically shone on grass last week at the Dutch Open. For his part, Hewitt reached the semifinals on grass at Queens Club, dispatching Del Potro there. Call it the first-round match to watch of the men's draw.
Semifinalist: Rafael Nadal
Dark horses: Benoit Paire, Lleyton Hewitt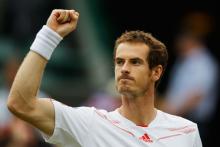 Fourth quarter: For the first time, Andy Murray arrives at Wimbledon anointed as a major champion. That US Open title should reduce the pressure on him in some ways, while increasing it in others. After all, British fans may ask, why can he not win here if he can win across the pond? Murray has compiled impressively consistent results at Wimbledon, where he reached three semifinals from 2008-11 before finishing runner-up last year. His grass success extended to consecutive victories over Djokovic and Federer over the Olympics, also held at the All England Club, and he holds the surface edge on all of his early opponents. Clay specialist Tommy Robredo looks to build on his miraculous quarterfinal run at Roland Garros but never has left an impact on grass. Mired in a season-long slump, Janko Tipsarevic has started to slip back toward the second-tier status from which he emerged so unexpectedly in 2011. Halle finalist Mikhail Youzhny, who has won sets from Djokovic and Federer this year, could repeat his Roland Garros upset over Tipsarevic en route to the second week.
If Murray's first four rounds look relatively tranquil, the last three should be explosive. Before he meets Federer and Nadal, both Wimbledon nemeses of his, Murray might need to thwart Roland Garros semifinalist Jo-Wilfried Tsonga. Ending his long losing streak against top-ten opponents, Tsonga stunned Federer at his home major last month and finds grass suited to his game. Serving power and deft touch at the net have enabled the Frenchman to reach two Wimbledon semifinals, including a match that he lost to Murray last year. An intriguing threat looms near Tsonga, however, in the perpetually dangerous Ernests Gulbis. Against someone who plays to the level of his competition, like Gulbis, Tsonga will need to show the same discipline and focus that he did through five rounds in Paris. Possible fourth-round opponent Marin Cilic grabbed attention at Queens Club this month by upsetting Berdych. Both Tsonga and Cilic won sets from Murray there, suggesting that a rematch could intrigue.
Semifinalist: Andy Murray
Dark horses: Mikhail Youzhny, Ernests Gulbis
Final: Novak Djokovic vs. Andy Murray
Champion: Andy Murray