Rafael Nadal: Poised For A Return To Wimbledon Glory

"Is better if I play well. If I play bad, doesn't matter if it's warm or cold or rain or sun. That's the thing, no?" said Rafael Nadal on Monday. Moments earlier, Nadal had pulled off a feat he hadn't achieved for seven whole years and one he had never achieved in all 16 years of his career, defeating Jiri Vesely in a seamless display of both defense and offense, 6-3 6-3 6-4, to reach the quarters of Wimbledon the first time since 2011. It was the first time he had ever done so without dropping a single set.
A week and a bit into Wimbledon, the two-time champion has indeed been playing well. Through four matches, he hasn't been taken to a 7-5 set one single time. He has been tidy and proactive, retaining his court positioning on the baseline and dictating with his forehand. He has dominated his return of serve - he leads the field for first serve return points won with a not insignificant 40%, and he stands second only to Djokovic for return games won.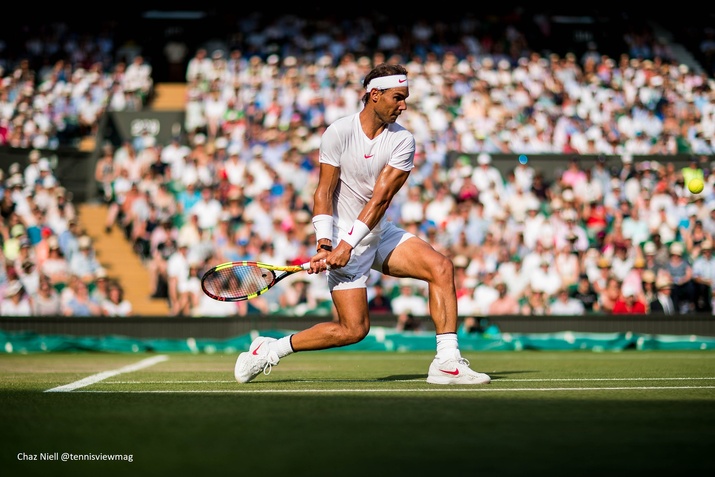 For much of the last seven years, since Lukas Rosol stepped up and then blew the closed roof off Centre Court, shook with every impact in 2012, it's been hard to disassociate Nadal from the boom of a tennis ball destroyed. After Rosol came Brown, then Nick, then finally Gilles Muller, each opponent seemingly emboldening the next to step in more, to take more risks, to serve bigger and do everything in service of taking as many risks as is humanly possible. Against Vesely, the type of giant with an insufferably big serve heralded as the genre of player to beat him, he stared down the Slovak and handled the serve comfortably.
Nadal's comments were revealing. On the surface, it was simply a typical Rafaism, another slice of realism as he underlined that the focus should be on something other than the weather. He came here to play well, y esta. But in other situations, and on other surfaces, he is happy to speak about the conditions and the different effect that they have on his game. He is never shy about the fact that he loves to feel the sun on his back during the clay season, and a damp clay court is less than ideal. When he edged past Alexander Zverev in Rome this year, as is often the case on clay, he spoke openly about the change in conditions
"So, the court was slower later. The beginning was hot, fast conditions, bounces higher. So, that helps a little bit more my game. And I was feeling great," he said in Rome. "And then the beginning of the second, it started to be much more cloudy, the game became slowly, and probably he started feeling better the ball."
But nobody questions his ability on clay. It's evident that a higher bounce does help Nadal on grass, but to him, the fixation of the subject is evidently an irritant. He believes himself a strong grass courter - of the two-time Wimbledon champion and finalist caliber - who can handle every condition and compete with any reasonable opponent. Time and time again, he puts himself in the position to demonstrate that. He shows his face and never hides.
When Nadal walks out to play Del Potro in the quarters tomorrow, he will do so again. It will mark his most significant match on grass since the Wimbledon final and although Del Potro fits a similar bill of the impossibly tall giant who could redline at any moment, Del Potro is a top player with too much on the line. Nadal will have room to maneuver, to feel out the Del Potro backhand and make him move. He'll have room to show that he can still play well in a big, big match on grass again, regardless of the conditions.