Rafael Nadal: Looking Back, And Ahead

21 Grand Slam titles, over 120 million dollars in prize money, Olympic Gold medals, opened a tennis academy, and a slew of other accolades that would take too long to list. Of course, I am talking about one, Rafael Nadal. Nadal, now 35 years of age, has done pretty much everything a great athlete can do in their sport. He has won every slam, been to the top of the game, and bested his greatest rivals on numerous occasions, and yet, in 2022, he may still be playing the best tennis of his Hall of Fame career. Currently, Nadal must wait to get back on the court, dealing with a rib stress fracture that has sidelined him, putting his opportunity to play tune-up events before the French Open in serious question. Injuries are nothing to the Spanish great but let's focus on one, from last year.
In August of 2021, a mere 10 days before the final Grand Slam of the year in New York, Nadal announced he would be ending his season due to an issue with his foot which had been bothering him throughout the year. Now, fast forward to 2022. As far as major wins are concerned, the Australian Open hasn't come as frequently to Nadal as the other majors. While he has only won Wimbledon twice, they did come within two years of each other (2008 and 2010). Nadal's lone Australian Open had come in 2009, where he defeated his greatest rival, Roger Federer in 5 sets. With the controversy surrounding Novak Djokovic and the lingering knee injury to Federer, Nadal was the only active member of the Big 3 to head to Australia. Nadal started his 2022 season with a win in Melbourne, which gave him his 89th career singles title. Entering The Australian Open, I don't think many experts were choosing Nadal to win his 21st major, let alone get to the final. Players like Medvedev, Zverev, and Tsitsipas were on a lot of people's minds before the all-time great. Nadal seemed to not have any issues to start his quest for his 2nd Australian Open and 21st major overall, dropping only one set en route to the quarterfinals. In the quarterfinals, you saw why Nadal is one of the toughest players to put away in the sport as he had to battle against Denis Shapovalov. Nadal went up to two sets to love on the young Canadian and then doubt from others seemed to set in. Can Nadal win another major? Is the pressure too much for him? We weren't sure as this quarterfinal went into a 5th set. However, as per usual for Nadal, somehow and someway he found a way to cross the finish line and advance to another major semi-final. In the semi-finals, he went up against the big-serving Italian Matteo Berrettini.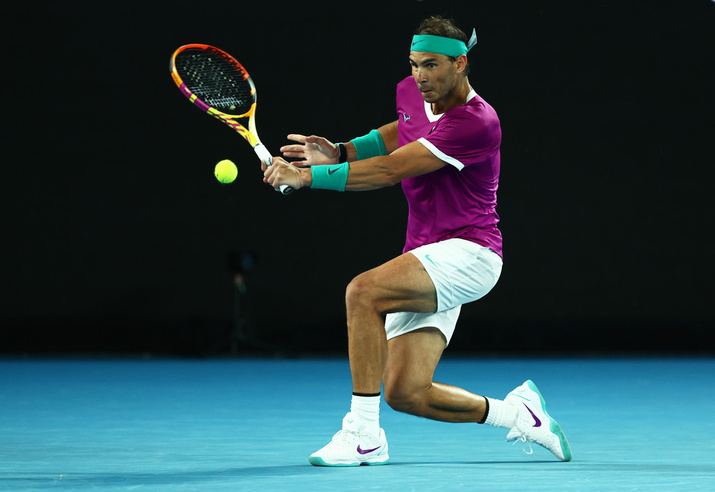 @getty images
Now, you would probably assume after a grueling match in the quarters, Nadal would be the one to falter. It was not Nadal to succumb to injury, but Berrettini who dealt with a stomach issue early in the match that allowed Nadal to play at his pace and ultimately a victory. Nadal advanced to the finals against tournament favorite and U. S. Open Champion Daniil Medvedev. In the quarterfinals, both men won in 5 sets. Nadal had to thwart 2 sets to love comeback by Shapovalov and Medvedev, had to come back from 2 sets to love down against another Canadian, Felix Auger-Aliassime, Now, the one thing you can say about Nadal is that he never gives up and battles until the last point is played. Well, the fight was on as Medvedev jumped out to 2 sets to love lead. As Nadal did in the quarterfinals, he would have to go the distance but this time he was the one who had to force extended play. Again, somehow, and someway in the wee hours of the morning with the tennis and sports world watching, Rafael Nadal had done the unthinkable, he had come from 2 sets to love down, he had won The Australian Open, he got to 21 Majors first despite all the outside noise. Nadal stood alone at the top of the major's list and had yet to lose a match in 2022. On to Indian Wells, he went.
At Indian Wells, getting off to a quick start is crucial. Nadal received a bye in the first round and then met a player who idolized him growing up - American Sebastian Korda. After both players exchanged sets, it went to a deciding third. Korda led 5-2 in the third set, and it appeared as if Nadal's time in the Californian desert had come. But Nadal fought his way back to come from behind for a three-set victory. After a three-set win over Nick Kyrgios, we were set up for an all-Spanish semi-final between Nadal and young phenom, Carlos Alcaraz. Alcaraz's day at the top of the game will come, it just wasn't on this day as Nadal won in three sets to continue his undefeated season into the final. In the semis against Alcaraz, Nadal had to call for the trainer as he was dealing with some upper chest issues. Nadal would meet California native Taylor Fritz in the final and we weren't sure if this match would even take place. No, initially the concern wasn't for Nadal but for Fritz as he tweaked his ankle in a practice session before the final. Fritz wasn't going to allow this injury to keep him from playing as both players took the court. Fritz jumped out to a huge lead in the opening set before Nadal started to fight back but Fritz was still able to win the opening set 6-3. Nadal continued to fight back and play better in set number two eventually leading to a tiebreak. Nadal had his chances, but he blinked first as Fritz won the tiebreak and the title. Nadal said later that he didn't want to take away from Fritz's victory and that is a testament to how respectful he is of his opponents and the game. He later revealed that it physically pained him to breathe, and we discovered it was an injury to his ribs that will sideline him for a couple of months. Take nothing away from Fritz, as he played beautifully but Nadal being injured just leaves us all wondering, what if. With Nadal sidelined, his record for the year stands at 20-1. Despite all his accolades, major championships, and victories, at age 35 Rafael Nadal may have been playing some of the best tennis of his career.
With Nadal injured and the French Open around the corner, will he be able to play to his best when he goes for his 14th Championship at Roland Garros? Unlike in Australia, Djokovic will be there competing and looking to defend his French Open title. With age, injuries have popped up for Rafa, but somehow, he continues to fight and when it's all said and done, he may be the greatest of this era or any other.