Rafa Returns, Zeballos Arrives

Towering above the other headlines this week was the return of Rafael Nadal to competitive action after an absence that had extended since his second-round loss to Lukas Rosol at Wimbledon. Now down to #5 in the rankings, the 11-time major champion came within two points of winning the title at his comeback event, a promising step forward by any measure. Although his instincts and reflexes require some work, as does his returning, Nadal looked confident on serve for most of the tournament in recording 37 straight holds from the first set of his first match through the second set of the final. Ambushed there by an underdog playing the match of his life, he should travel across South America to Sao Paulo relieved that his game had survived the extended absence so successfully. And falling short of the title may have proved a blessing in disguise for Nadal, since expectations would have soared beyond control if he started his comeback with nowhere to go but down.
At times, one almost felt sorry for other players who excelled this week, dwarfed as they were by the single most significant story. Here are some of those who impressed us the most—and a few of those who impressed us the least.
TWO

THUMBS

UP

:
Frenchmen: The first man to win two titles in 2013, Richard Gasquet improved to 14-1 by claiming one of his home tournaments in Montpellier. Known for his frailty on home soil during what one might have considered his prime, he has matured into a competitor who often shines in these situations. With his hard-court surge over the last several months, which has brought him to four finals on the surface, Gasquet has become an increasingly legitimate member of the top 10. Three of his four victories came at the expense of his compatriots, culminating with the unlikely Benoit Paire. Routed by Federer in the first round of the Australian Open, Paire rebounded to save match points in the second round and twice came back from losing the first set to reach his first hard-court final. Among his victims was another Frenchman, Michael Llodra recaptured his indoor hard-court prowess by reaching the semifinals with an upset over Tipsarevic. Nor did all of the French success come in Montpellier, for Jeremy Chardy built upon his Australian Open quarterfinal appearance with a solid semifinal showing in Vina del Mar.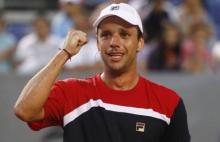 Zeballos: Stealing the show from Nadal on Sunday, world #73 Horacio Zeballos will climb well inside the top 50 by winning his first career title at the age of 27. But what he and those who watched will remember longer than anything was the fearlessness with which he attacked Nadal, even when the match hung in the balance.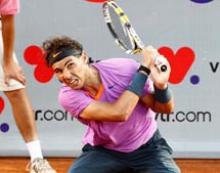 Broken only once across three sets, the heavy underdog swept the last eight points deep in the third set by painting line after line, just as he said that he must before the match. Zeballos has a quirky service motion that disguises his placement well, and his forehand zipped down the line, inside-out, or cross-court with equal ferocity. Like Gasquet, he survived three final sets to win the title. Unlike Gasquet, he defeated higher-ranked opponents in every match but one, including half of the tournament's seeds.
Christian Garin: The 16-year-old wildcard vindicated tournament organizers by winning his first match comfortably, and he arguably impressed even more by taking a set from the third-seeded Chardy. In an era when teenagers have seen their success dwindle, Garin produced a refreshing storyline as he climbed nearly 250 rankings slots—to #672. He has a long way to go, clearly, but it could be an entertaining journey to watch.
THUMBS

UP

: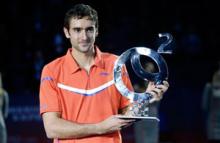 Cilic: Claiming his home tournament for the third time, the quiet, lanky Croat lost only one set as he stayed within range of the top 10. Now in the middle stages of his career, he needs to make a surge soon or settle into secondary status. Although Zagreb hardly boasted a daunting field, sometimes a triumph on home soil can boost a player's spirits disproportionately. Cilic's first title here in 2009 preceded his most productive stretch to date. (In an example of all ships rising with the tide, other Croats such as Karlovic and Dodig also shone before their home fans in Zagreb.)
Melzer: The Austrian rebounded sturdily from a demoralizing weekend in Kazakhstan that landed him in the less pleasant section of our weekly review. Thrusting that Davis Cup disappointment behind him, this veteran lefty navigated a route to the final that included a victory over Nadal-killer Lukas Rosol. Indoor hard has become Melzer's strongest surface as his career wanes.
Czechs: Undefeated in Fed Cup since 2010, this team enjoys steady commitment from two top-20 singles stars (Kvitova, Safarova) and a top-five doubles team in Lucie Hradecka and Andrea Hlavackova. That type of balance has made the Czechs a lethal combination, and they shut out a visiting Australian squad in a surprisingly authoritative performance considering the recent struggles of both Kvitova and Safarova. The former won consecutive matches for the first time since the US Open and scored her first victory of note in even longer by defeating Stosur on Sunday after saving match point.
Fed Cup underdogs: Outside the Czech Republic-Australia tie, the other three World Group quarterfinals this weekend looked like mismatches. A Serbian team without either Ivanovic or Jankovic hosted Slovakia, an American team without a Williams traveled to Italy on clay, and a Japanese team without a player in the top 50 ventured into tennis-rich Russia. But all of those nations turned what could have been routs into scintillating dramas, in large part because Ayumi Morita and Varvara Lepchenko swept their singles rubbers with the odds stacked against them.
Jana Cepelova: When Cibulkova retired from her Saturday singles rubber with a leg injury, Slovakia had no choice but to insert the unheralded Cepelova into a Sunday rubber against Serbian #1 Jovanovski. With the tie poised delicately at 1-1, she delivered the crucial point by winning a 20-game final set over a player who had just reached the second week of the Australian Open.
THUMBS

DOWN

:
Berdych beneficiaries: Handed a first-round bye when Berdych withdrew, Davydenko plausibly could have capitalized on an indoor hard court that suits his strengths. Instead, he could not escape his first match. Nor could Paul-Henri Mathieu, upgraded from an unseeded to a seeded position for the same reason and gone from Montpellier at the same stage.
Dimitrov: In a schizophrenic January, he achieved a breakthrough by reaching the Brisbane final and a breakdown by becoming the first man to exit the Australian Open. February started much more like the end of January than like the beginning, for Dimitrov dropped two tiebreaks to Karlovic in the first round of Zagreb as his momentum continues to stall. The North American hard courts loom large.
Date-Krumm: Remembered most, perhaps, for her upset of Steffi Graf in Fed Cup, the ageless wonder from Japan will want to forget her most recent appearance in this competition. Once she let a first-set lead slip away against Kirilenko, Date-Krumm dropped serve seven times over her three remaining sets of the weekend and never came close to putting pressure on Makarova in a match that could have won the tie for Japan.
TWO

THUMBS

DOWN

: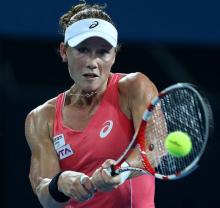 Stosur: Now 1-5 in 2013, she has lost eight of her last nine matches in an unfortunate convergence between an ankle injury and an apparent loss of confidence. While her stumble on home soil was hardly novel or surprising, Stosur continued to struggle after leaving Australia by losing both of her Fed Cup rubbers as her team's singles #1. She did show some fortitude by nearly erasing a 5-0 deficit in the third set against Kvitova, but more memorable were the double faults that cost her in two tiebreaks and the passive, uninspired play that dug the 5-0 hole in the first place. Likely to drop out of the top 10 soon, Stosur needs to recapture her passion for the game.
Monaco: Holding the second seed in Vina del Mar, he dropped his opener to Guillaume Rufin, nobody's idea of a clay specialist. Rufin then added insult to injury by issuing a walkover in the next round, but Monaco at least did obtain some consolation by reaching the doubles final with Nadal.
Serbs: World #9 Tipsarevic shared Monaco's fate by succumbing in his Montpellier opener as the second seed, and injuries afflicted several of his compatriots. Around the time that Viktor Troicki retired from the same tournament, both Jankovic and Ivanovic announced that they could not participate in Fed Cup. Their withdrawals essentially sealed Serbia's fate, exile to the World Group playoffs, and Bojana Jovanovski drilled the last nail into the coffin with a horrendous cascade of unforced errors. When the highlight of the week comes from Vesna Dolonc, the sun does not shine in Belgrade.