Radwanska and the Rest: The Women's Quarterfinals at Wimbledon

The only top-10 woman to reach the semifinals, Agnieszka Radwanska spearheads a curious group of women's semifinalists. None of them ever has won a major, so Wimbledon will witness history on Saturday regardless of what happens in the last two rounds. Here is a look at the cast of characters who have survived one of the most bizarre majors in recent memory.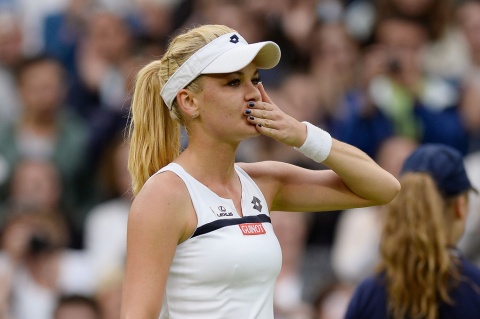 The lady-in-waiting: Despite her ascent into the top four last year, Radwanska has struggled to emerge from the shadow of the three women ranked above her. With Serena Williams, Maria Sharapova, and Victoria Azarenka all gone from the draw, she eyes a window of opportunity to burst into the spotlight. The statistics that defined Radwanska's fortunes at majors was her quarterfinal record, a dismal 1-7 before today's victory over Li Na. Now that she battled past the world No. 6 in three sets, however, the world No. 4 has reached consecutive semifinals at Wimbledon. She needed eight match points to dispatch Li, and a significant leg injury required a medical timeout, but Radwanska has shown her resilience in such situations before. It will take more than an injury to derail her, although three straight three-setters have revealed some vulnerability as well as the aforementioned resilience.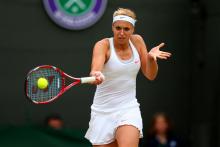 The slugger: Awaiting Radwanska on Thursday is the story of the tournament. As a mere No. 23 seed, Sabine Lisicki upset world No. 1 Serena Williams on Monday and kept her focus a day later in dramatically different circumstances. Lisicki entered the match with Serena as a heavy underdog despite her repeated success at Wimbledon, but she faced the unseeded Kaia Kanepi as the favorite. Against a lesser opponent, away from Centre Court, a less mature or determined woman might have stumbled. In fact, Lisicki did lose last year a day after she defeated then-No. 1 Maria Sharapova. 2013 proved a different story as she cruised past Kanepi in the most routine quarterfinal of the day, reaching her second Wimbledon semifinal in three years. That match will feature a fascinating contrast of styles with her massive first strikes pitted against Radwanska's guile and versatility.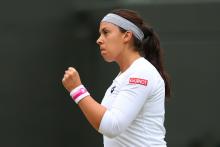 The double-fister: Few playing styles are more eccentric than the double-fisted groundstrokes and arhythmic service motion of Marion Bartoli. The world No. 15 had enjoyed an exceptionally easy draw through the first few rounds, causing many to question whether her routine wins said less about her than about her opponents. Bartoli laid some of those doubts to rest in dismissing No. 17 seed Sloane Stephens as easily as those before her. The only woman who has not lost a set, the Frenchwoman aims for her second Wimbledon final, six years after her first. Remarkably, this tournament marks Bartoli's first semifinal of the season, and another win would mark her first final since last August. Her vicious returning and the angles created by that double-fisted style wreak some of their greatest havoc on grass. Moreover, the return of father Walter to her team has provided much-needed stability.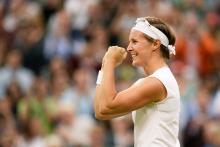 The artist: Watching Kirsten Flipkens on grass sometimes recalls watching Francesca Schiavone on clay. Gifted with imagination, instincts, and a keen feel for the ball, Flipkens compensates in subtle ways for the power that she lacks. She rallied from losing the first set to Petra Kvitova, a far more explosive hitter, by showing surprising poise at key turning points despite her inexperience. An underrated serve never broke down during the final set, while Flipkens kept Kvitova off balance and out of rhythm. The 27-year-old Belgian excels at placing the ball in awkward spots for opponents and at finishing points in the forecourt, always a useful talent on grass. A natural athlete, Flipkens will enter her first meeting with Bartoli without any pressure as the clear underdog. Like Radwanska against Lisicki, she will look to equalize her opponent's superior first strikes with smart, clean, and opportunistic tennis.