Raducanu, Medvedev Leave New York With Maiden Slam Titles

One of the most exciting Grand Slams of recent memory concluded over the weekend and after two weeks of twists and turns, Emma Raducanu and Daniil Medvedev left New York with singles titles. Both earned their maiden major title championships. Raducanu defeated Leylah Fernandez 6-4 6-3, while Medvedev rolled past Novak Djokovic 6-4 6-4 6-4 in their respective finals.
Some remembered Raducanu's run to the second week at Wimbledon but very few knew of Leylah Fernandez. Yet, the Canadian ran through former US Open champions Angelique Kerber and Naomi Osaka. She, then, proceeded to take out top-five players Elina Svitolina and Aryna Sabalenka.
Despite not facing as many top seeds as Fernandez, Raducanu's journey may have been even more impressive. The Brit had to play in the qualifying draw just to reach the main draw, and after 3 weeks of tennis never played a three-set match or a tiebreaker. Only once in the three weeks did a player even reach 5 games in a set against her, which came in the qualifiers. She became the first major champion to win as a qualifier.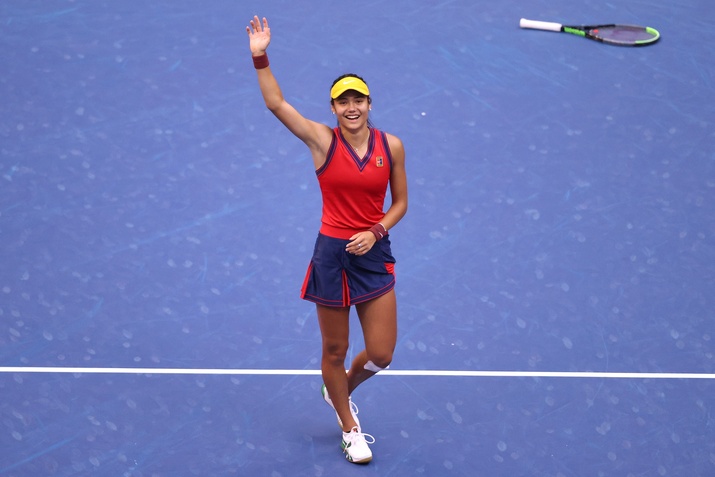 Photo: Getty Images
Raducanu gave credit to her parents in an interview with ABC's George Stephanopoulos, "I think that from a young age I've always sort of been brought up to have mental strength. My parents played a huge part in my upbringing, and they were pretty tough on me when I was young, but it kind of shaped the way I am.
"And I think now it's helping on the biggest stages in the world, and Arthur Ashe stadium, when you really need it, and it was basically at full capacity – so it was very, very cool."
Meanwhile, Medvedev ended Djokovic's attempt at history. The Serb was trying to become the first player since Rod Laver to win a calendar-year Grand Slam in the Men's game. That feat hadn't been accomplished since 1969.
The Russian controlled the Final from start to finish and looked poised and ready to take his first major title. Meanwhile, Djokovic did not look his best, and the weight of expectations looked to have finally taken a toll as any hope of history came crashing down.
Despite falling short, Djokovic won over the New York crowd, something he has longed for. He addressed the topic after the match.
"I was thinking in both scenarios, visualizing myself standing here in front of you guys and what would I say. I would like to say that tonight, even though I have not won the match, my heart is filled with joy and I am the happiest man alive because you guys made me feel very special on the court."
Certainly, Djokovic has nothing to hang his head about. Three major titles and a finalist in the 4th is something all would inspire to accomplish.
But the title belonged to Medvedev, and it was well-deserved. Recently, all signs pointed to him kicking down the door and claiming his first, and on Sunday, he was exceptional on the court doing very little wrong.
Medvedev was happy about the win, but also put it into perspective. "For the confidence and for my future career," he said, "knowing that I beat somebody who was 27-0 in a year in Grand Slams … he was going for huge history, and knowing that I managed to stop him, it definitely makes it sweeter and brings me confidence for what is to come on hard courts so far, but let's see about other surfaces."
With Roger Federer and Rafael Nadal on crutches and Medvedev knocking Djokovic off the perch, for the first time, it feels like there may finally be a changing of the guard from the "big three" to the next generation of champions. But we will have to wait until 2022 to see if things continue in this direction or whether the old guard will return to take back what they have owned for so long.