Raducanu Falls At Indian Wells

On Friday, in the California desert at Indian Wells, one of the most prestigious tournaments in tennis, two British players headlined the night session.
First up was 18-year-old Briton Emma Raducanu, playing for the first time since her extraordinary success at the US Open, where she became the first qualifier in history to win a Grand Slam singles title.
Raducanu, world No. 22, lost in straight sets to 27-year-old, world No. 100, Aliaksandra Sasnovich by a scoreline of 6-2, 6-4.
After the match, Raducanu said: "I think Aliaksandra played a great match. She's an extremely experienced opponent who has been on the tour for many years. Yeah, I mean, I had to get used to the conditions. It's my first time playing in Indian Wells.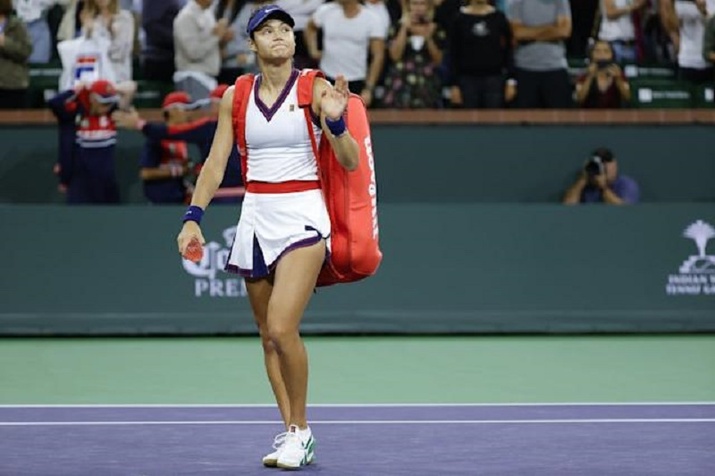 (Photo by Tim Nwachukwu/Getty Images)
"Yeah, I mean, she was better than me today so she deserves to win."
When asked how she felt on the court, Raducanu said: "Yeah, I mean, playing at night is always going to be different. I haven't had much experience with night matches. I've only played one before on Ashe. I'm still very, very new to the tour. I think that experience just comes from playing week in, week out and experiencing all these different things.
"Yeah, I'm kind of glad that what happened today happened so I can learn and take it as a lesson. So going forward, yeah, I'll just have more experienced banked."
Sasnovich said: "Yeah, it was a really good match for me. I play really well. I know she just won US Open. I lost there in the first round. So a little bit different, you see.
"But I tried to go on court, I tried to enjoy. My dad told me, Just go and enjoy, just enjoy tennis, just live there. It was a good, solid match from me. I did everything right and I'm happy with the result, of course."
Next up was former world No. 1 Sir Andy Murray, winner of three Grand Slam singles titles. At age 34, he is making a comeback after suffering years of a debilitating hip injury (he literally plays with a metal hip). Murray received a wildcard into the event and defeated tricky lefty Frenchman Adrian Mannarino in routine fashion: 6-3, 6-2.
After the match, Murray said of his first experience back in the desert after four years, "Yeah, I mean, I kind of played how the conditions allowed a little bit. I mean, it was very, very breezy on the court, like a strong breeze from one end. So from the far end of the court, it was really blowing into your back there. So, yeah, I mean, I thought I played how the conditions allowed.
"I've played well in the wind over the years. Yeah, did a good job of that tonight."
Murray said: "I don't think I played, like, amazing tennis or the best tennis that I can play. But I still won comfortably against a very good player just by knuckling down on every point."
Meanwhile, 19-year-old Canadian Leylah Fernandez, after her feelgood, fascinating run to the US Open finals, defeated French veteran Alize Cornet 6-2, 6-3.
In her post-match press conference, Fernandez said: "Yes, it does give me a lot of confidence because Alize, she's a very tough opponent. I've watched her play on tour. She fights for every point. I've practiced with her, too. We've had some tough practice matches. I knew that today was going to be hard.
"I'm just glad I was able to get the win. It gives me confidence moving forward."
Fernandez, showing her wise-beyond-her-years insight, said: There's definitely a lot of things that I can learn. I'm only 19 years old. All these players that I'm playing against have a lot more experience on tour, many more matches, many more years on tour.
"Like my grandfather, like my dad always says, it doesn't matter how much I know, people who are older, who has been through these situations, know more than you do, so don't take advantage of it, just keep in the moment, work hard and wait for your opportunity."