Radu Albot Takes Delray Beach Title

At the Delray Beach Open, 29-year-old Moldovan Radu Albot saved three championship points to defeat 28-year-old British qualifier Dan Evans 3-6, 6-3, 7-6 (7) in a thrilling and grueling singles final that took two hours and 51 minutes, not including a 56-minute rain delay.
Albot became the first-ever player from Moldova to win an ATP Tour-level tournament. He's already one of the most recognized athletes in his home country in Eastern Europe, and he's going to be even more famous now.
"I think a lot of people were watching for sure," Albot said. "My parents watched all my matches and they didn't sleep for a week, so I hope they are very, very happy now."
It was Albot's fourth three-set victory here this week, and he rallied from a set down in each of the last three, including Sunday's final.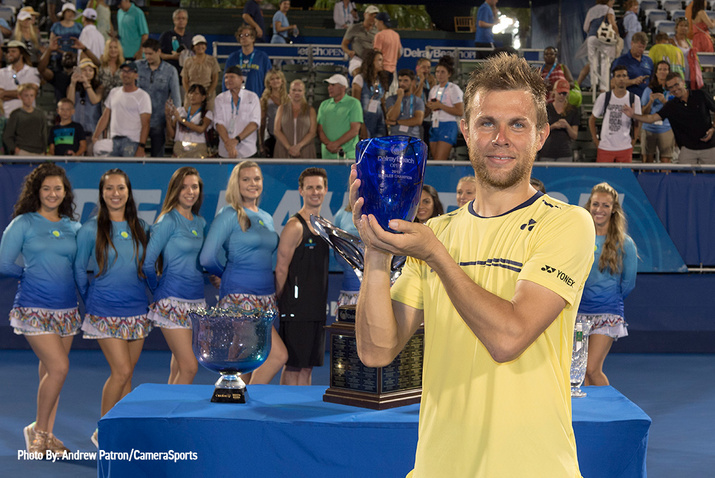 "It was not in the plan, I have to say, losing the first set and then having to come back, but it worked out pretty good this week," Albot said.
Albot also reached the semifinals of doubles with Japan's rising star Yoshihito Nishioka, so it was quite a satisfying week for the Moldovan. Albot, a 5'9" right-hander, arrived in Delray Beach ranked world No. 82 and will leave just shy of breaking into the top 50.
"I think it's pretty difficult to explain in words how this feels," Albot said. "It feels great. It's a little bit tiring playing seven matches in a row, especially with the doubles yesterday, but I was ready mentally."
Evans is also a 5'9" right-hander, but he has a single-handed backhand that he often slices with wicked spin, low and hard over the net. Evans played seven matches as well this week. His run included upsets over No. 2 seed and world No. 9 John Isner and defending champion and No. 3 seed Frances Tiafoe.
Evans was bidding to be only the fourth qualifier to ever win the Delray Beach title, which would have been his first ATP Tour title ever. Evans started the tournament ranked world No. 148 and will leave ranked world No. 105.
Evans had three match points in the tiebreaker. The second one at 6-5 was the most frustrating. Evans's forehand was called out, and he successfully challenged the call. But the point had to be replayed because Albot had a play on the ball, though his play probably would have been a short forehand, which would have put Evans in a good position to finish off the point. The title-winning point came on a double fault by Evans, only his third of the match.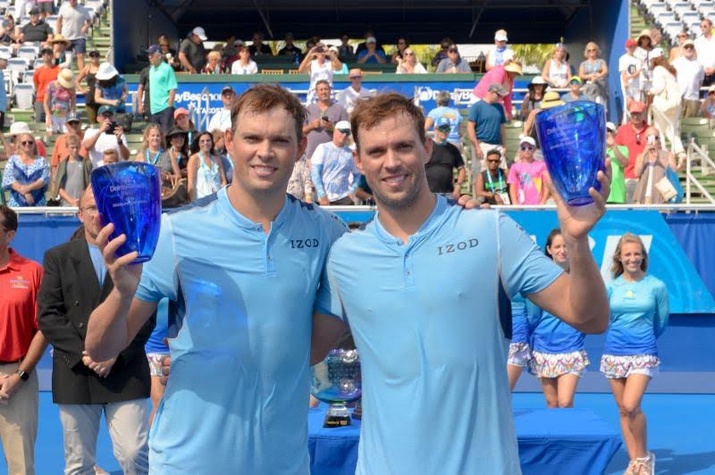 "I was in a position to win and suddenly I come up short," Evans said. "I lost today with three match points, and that's the bottom line of it really."
Despite his agonizing defeat in Sunday's final, Evans showed in his Delray Beach debut that he is trending upward to when he was ranked a career-high world No. 41 a little less than two years ago before he failed a drug test for cocaine that banned him from the sport for one year.
"I have to give [Albot] credit. I thought he played great in the moments when he needed to play great," Evans said. "I've had some quality matches [this week] and beat some good players, but I really want to win."
Meanwhile, Americans Bob and Mike Bryan, the winningest doubles team in history, triumphed with their 117th ATP title and lifted the Delray Beach Open trophy for the fifth time. "We're very, very pleased with how this one's gone," Bob Bryan said. "Expectations, I think for me, have been a little lower than they have in the past. We've just been trying to have fun and enjoy our time together and it's actually resulted in some really good play. To win here now in my home tournament and to have my family here to take it in with me is extra special."