Radek Stepanek Showcases Vintage Craft in London

So here we were again, mesmerized once more by the charms of this worm-dancing, flamboyant WTA magnet of a man. Oh Radek Stepanek, how can we quit you? Or, rather, how have you not quit yet?
It was a question essentially asked of Stepanek after his mockery-making victory over Andy Murray in the quarterfinals. Nineteen victories in a row on grass had flown the Scotsman's way with three titles, two of them shining moments of history that will last forever. Wins over Novak Djokovic and Roger Federer and Djokovic again had highlighted that streak. But apparently Radek Stepanek was a step too far. So, the question: what inspires him?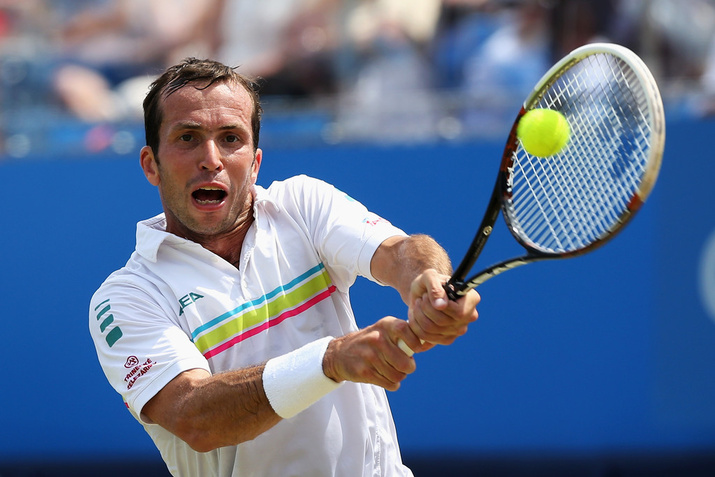 "These days all of you are asking me [that] all the time, throwing my age against me," he laughed in response. "But for me it's only a number. I know what's behind the question. I know that. It's the love of the game. I'm still happy when I'm on the court like I was five years old. The love is still there. The passion is there. "
We don't doubt it. Here Stepanek was, a day after culling his first top-five victim since 2009, recording another strong win and blessing an ATP semifinal stage with his eccentric presence for the first time since February 2012.
The victory was crowned with the familiar sight of a wisp of white flying into the blue skies as the final point was sealed with an ace. The material used to lace the white lines for most of the 21st century is known as titanium pigment, but after that performance the crowds could have been forgiven for imagining it as the wild chalk of the old days.
The phrase "old school" is used far too often these days for it to carry any real meaning, assigned to practically anyone in possession of a passable pair of volleys who occasionally wanders off to somewhere in the vague proximity of the net. But then there's Radek Stepanek, who in tennis cuts the figure of a man still proudly brandishing his pair of tin cans attached to a wimpy string in a world of limitless smartphones. Throughout the match, he stole into the net again and again. Passing shots flew past, and brutish serves and forehands erupted from his opponent's racquet. But all the while Stepanek turned his nose up to the stench of modern tennis and carried on his way.
Unlike those other few genuine volley masters trotting their way around the globe, like Feliciano Lopez and Michael Llodra, the luxury of fearsome power behind first and second serves hasn't been afforded to Stepanek. This means his first volley is pivotal as the key to every point. Any volley that dares to land anywhere other than the baseline or millimeters from the net is almost invariably gobbled up in this era of groundstroke supremacy.
A difficult first set on Friday epitomized this struggle, but soon Stepanek was digging out first volleys like an archaeologist in pursuit of the world's greatest treasure. Drop volleys blended into the slickest angles or else kissed the back-edge of the baseline, sending the tall and gangly Kevin Anderson all over the court while praying for mercy.
The nostalgia extends further than the net area, though. In a world where the western grips and unending spin rule, Stepanek arrives unashamed with his eastern-grip forehand, reminiscent of the days when the grass bounced so low and wooden rackets were so heavy. There is no spin here but a barely perceptible take-back as he guides the forehand from corner to corner, a bona fide push of stroke yet not in the defensive manner that the word is usually used. Constantly, Stepanek meets the ball ahead of him, placing it from side to side or concentrating on one spot, probing for spaces in order to slot through his equally compact backhand or a drop shot or a volley.
It's not everyone's cup of tea, though. Those who paid to see Murray pouted in their seats and wept inside, while the countless Queen's Club faithful who weren't present for anything other than the social scene paid little attention to it all. At one point, two ladies could be heard by half the stadium yapping about every topic in the world other than the actual tennis. After a long pause, one asked the other which player she was supporting. The response was a boom of laughter from the pair at the inanity of the question.
But the few watching Stepanek reasserting himself were gifted to a treat at the sight of this 35-year-old gliding from corner to corner like a silhouette of another realm and time. His footwork was never static or caught out, yet rarely did he offer the impression of actual effort. A day earlier, with a perfect comedic pause and emphasis, he reduced the press room to raptures of laughter by quipping "I'm moving pretty well…for my age." That and many other things.