Quynh Lam: Improvement is Paramount

Improvement is Paramount
Name: Quynh Lam
Occupation: Attorney
Favorite Stroke: Forehand
Tennis Goals: Improve the serve and net game
Motivating Words: No pain, no gain.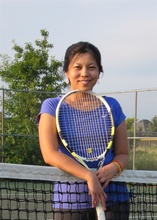 Quynh Lam probably spends more time watching tennis than she should, but who could blame her? "Tennis has been really exciting since 2005 and 2006," she says by way of explanation.
Her favorite ATP player is Rafael Nadal "because of his unique style and the charisma and intensity that he brings to the game." Lam thinks Nadal has brought a new excitement to the sport. "He's one of a kind. Tennis was a bit boring before he arrived on the scene," she explains.
Andy Murray and Juan Martin del Potro also rank high on her list, while Serena Williams, Victoria Azarenka and Vera Zvonareva are favorites on the WTA side.
Watching the top players' elegant and powerful shots inspires her to hit the courts to work on her own skills.
"I think I have an aggressive style and like to attack when I can," Lam says. "There are many areas of my game that I'm constantly working on. I love it when I've improved an aspect of my game."
Lam plays tennis to stay active because the mental and physical challenges of the sport are more enjoyable than other forms of exercise. She plans to take her "intermediate" game to the next level, while reminding herself: No pain, no gain.
Are you passionate about tennis? Email your story to editorial@TennisViewMag.com
This article is from the Jan/Feb '14 - Maria Sharapova issue

SOLD OUT

Subscribe now and you'll never miss an issue!