Qualies Corner: Rewinding Day 3 of US Open Qualifying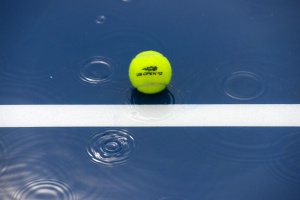 NEW YORK, NY – It was a rainy day three at the Billie Jean King National Tennis Center; after rain delayed play in the morning, a storm came in that halted most matches that were within a game of finishing. Five hours later, with matches now taking place on the previously unused Louis Armstrong and Grandstand courts, play soldiered on well into the night, with some matches beginning close to midnight. With the drama already high with the weather, spectators who braved the storm were treated to some highly compelling and entertaining matches:
Camila Giorgi (26) d. Angelique Van Der Meet 4-6 6-3 6-4
Her father has already hailed the young Italian as a future all-time great, and "GOATmila" Giorgi did not disappoint in her second round qualifying match. Giorgi has already made waves on the WTA, reaching the fourth round of Wimbledon last year, nearly reapeating in 2013 if not for eventual champion, Marion Bartoli, but the 21-year-old has struggled to reign in her high-octane game. Unlike her compatriots, Giorgi plays a game devoid of flare, a ball-basher to its purest extreme. Against Van Der Meet, Giorgi ran hot and cold, running seven straight games from 3-3 in the second set, but got pegged back to one break late in third. The rest of the match went with serve and the Italian found herself one match from the US Open main draw, will play the more defensive-minded American Julia Cohen for the spot.
Patricia Mayr-Achleitner d. Paula Kania 1-6 6-4 7-6(4)
It is always interesting to see how one player deals with the intensity of not only a match, but also an overly feisty competitor. It is even more interesting to match up two such players and watch the bloodbath ensue. Both Mayr-Achleitner and Kania are known for their expressive on-court behavior, and it didn't take long into the first set before one was annoyed with the other. Among other things, the Austrian veteran took issue with the time Kania took between points, non-verbally communicating to the crowd, "God, these people," referring to both Kania and her boisterous supporters. She also attempted to call her own lines, and seemed shocked the officials didn't agree. Kania too had her moments, losing the second set on a double fault, which preceded a racquet bounce and a Gatorade bottle thrown clear across the court. As was fitting, these two firecrackers settled things in a tiebreaker, and after serving for it twice, Kania lost 7-4 in the sudden death. The Austrian will play Japan's Kurumi Nara for the right to bring her act into the main draw.
Davey's Pick: Andrea Hlavackova (3) d. Tamira Paszek 6-2 2-6 6-2
On one hand, this was a terrific match to watch. Both players reached the second week of a major last year (Hlavackova here, Pasezek at Wimbledon), and each proved why throughout the match; both showed flashes of brilliance off the ground, trading blistering groundstrokes and supersonic winners. On the other, the fact that both were now well outside the top 100 no thanks to injury and that a loss for Hlavackova meant an even more disastrous blight on her ranking gave the night match on Court 8 a decidedly tragic air.
In a match between two hard-hitters, the quality of play ebbed and flowed with both players rarely playing well at the same time. Hlavackova took the early advantage, breaking Paszek's vulnerable serve twice to take the opening set. By the end of the second, however, it was a different story as Paszek began teeing off on serve returns that could have made Serena Williams herself jealous. The match appeared on even footing early in the decider, but Paszek allowed herself to become distracted by several linecalls, one of which Hlavackova made herself and, when confirmed by the linesman, told Paszek, "Tamira! It was this out," gesturing the distance with her hand. Either way, Hlavackova, hardly a mental giant, seemed unwilling to let this match slip away from her, and only needed one match point to advance to the final round, where she will play 2011 US Open junior girl's Champion Grace Min.
(Photo by Christopher Levy)