Q&A With Hamburg Tournament Director Sandra Reichel

After 10 editions with Michael Stich in charge of the event, this year marks a new beginning for the Hamburg Open as renowned tournament director Sandra Reichel has taken the reigns as tournament director alongside her father, Peter-Michael. In her first year, the Austrian has ordered a complete rebranding of the tournament, now known as the Hamburg European Open.
It has been a fruitful first year and the tournament's well-documented struggles since it was demoted to an ATP 500 event appears to be firmly in the past. This edition boasted three top 10 players - also three of the best clay court players in the world - in Dominic Thiem, Alexander Zverev and Fabio Fognini. The agreement with Zverev, who was born in Hamburg and grew up here yet hasn't returned to his home city in any capacity since 2016, was a particularly large coup for the Reichels in their first year at the helm.
During the week, Sandra Reichel, one of the few female tournament directors running an ATP event, sat down with the press to discuss her first impressions of the event and her goals for the future.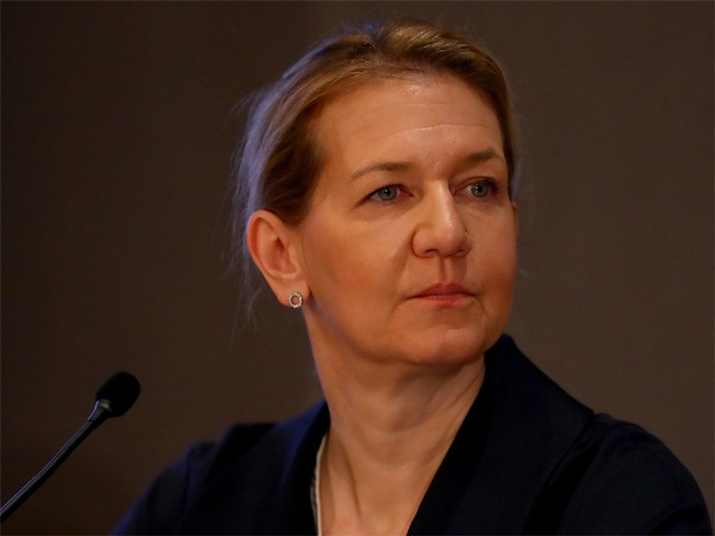 Q. What do you think about this year's line-up?
Sandra Reichel: The main thing are the players. I am very happy with this year's line-up. In my opinion, Dominic Thiem is the best clay-court player besides Rafael Nadal and the Hamburg crowd loves him. Having Sascha here was the biggest present. With Fabio Fognini there are three Top-10-players competing here this week, all of them with different characters. That makes it special and obviously helped us a lot.
Q. When do you start preparing for the 2020 tournament?
Now! We are walking around, looking at what we do different. We have to talk to sponsors, we have to talk to players, to the management of players, to the fathers and mothers and the coaches. So you also hear what they are thinking about the tournament, what we can improve. We are working again already for the future?
Q. What have you changed from last year to this year?
I think we changed a lot, all those who were here last year can see that the whole tournament, the logo, the design, the colors. It should be one unit so that all the stands have the same design. Then we have the kids' court here, where children can play all day. We have coaches there, try to get a lot of children. We had a junior tournament with 50 kids under 8 years old, tomorrow Judy Murray is coming. She's doing a kids' clinic and also a coaching workshop. I think this is very important to do something for the next gen and also have the Tennis Europe 21 & Under. So, for the spectators, it's great to see for the next generation.
Q. Do you have figures of how many Germans who came?
Our big aim is, because I think that Hamburg is a great city, is to make more incoming from other countries. Because the city can offer a lot of things beside tennis. But this is a project for next year, to involve more the neighborhood countries. Hamburg is a great city for tourism. At the moment are about 70 to 80 per cent are from Germany, mostly from Hamburg. And I hope that a lot more Austrians will come!
Q. What's easier to handle: a women's tournament or a men's tournament and what about combining both in the future?
That's a very tricky question, actually. For me, as a woman running an ATP-Event… as a man it might be different. For the men, it's a little easier. They are more, let's say, uncomplicated. (laughing.) With the women, it's sometimes more difficult in terms of who is playing on which court. As a woman, it's difficult to say that women are more difficult! But it's relaxed, more relaxed.
Q. And what about bringing both together in Hamburg?
In my opinion, the best product you can have as a tennis tournament is you have both men and women. That's always in life - it's a combination. In this event it would be great. It's a long way to go, because you need the ATP. The ATP at the moment is not so happy to have more combined events. And I think this still hard work and to try to convince them. And there are also players who are not really happy about combined events. It's still an aim because I would say it's the best product, but we still need more time for that.
Q. What about moving to hard courts, because you said the date is not the best?
With the ATP, you cannot say,'OK, I want to play on hard court.' You need the ATP and you need the club [to agree]. It's not so easy to say, 'OK, we build here 8 hard courts.' At the moment you don't have hardcourts that really survive nine days of play there. If it's raining, it's not working, so this system and technique is not really here. That's also a difficult topic and we will do our best. Maybe, we will get a different date or a different surface. But for now, we know this year we have this date and then next year we are directly after Wimbledon because of the Olympic games, and then we'll see.
(Photo Source: Hamburg European Open)